How do we know if we're in the middle of a personal, emotional, and spiritual crisis in our lives?  
You're a 16-year-old at Marist High School in 1983 on the south side of Chicago. One day your sister Annie is murdered in cold blood by her husband.
Two years later your brother Scott drowns tragically in a boating accident, right before you graduate. 
Maybe it takes years and years to build until you find yourself staring into the abyss on the precipice of fear.
Giving Tuesday is here! Fr. Tom Hurley '85 will be taking us through a day here at Marist High School. First up, he heads down to the IDEA classroom to throw some ideas around with the students. Watch and then take a pause in your day to give to our cause: https://t.co/oiZ2LTl4pD pic.twitter.com/lFnLPw2Stc

— Marist HS Chicago (@MaristChicago) November 29, 2022
Father Tom Hurley grew up on the southside of Chicago in a proud Irish community (St. Cajetan's) and was pastor of the inimitable Old St. Patrick's parish, kicking ass and taking names in the oldest and most popular parish in Chicago, first assisting and then becoming pastor in 2007. He was there 24 years altogether when he hit the wall in the summer of 2019. 
He was alone, the only full-time priest in the parish, dancing as fast as he could; doing masses, funerals, weddings, baptisms up the wazoo. "I just wasn't feeling good about it. I was getting really burned out and exhausted, but I was fighting my way through it, faking my way through it, and then of course COVID hits in March of 2020. I was supposed to be the Grand Marshall of Chicago's St. Patrick's Day Parade, that never happened as everything got shut down that week. Then my dad had a major stroke and died on March 19."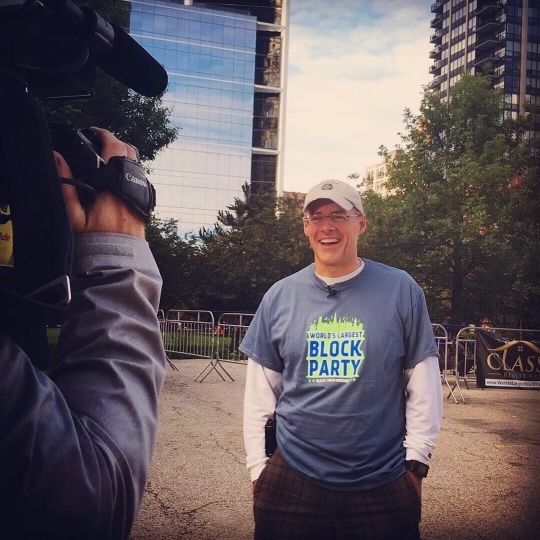 His late dad was a pharmaceutical rep working at Little Company of Mary Hospital back in the day. "So he had googly eyes for this little nurse and went up to one of the nuns and said, 'Sister, can you introduce me to that cute nurse?'"
Once married, Dr. Jack and Mary Ann moved to Ireland where Dad went to University College Galway to become a doctor. They moved back to Chicago in 1958 and Tom was the eighth of their nine children. 
After the murder, his parents adopted Annie's three children. So they had 12 kids under the one roof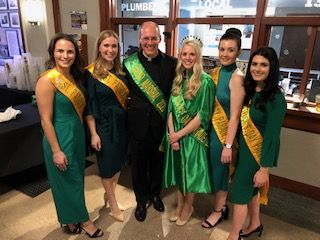 The killer of his sis only served seven and a half years.
Observing his Irish Catholic community of St. Cajetan's, as they rallied around his family after tragedy, instilled Tom's vocation.
Father Tom Hurley '85 did what he could to fulfill his duties as grand marshal of the now-postponed Chicago St. Patrick's Day Parade during mass today at Old St. Pat's.

Watch: https://t.co/kG5nohg1nL. pic.twitter.com/fRoUhOBVHF

— Marist HS Alumni (@MaristHSalumni) March 15, 2020
He's a very popular figure in Chicago's Irish community, particularly with young adults. He tells me the church itself is in crisis, "We got some folks that want to turn the clocks back. We've got some folks who want to turn it way too forward. And then we've got the vast majority who don't care either way."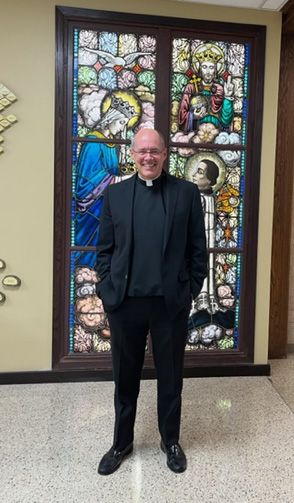 In March of 2021 Father Tom spoke to his congregation in a very emotional and honest Gethsemane moment (below).
"I need some time to step away from the arena in order to re-examine my life and care for myself, and I believe the time is now…I have wished, I have prayed, I have anguished for a long time in the hope that this struggle may pass and go away. But that is not the case.
"I wish I could stand here and tell you that everything with me is great, but that would not be honest or accurate … . For the better part of the past two years, even before the pandemic began, I have really been struggling … with the energy level needed for a successful place like Old St. Pat's," he said.
"This has been the hardest decision of my life, so please pray for me and I'll do the same for you."
Father Tom Hurley is now "freelancing" saying Sunday masses around Chicago, but is primarily working at his alma mater, where he's been told, "there's always going to be a place for you at Marist."
Tom is still a runner, having completed over 15 marathons, including Dublin and is a referee for Catholic League HS and grammar school basketball and football games. He tells me, "The kids are great!"
Marist is dedicated to the Blessed Mary, the mother of Jesus Christ. Ad Jesum per Mariam, "to Jesus through Mary". In the way of Mary.
Say one for me, Tom.