Several hundred people gathered last month to unveil the first phase of a memorial to Irish miners and their families who died and were buried in unmarked pauper graves at Evergreen Cemetery in Leadville, Colorado. Average age of the dead was 23 but almost 50 percent were children under 12 and many were babies who died at birth.
"Fáilte roimh gach éinne…" It was haunting and fitting that the first words spoken by Alan Groarke, President of Irish Network Colorado, to welcome everyone to the Leadville Irish Miners' Memorial, were in Irish. 
Moving presentation at this morning's networking breakfast as Prof. Jim Walsh walked us through the hard times & brief lives of the migrants being honored by the emerging Irish Leadville Miners Memorial. Learn more at https://t.co/3ijBwsRh5r pic.twitter.com/zeAfcwjpOm

— The IBO New York (@IrishBusinessNY) October 26, 2021
In the late 1800s when those Irish men and their families came to Leadville, CO from their homes, mostly from the Beara Peninsula mining community in Allihies Co. Cork, but also from counties Mayo, Donegal, Waterford, Cavan, Galway, and Tipperary, an Ghaeilge would have been the first language on their lips.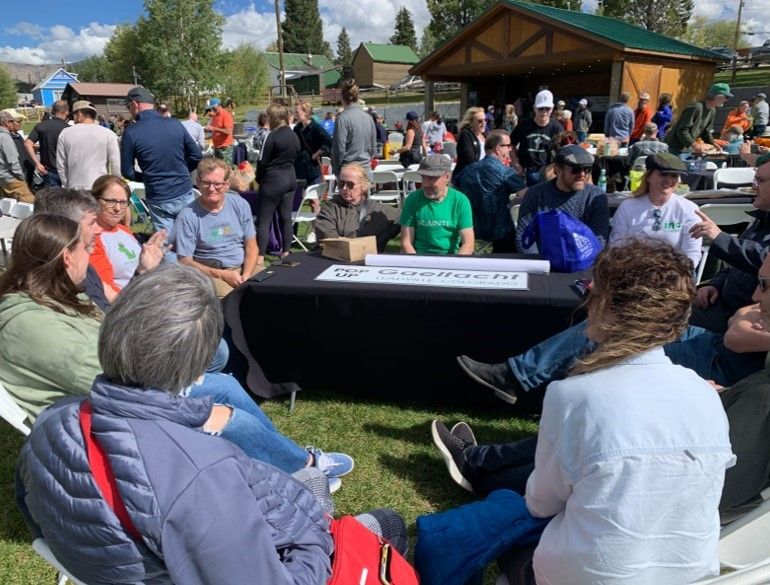 "We are here in what was once known as 'Little Ireland of Colorado,'" said Groarke. 
The sculpture at the center of the memorial was made by Terry Brennan of Wicklow, depicting  a miner on bended knee clasping a pickaxe and harp, and looking up to the sky and out to the north east towards Ireland.
The Irish had fled their embattled homeland to seek a better life, escaping the clutches of An Górta Mór and another 'mini-famine' that ravished west Cork in the 1870s.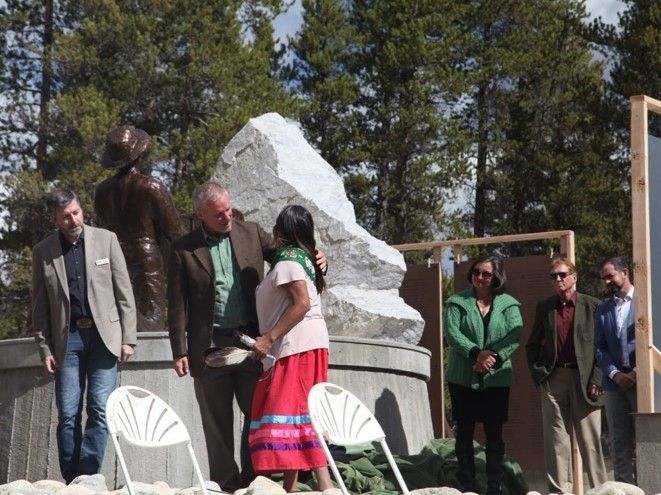 And yet, when they came to Leadville, one of the highest cities in the US at over 10,000 feet of elevation, they inhabited the bottom rung of the social ladder, enduring wretched living and working conditions. 
"It's a beautiful place but they came to a harsh environment," said Greg Labbe, Leadville Mayor. "We're here to honor those who have been unnamed all these many years."
"It will be a space to remember and recognise their struggle."

A statue made in Co Wicklow is set to depart these shores for the US, where it will be the centrepiece of a memorial to more than a thousand Irish immigrants who are buried in unmarked graves in Leadville, Colorado. pic.twitter.com/EJhPRCrtGo

— RTÉ News (@rtenews) July 30, 2021
Paid $3 a day, they held two strikes seeking higher wages and better working conditions. They brought their language and culture with them, fought for their rights, dwelled alongside other immigrants, worked, loved, lived, and died there.
"The Irish brought us toughness and resilience and they brought us their culture which has resonated around the world but especially here in America," said Labbe.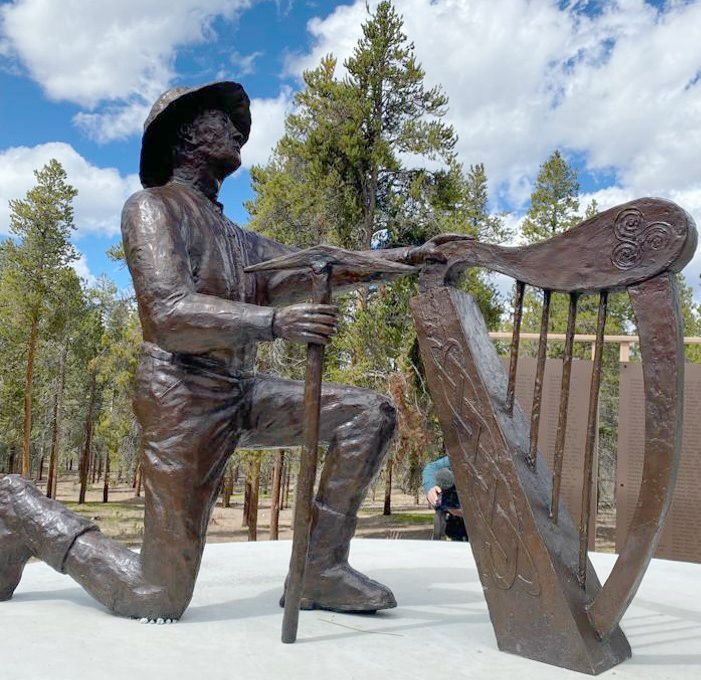 It was a day of solemnity and celebration. Those whose names had lain hidden in the earth for so long, whose voices had been buried beneath many Colorado snows, rose again and were named amongst the living. 
"You are entering our sacred space," said local historian, Kathleen Fitzsimmons, as she reflected upon the memorial and the spiral design leading up to it.
Ute Indians on the Pass Wagon Road , 1878 pic.twitter.com/WYHipUe9RL

— niloc1406195 Colin President Elect 😜😜😂😂 (@niloc14061952) March 4, 2021
"The spiral is a shape that transcends so many cultures, and it is also captured on the rock art that is across Mount Elbert, from the Native Americans," she said.
As the memorial stands on Ute land, it was blessed by Southern Ute Tribe member Cassandra Atencio.  "She has traveled for many miles to stand in solidarity with us," said James Walsh, Professor of Political Science at University of Colorado, Denver.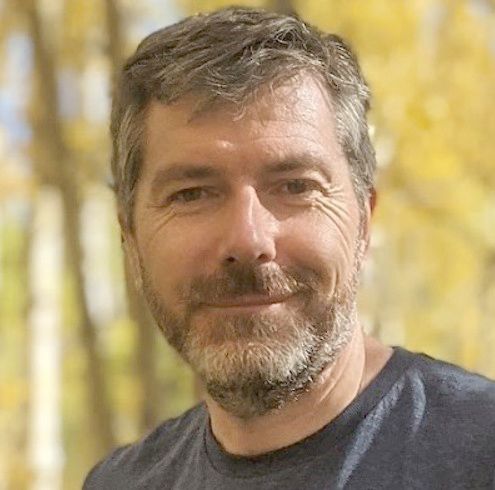 For Walsh, this research has been an enduring labor of love. It was during his PhD studies and research — two decades back — that he discovered the unmarked graves. Since, he has made it his life's work to give these Irish emigrants their names back and honor their place in history. 
"We are here to honor the poor," said Walsh. "We are here to honor migrants."
A lone piper played and the sound of the Irish harp echoed throughout the mountainous region during the ceremony. A mix of Irish and American voices rang out poignantly through the crisp Colorado air as members of the gathering spoke aloud the names of those who had perished in Leadville.
Long forgotten names, but from this day forward  remembered, their lives carved into the annals of Irish American history.
"These people are now recognized, their struggles, their sacrifices, their odyssey in this world is recognized here," said Ireland Consul General, Micheál Smith. 
Groarke concluded the roll call of names, "We remember them, and we remember all of the over 1300 people who were buried in unmarked graves, who were forgotten, but not for evermore."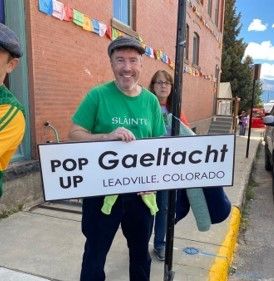 Many members of Colorado's Pop-Up Gaeltacht, of which Groarke is a founding member, had traveled from Denver and surrounding areas throughout Colorado to the unveiling of the memorial.
They had a Pop-Up Gaeltacht in Leadville to mark the occasion, so they too could speak Irish in the places and spaces where those Irish men, women and children had done so many years before. 
The Colorado branch founder, Donal Grogan, had a special Leadville Pop-Up sign made for the occasion. They held not one but two Pop-Up Gaeltacht meetings: the first outside under the September sun and the second inside the local pub where those miners would have gathered all those years before and spoken in Irish: at the Silver Dollar Saloon.