Legendary musician, folklorist and humanitarian Mick Moloney was finally laid to rest last week with a series of events that finally gave family and friends the opportunity to come together and celebrate his life.  Moloney died early in the week of July 25, but logistical challenges conspired to delay a major celebration until this past week.
On Wednesday evening, NYC's lower-Manhattan based Tenement Museum (www.tenement.org) broadcast "Mind Yourself: A Musical Wake for Mick Moloney" through their YouTube channel.  Held in the Tenement Museum and hosted by Dr. Miriam Nyhan Grey and arts educator and administrator Lenwood Sloan, the widely viewed event included performances and reminiscences from several of Mick's closest musical friends and brought together ideas from the Irish- and African-American wake traditions.
 "Mind Yourself" was a fitting name, as it was Mick's preferred parting phrase, and was a brilliant event.  The musicians invited to participate included Green Fields of America members Athena Tergis (fiddle), Liz Hanley (fiddle), Brenda Castles (concertina), and Brendan Dolan (piano), with additional guests being Anna Colliton (bodhrán) and yours truly (octave mandolin).  We ran through Moloney standards including "Hard Times Come Again No More,"  "McNally's Row of Flats," and "The Boatman Song."  In addition, Sloan opened the event with an impassioned a cappella version of "When the Saints Go Marching In."
 On Thursday morning, the Moloney family and several of Moloney's closest friends gathered at Crestwood Funeral Home on Bleecker Street for an intimate funeral service.  Wonderful tributes were made by Mick's sister Violet, his son Fintan, his cousin Deirdre, and several close friends.  Musical tributes were provided by some of Moloney's most important musical partners, including James Keane, Seamus Egan, Liz Carroll, Jimmy Keane, and Green Fields of America (Billy McComiskey, Athena Tergis, Brenda Castles, Liz Hanley, and John Roberts).  Afterward, everyone retired to Swift's Hibernian Lounge (www.swiftnycbar.com), one of New York City's great homes for traditional music, hospitality and tunes.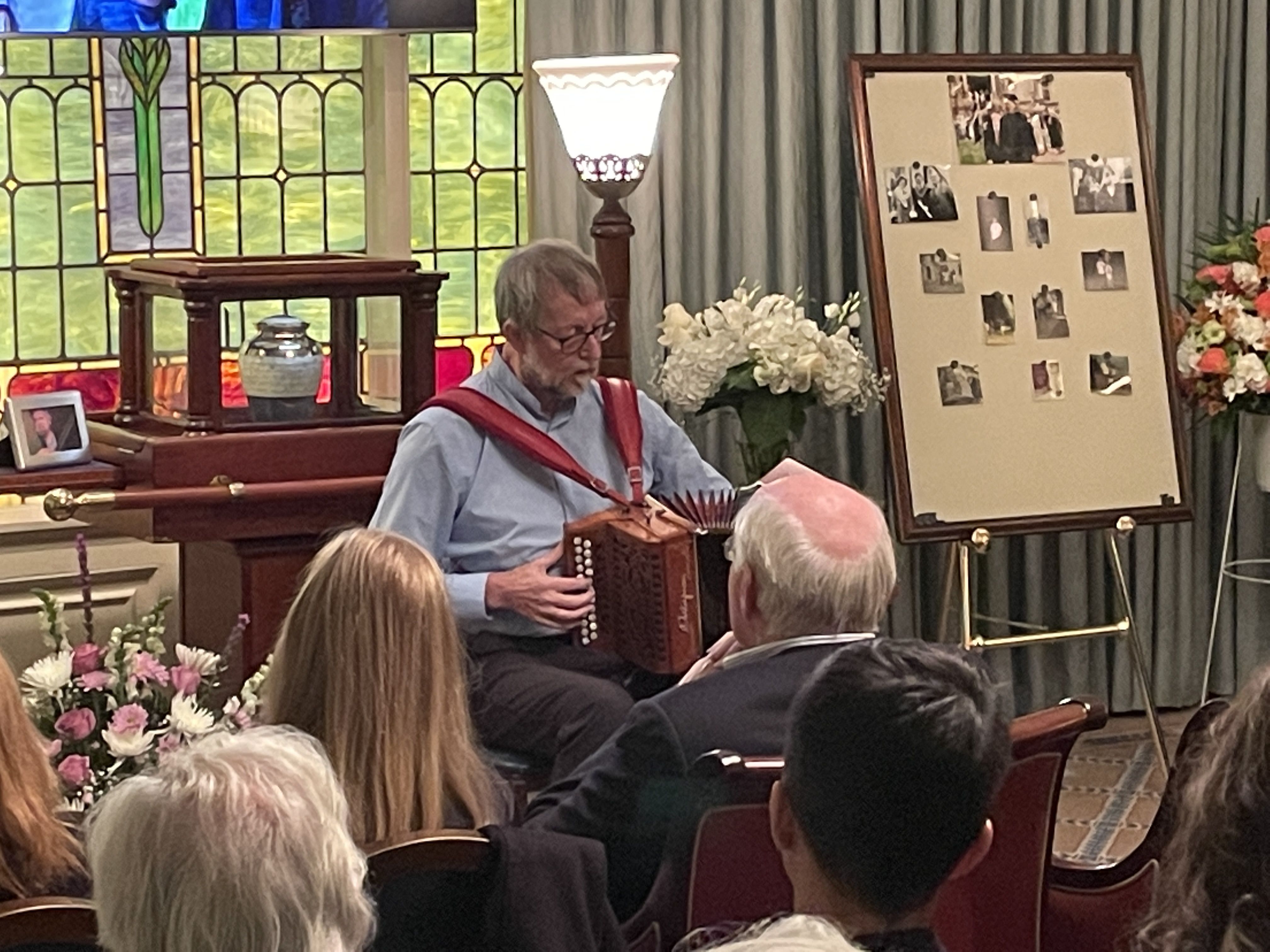 James Keane. [Photo by Daniel Neely]
Then on Saturday, there was a "Wakeful Session" held for Moloney at St. Patrick's Youth Center, the event space adjacent to Old St. Patrick's Cathedral in New York's Lower East Side.  Nearly 200 invited guests joined members of the Moloney family for tunes, songs and memories.  The session included dozens of musicians including James Keane, Don Meade, Brendan Callaghan, Joey Abarta, Joanna Clare, Rose Flanagan, Brian Conway, Patty Furlong, Martin Reilly, John Morrow, and Tom Dunne, and songs were sung by Mehmet Gencer, Guadalupe Peraza, Mary Courtney, Tamar Korn, Donie Carroll and Liz Hanley & Brenda Castles.  It was an incredibly moving evening and one that won't soon be forgotten.
Ultimately, it was an exceptional week of music and memories that Mick would have enjoyed – a fitting sendoff for the mightiest of men.  Thanks for everything, Mick.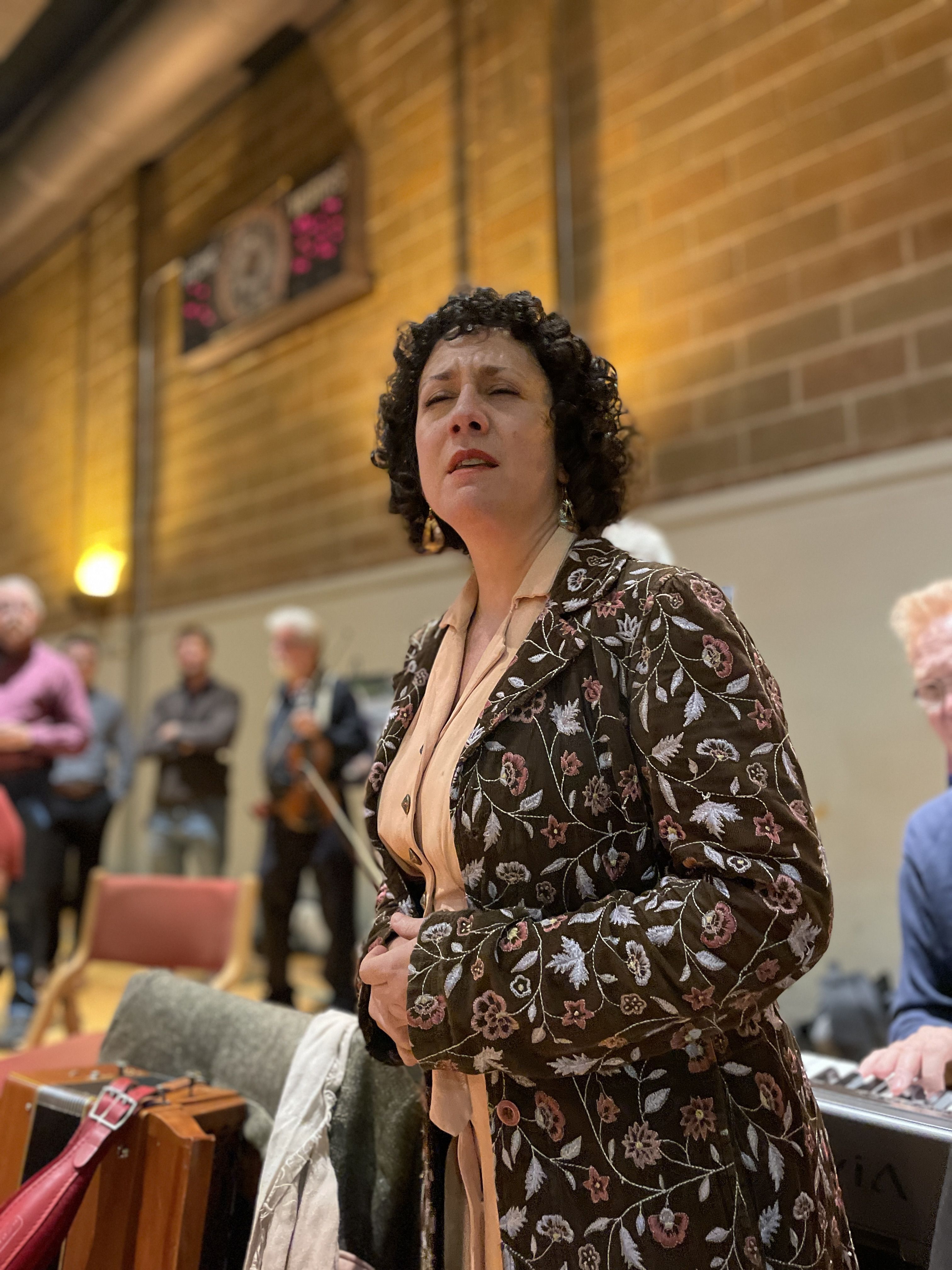 Tamar Korn. [Photo by Daniel Neely]
Although not a memorial event, many of Mick's friends will assemble at the New York Irish Center on Friday, Oct. 21 to perform for Bangkok-based charity the Mercy Centre (www.mercycentre.org).  The Mercy Centre was very close to Moloney's heart, and he was involved with the organization's annual New York City-based fundraising concert.  Moloney's absence will be felt but the show will go on, thanks to the efforts of singer Donie Carroll.  On the night Carroll will be joined by Billy McComiskey, Brendan Dolan, Brenda Castles, Liz Hanley, Cillian Vallely, Don Meade, Heather Bixler, the Niall O'Leary Irish Dancers, and Moloney's great fellow humanitarian Tommy Sands.  For more information, contact Carroll at ducksyc@earthlink.net or visit the New York Irish Center's website at www.newyorkirishcenter.org.
      Finally, congratulations to Annmarie Acosta Williams, who was elected the new chair of Comhaltas Ceoltóirí Éireann's Mid-Atlantic Region!  This is a major shift for the organization's leadership, as Acosta Williams succeeds Tom Vesey, who served Comhaltas on both Regional and Provincial levels for over two decades and helped shape the organization's current trajectory.  The Region thanks Vesey for his long service and looks forward to what the Acosta Williams has in store.