Heather "The Heat" Hardy got her win last week Thursday, and her 10-year career continues. 
The former world featherweight champion ended a 17-month layoff by outpointing Colombian veteran Calista Silgado over six rounds in their lightweight contest at Sony Hall in Manhattan's  Times Square.
 
Going into the bout, Hardy, who's 40, had suggested that if she couldn't get past the 34-year-old Silgado or struggled against the eight-time world title challenger, she'd consider retirement. 
 
"If this girl gives me a hard fight, if I wind up with more stitches in my face – black and blue, if I can't get [past] her, then I really got to sit down with my team and figure what am I going to do [next]," Hardy told the Echo.
 
It didn't come to that. 
 
Hardy shook off the rust and proceeded to outbox the game Silgado. She swept all three cards to up her ledger to 23-2 [4 KOs] in her 10th year as a pro.  Silgado dropped to 20-15 [15 KOs).  There were no knock downs. 
 
Said Hardy: "Silgado is a veteran who has fought everybody. I expected this kind of fight, and I prepared for it. I had a lot of rust to shake off."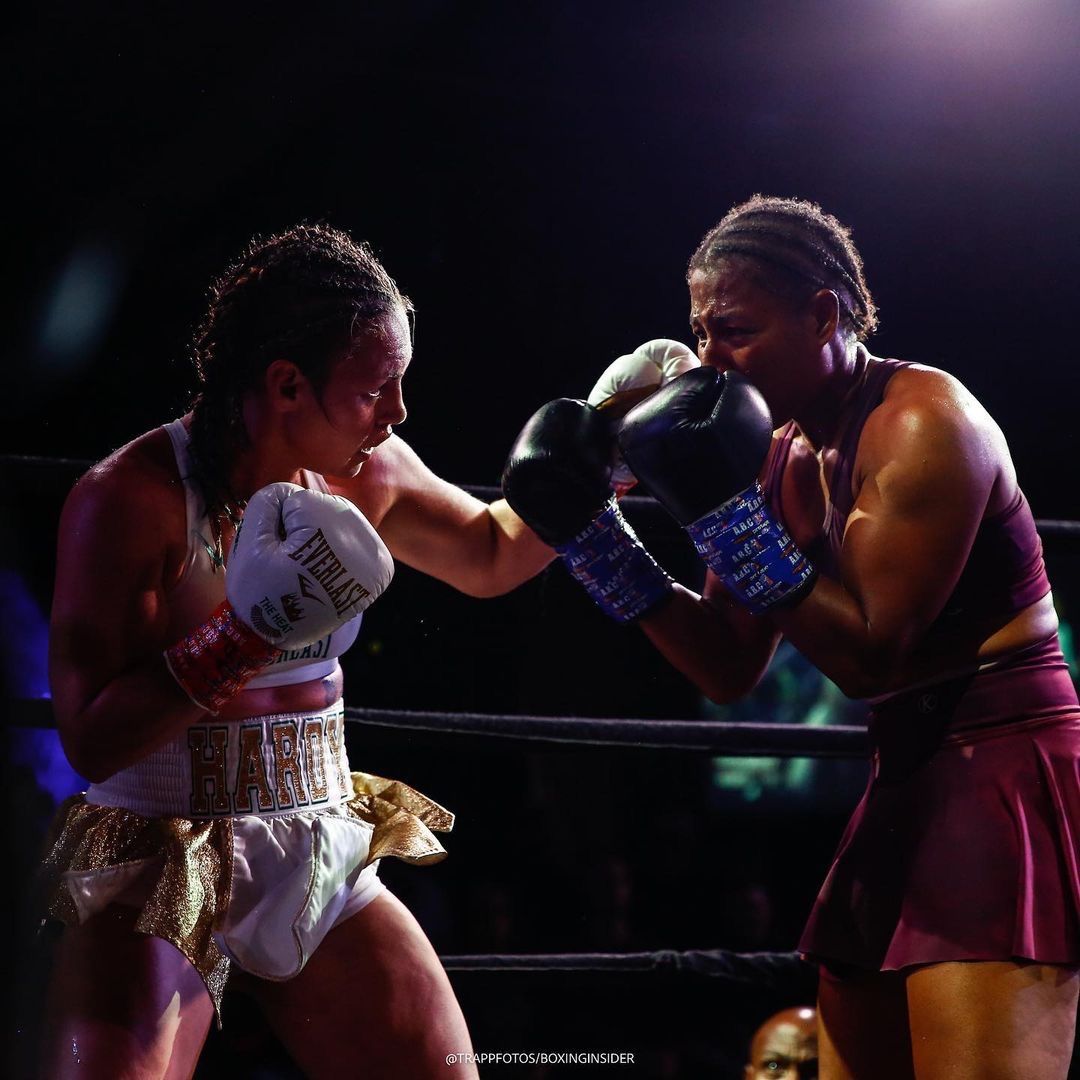 Heather Hardy in action against Calista Silgado at Sony Hall, Times Square, last Thursday.
Trappfotos/Boxinginsider
It was Hardy's first fight with celebrated trainer Hector Roca and Henry DeLeon in her corner. 
 
On what next, the Brooklynite with Dublin roots noted that she had many feelings to unpack after this win. "I'll be back in the gym [next week] to talk about possible next steps. I'd like to go back down in weight, so I think I'll be spending the next few months trying to get strong at 126-130 again."
 
Hardy was World Boxing Organization [WBO] featherweight titlist at 126-pounds.
 
ALI LEGACY
Another grandson of Muhammad Ali is taking up martial arts.
 
Biaggio Ali Walsh, whose young brother Nico is an undefeated middleweight, makes his Professional Fighters League MMA debut at the PFL World Championship at Madison Square Garden on November 26.
 
 "I have a legacy to live up to, a legacy that my grandfather began, that my brother (boxer Nico) and I continue," Ali Walsh said. 
 
Ali Walsh also played college football at Cal and UNLV. He fell in love with combat sports in 2020 while using it as a training tool to keep in shape for football.
 
 "My grandfather had a huge impact on my entire life. As a little kid, I would go to restaurants and movies with him, everybody would stop what they were doing and start clapping.

"As I started to get older, I started to figure out who he is and what he did and the impact he had on the world. As far as who he is as a person, his confidence, mental toughness, man -- it's just always inspired me," Ali Walsh added.