Not sure if anyone watched Saturday Night Live last week, but Brendan Gleeson was the host.  During his monologue, Gleeson played "Dr. O'Neill's hornpipe" on the mandolin and explained it was both "the first tune [he] ever learned" and that "it was made famous by a man named Barney McKenna," the banjo player from the Dubliners.  He then told a funny story about Barney (when informed they were traveling to a very hot country and it would be 104 degrees in the shade, the banjo player said, "I'll tell you one thing: I'm not going anywhere near the shade") and afterward the actor was joined on stage by Colin Farrell, his co-star in the upcoming film "Banshees of Inisherin."  Thank you, Brendan, for representing traditional music on American television, and for making Barney McKenna a part of it – you love to see it.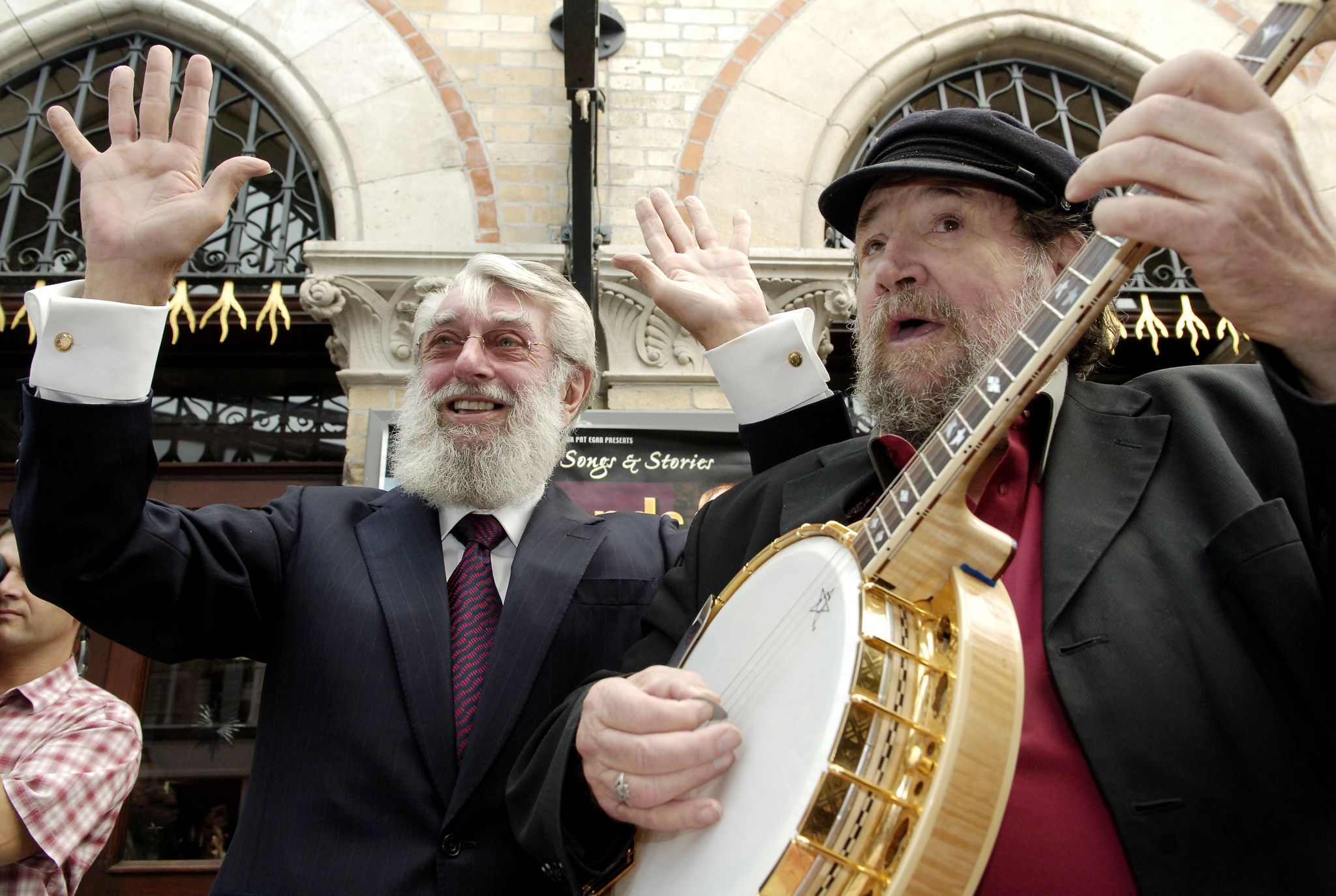 Former Dubliners front man Ronnie Drew, left, and Barney McKenna in 2006, after Drew's hands were cast for a permanent bronze display at Gaiety Theatre Plaza in Dublin. Drew died in 2008 and McKenna in 2012. GRAHAM HUGHES/ROLLING NEWS.IE
 Paddy O'Brien, the Tipperary-born master of the B/C accordion, is one of the great figures in Irish music.  His accordion playing is legend, the tunes he composed are session standards, and you'd be hard pressed to find musicians who aren't passionate about his music.  Earlier this summer, O'Brien's daughter Eileen (who is herself a top-notch musician) produced and launched "Paddy O'Brien 1922-1991," a collection of early solo recordings, at the Willie Clancy Week in Miltown Malbay, Co. Clare.  Since acquiring a copy, I've listened to it continuously and am pleased to report that this new release is one of those historically important recordings that fans of traditional music should check out and the musicians among us should absolutely dig into.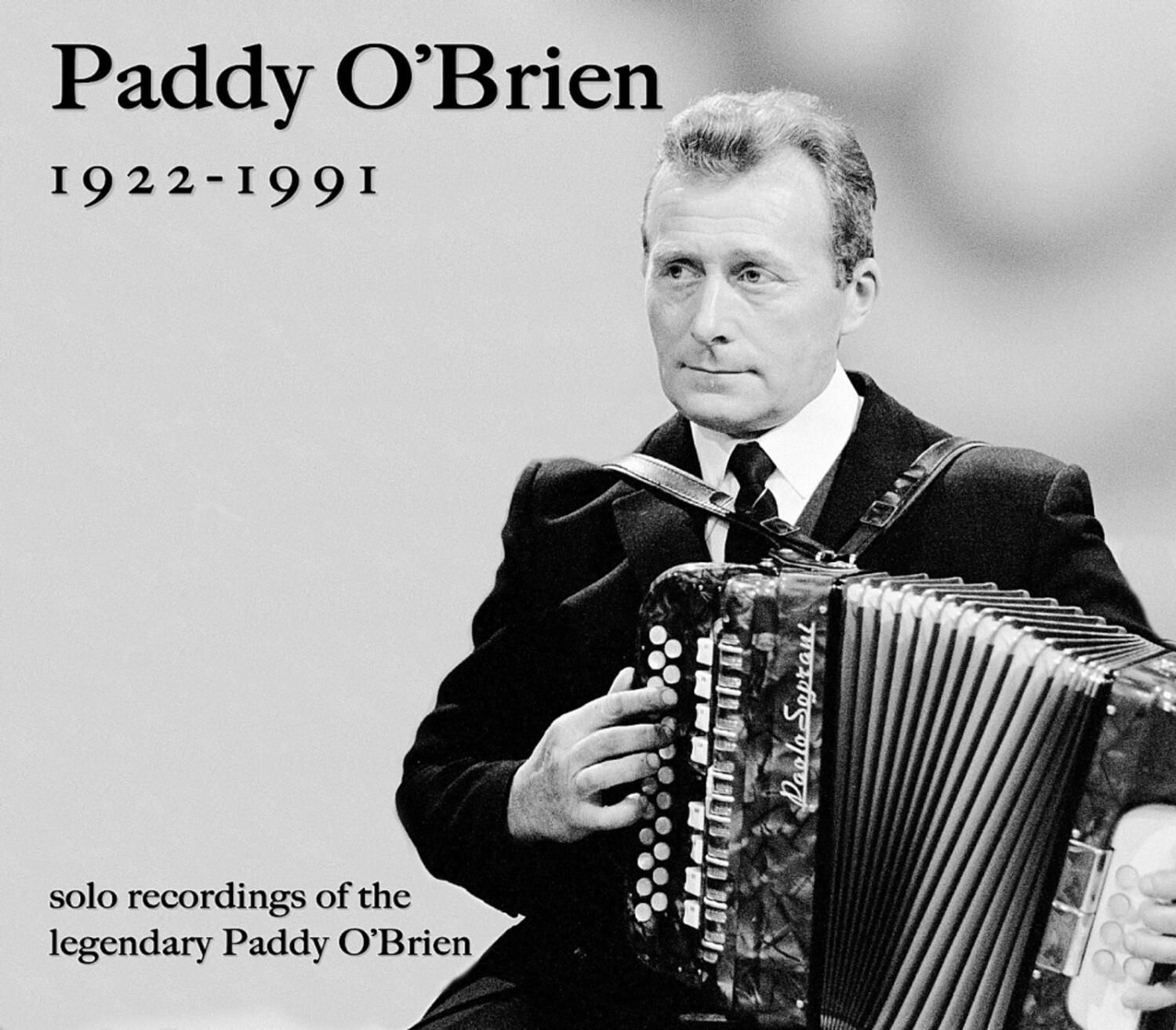 "1922-1991" contains 24 tracks, 21 of which feature O'Brien's solo accordion work. The remaining three tracks put the spotlight on Paddy's father Dinny's fiddle playing.  The sources of these recordings are a bit varied: some tracks were commercial releases for the Columbia label, some were commercial recordings that were never released, and some are privately made recordings.  All date to the period 1947-1959, were recorded in different places in Ireland, and give listeners a strong sense of the beauty in O'Brien's music .
 Every track on this album is a classic.  Tracks four through nine (which include "Spike Island Lassies / …," which stands out to me, although others may have different favorites) will be familiar to lovers of O'Brien's music as all were issued on 78rpm, reissued later on (save for one), and helped popularize O'Brien's music widely.  The additional tracks enhance these, in particularly the three tracks Bill Stapleton recorded in 1947, as they find O'Brien playing with fabulous youthful energy, the recordings from Ennis (1956), and the homemade recordings (1957), as they're all just full of class.  The Dinny O'Brien tracks from 1959 are wonderful as well and provide insight into the source of Paddy's phrasing and lift.  There's a lovely parallel there that is worth diving into.
 This album complements the recent reissue of Paddy O'Brien, Seamus Connolly, and Charlie Lennon's brilliant and seminal "Banks of the Shannon" not just because it sounds great but because it helps clarify O'Brien's discography.  The first reissue of "Banks" was Green Linnet's 1993 re-release which included a number of solo O'Brien tracks that seemed misplaced.  These were removed from the better 2022 reissue and have become the foundation for "1922-1991."
 There is a perfection in the way O'Brien plays that this album explores wonderfully.  Although the collection only includes one of his original compositions, the number of well-known tunes here help make O'Brien's music a whole lot more accessible, because it's easy to appreciate how someone of O'Brien's caliber approaches more widely known tunes.  As an album of hard-core traditional playing, I cannot recommend this more highly.  Buy it now.  "Paddy O'Brien 1922-1991," "Banks of the Shannon," and all other O'Brien related recordings (by both Paddy & Eileen) are available online through eileenobrienfiddle.com. 
 Some unsettling news out of Portland, Maine: Blue, the restaurant/lounge/live music venue where Tom Rota spent over 15 years cultivating "Irish Night," recently changed hands.  It seems the new ownership has opted to make a change in their programming – as is its right – and Irish music appears to be out.  However, some supported the policy by insulting a number of individual musicians in public and mocking the community as a whole on social media.  There are better ways to make a change, especially when everyone involved in Irish night is so respected – musicians beware!
 In addition: in August of last year, I wrote about Deirdre Ní Chonghaile's groundbreaking and award winning book, "Collecting Music in the Aran Islands: A Century of History and Practice."  In it, she examined four different collections that documented music in the Aran Islands and in doing so raised fascinating questions about how such collections influence notion of "musical tradition."  At that time, the book was released only in hardcover with an eye-popping $79.95 price tag, which probably put off many from checking it out.  However, it was just announced that the University of Wisconsin Press has finally released the book in paperback at a much more affordable $27.95 price point.  It is a truly excellent study, brilliantly researched and written, and I recommend that readers of this column check it out.  You'll find it available through most online booksellers.
 Finally, a small correction: in last week's column, I reported that Donie Carroll's fundraiser for the for Bangkok-based charity the Mercy Centre (www.mercycentre.org) would happen at the New York Irish Center in Long Island City on Friday, Oct. 21.  That was incorrect: the concert will in fact happen on Saturday, Oct. 22.  Please adjust your calendars, contact Carroll at ducksyc@earthlink.net with questions and for additional information.