Enniscorthy is on a roll. One day after Jordan Gainford rode Hewick to victory in the Grand National at Far Hills, Paul Conroy won the Wolfpack Intercollegiate golf tournament in Raleigh, N.C. on Sunday. The Chattanooga sophomore from the Wexford town won by two strokes for his first collegiate victory. Rounds of 70 and 74 gave no hint of the 62 that saw him rally up the leaderboard. He went out in 29, highlighted by a hole-in-one, and came in in 33. 
 "It feels great to finally get over the line," Conroy said. "I've been close a lot of times. I battled at the finish. I was 2 over on the closing holes yesterday and got two birdies today, which turned out to be the difference. I hit every shot where I wanted it to go today. It was a pretty enjoyable round with everything going the right way."
 "I'm super pumped for him to get his first collegiate win," said Mocs head Coach Blaine Woodruff. Chattanooga also won the team trophy by nine strokes. 
 Sean McAufield led Davis & Elkins to the team crown in the Dr. Wally Edgell Championship at the Canaan Resort in Davis, W.V. The sophomore from Ardee, Co. Louth shot 69 and 67 to finish just a stroke off the medalist, Alex Easthom of West Liberty. D&E's Jordan Hyland, a Belfast senior, shot 71 and 70, which was good for 10th place. 
 South Alabama's Jack Hearn earned a share of 11th place in the Tempest Intercollegiate at Tempest Golf Club in Gladewater, Tex. The senior from Carrick-on-Suir, Co. Tipperary mixed rounds of 73, 69 and 74 to finish even after 54 holes. He was five strokes off the winning number belonging to Texas State's Tom Reed Karlsen. 
 Jack Madden tied for 12th place in the Bubba Barnett Invitational at Ridge Pointe in Jonesboro, Ark. The Arkansas State senior from Dungannon, Co. Tyrone posted rounds of 69, 72 and 76 to finish 54 holes one stroke over par and 13 behind the medalist, teammate Devyn Pappas. The Red Wolves took the team title with four finishers among the top 10. 
 Luke O'Neill shared 23rd place in the Oregon State Invitational at Trysting Tree in Corvallis, Ore. The Kansas State junior out of Galway combined rounds of 71, 74 and 73 to finish the event five strokes over par and nine off the winning score posted by Utah's Javier Barcos. Kansas State won the team crown. 
 Sacred Heart's Eoin Freeman finished joint-25th in the Bucknell Invitational in Lewisburg, Pa. The Dublin sophomore shot 74, 73 and 72 to finish nine strokes over par and 11 behind Josh Nagy of Robert Morris University, the only man in the field to break par for 54 holes. 

WOMEN'S GOLF
 Lauren Walsh was one of three Wake Forest golfers to finish in the top 10 in the Jackson T. Stephens Cup Stroke Play at Seminole Golf Club in North Palm Beach, Fla. The County Kildare senior had low round honors of 67 in the second frame. She sandwiched rounds of 74 and 72 around that to earn a share of eighth place, seven strokes behind teammate Rachel Kuehn, the medalist. The Demon Deacons won the team title. Aine Donegan of Louisiana State posted rounds of 75, 75 and 82 to tie for 36th place. She is a sophomore from Ennis, Co. Clare. 
 Auburn's Anna Foster tied for 16th place in the Illini Women's Invitational at Medinah Country Club in Medinah, Ill. The junior from Dublin shot 67, 72 and 71 to finish the event six strokes under par and 10 off the low number shot by Georgia's Jenny Bae. 
 Sara Byrne of Miami (Fla.) shot 73 and 77 to stake out a share of 13th place in the Ivy Invitational at Baltusrol in Springfield, N.J. That left the sophomore from Douglas, Cork nine strokes off the low duo. 

MEN'S CROSS COUNTRY
 Butler senior Barry Keane placed second in the Weis-Crockett Invitational in Stillwater, Okla. The Waterford runner's time of 23:30.7 for 8,000 meters was eclipsed only by Montana State's Duncan Hamilton, who crossed in 23:28.8. Butler's Evan Byrne, a senior from Cork, was along in 24:08.8, good for 26th place. 
James Dunne of Adams State finished seventh in the Highlander Invitational in Riverside, Calif. A sophomore from Tullamore, Co. Offaly, Dunne ran 8,000 meters in 23:58.2. Teammate Awet Beraki won the race in 23:23.6.
Another son of Tullamore, Aaron Mangan of Fort Hays State, got 40th place in the Trojan Invite in Colby, Kan. He completed the course in 26:29.11 in a race won by Sanele Masondo of Colby Community College in 23:45.17.
Tulsa senior Michael Power from Dungarvan, Co. Waterford was the top-finishing Irishman in the Nuttycombe Invitational in Madison, Wis. His 23:25.2 was good for 11th place. Behind him came teammates Shay McEvoy, a sophomore from Kilkenny, in 14th place (23:26.5), and Cormac Dalton, a senior from Mullingar, Co. Westmeath, 19th (23:28.1). Washington's Brian Fay, a senior from Dublin, placed 34th (23:37.5), Florida State's Fearghal Curtin, a senior from Cork, finished 54th (23:48.4), Villanova's Charlie O'Donovan, a senior from Cork, was 84th (23:59.3), Providence College's Shane Coffey, a sophomore from Naas, Co. Kildare, 125th (24:13.1), Syracuse's Paul O'Donnell, a senior from Dublin, 143rd (24:21.2), Providence's Michael Morgan, a sophomore from Sligo, 146th (24:21.9), New Mexico's Kevin Mulcaire, a senior from Clarecastle, Co. Clare, 154th (24:25.2), Providence's Abdel Laadjel, a sophomore from Lucan, Dublin, 171st (24:33.5), and Providence's David McGlynn, a senior from Williamstown, Co. Waterford, 206th (24:57.0). Stanford's Ky Robinson broke the tape in 23:09.9. 
 Auburn sophomore Louis O'Loughlin from Clondalkin, Dublin finished 28th in the Crimson Classic in Tuscaloosa, Ala. His time for 8,075 meters was 24:50.5 Alabama's Victor Kiprop ran 23:16.8 for the victory. 
 Mississippi's Shane Bracken placed 63rd in the XC23 Invitational in Earlysville, Va. A senior from Foxford, Co. Mayo, Bracken finished in 24:24.8. The race went to Charlotte's Nickolas Scudder in 23:00.2. 

WOMEN'S CROSS COUNTRY
 Augusta's Cassie Lagan, a sophomore from Omagh, Co. Tyrone finished second in the Bulldog Stampede in Wingate, N.C. Her time of 23:22.90 was bettered only by Wingate's Grace Burrell, who broke the tape in 23:09.80. 
 Temple's Laura Nicholson, a junior from Cork, placed 28th in the PSU National Open in State College, Pa. She was clocked for 6,000 meters in 21:27.1 in a race won by West Virginia's Ceili McCabe in 20:00.7. 
 Jane Buckley was the top finisher among the Providence College contingent at the Nuttycombe Invitational in Madison, Wis. A freshman from Cork, she finished 38th with a time of 20:25.9. Behind her arrived Niamh O'Mahony, a freshman from Tralee, Co. Kerry, 133rd in 21:04.7, Laura Mooney, a sophomore from Cappincur, Co. Offaly, 177th in 21:25.0, and Alex O'Neill, a junior from Ennis, Co. Clare, 223rd in 21:57.3. North Carolina State's Katelyn Tuohy outran 262 rivals in 19:44.3. 
 Lynn's Emma Campbell, a senior from Swords, Co. Dublin, checked in 41st in the South Florida Invitational in Tampa. She ran the 6,000 meters in 21:13.2 in a race won by Florida Gulf Coast's Karley Piers in 18:34.6. 

WOMEN'S SOCCER
 Aoife Horgan, a sophomore forward from Ballybunion, Co. Kerry, scored two goals in Central Connecticut State's 3-0 win over Merrimack at home last Thursday. She has three goals this season for the Blue Devils (8-5-1). 
 "Aoife has been playing really well lately, so we were pleased to see her get two goals tonight as a reward for all her hard work," said CCSU Head Coach Mick D'Arcy.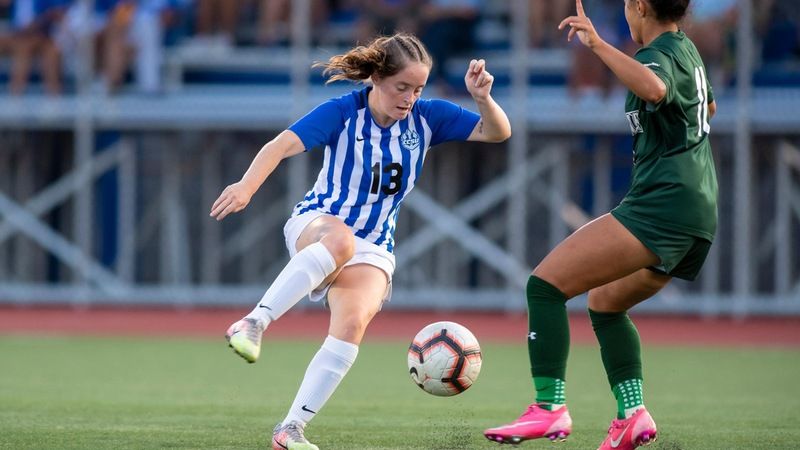 Aoife Hogan.
 Aisling Spillane, a sophomore midfielder from Dublin, scored Eckerd's lone goal in a 2-1 loss to Florida Southern in Lakeland, Fla. last Wednesday. That's her third tally of the season. The Tritons are 4-5-1. 
 Aislinn Meaney's corner kick resulted in an assist on the lone goal by Indiana (Pa.) in Saturday's 1-1 tie with Clarion at home. She is a senior forward from Ennis, Co. Clare. The Crimson Hawks are 3-4-6. 
 Rebecca Cooke notched her 18th goal of the season in Quinnipiac's 5-0 victory over Rider in Hamden, Conn. last Wednesday. She is a junior forward from Dublin. The Bobcats are 10-1-1. 

MEN'S SOCCER
 Oscar Brennan scored a goal in each of Truett-McConnell's matches last week, a 6-1 win over Columbia (S.C.) and a 2-1 loss to Union (Ky.), both played in Cleveland, Ga. He is a sophomore midfielder from Rathoe, Co. Carlow. The Bears are 7-5-2. 
 Ryan Carmichael got the scoring started for Hofstra in last Tuesday's 4-0 triumph over St. Joseph's (Pa.) in Hempstead, N.Y. The junior forward from Portadown, Co. Armagh then converted a penalty kick for the Pride's lone goal in a 3-1 loss at home to Elon on Saturday. He now has seven goals on the season for the Pride (9-3-1).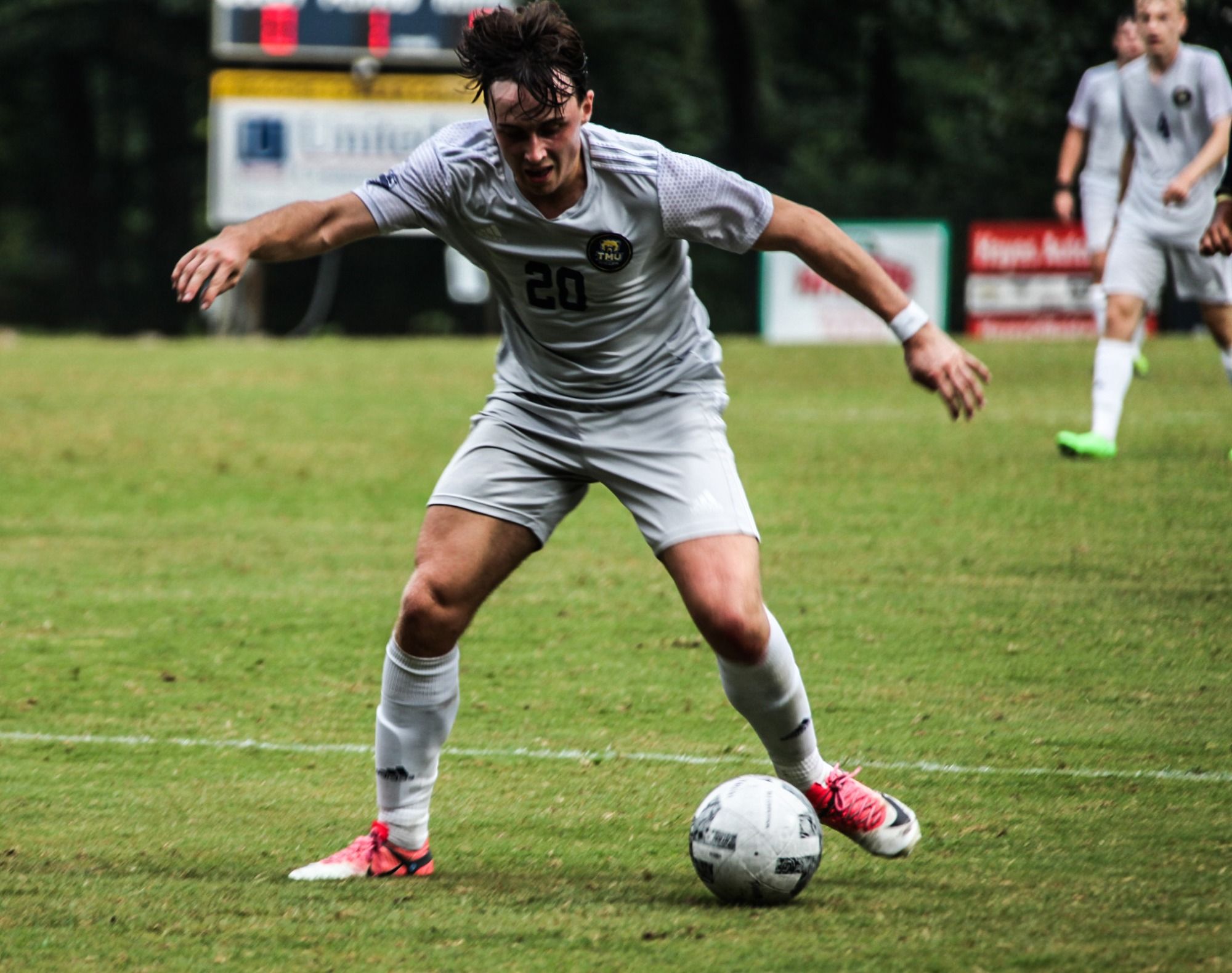 Oscar Brennan.
 Matthew Lynch picked up an assist, his second of the season, in Adelphi's 3-0 win over New Haven in Garden City, N.Y. last Tuesday. He is a sophomore midfielder from Belfast. The Panthers are 7-2-4. 
 Both Brandon Bermingham and Jamie Wynne scored for William Carey in Thursday's 4-1 victory over Faulkner in Hattiesburg, Miss. Teammate Caoimhin McConnell earned an assist on the Crusaders' first goal. Wynne and McConnell are freshmen from Dublin and Antrim, respectively. Bermingham is a sophomore from Drogheda. Carey is 9-1-3. 
 Matt Whelan knocked in his 11th goal of the season in Davenport's 2-1 loss to Parkside in Kenosha, Wis. on Sunday. He is a senior forward from Cork. The Panthers fell to 5-6-3. 
 Justin Croke, a junior midfielder from Waterford, set up the lone goal for Science & Arts of Oklahoma in a 1-1 draw with Mid-America Christian in Chickasha, Okla. on Friday. The Drovers are 8-3-2. 
 Killian Griffin assisted on West Alabama's only goal in a 2-1 loss to host Alabama-Huntsville on Saturday. He is a sophomore back from Waterford. The Tigers dropped to 5-3-5. 
 Mark Donnelly earned credit for an assist as West Liberty tied with Frostburg State, 4-4, in Frostburg, Md. last Wednesday. He is a junior midfielder from Belfast. The Hilltoppers are 1-9-3. 

FIELD HOCKEY
 Rachel Houston assisted on all three Rutgers goals in Sunday's 4-3 road loss to no. 2 Maryland. She is a senior forward from Hillsborough, Co. Down. The 20th-ranked Scarlet Knights are 7-7. 
 Niamh Gowing of Providence College scored on a shot from the right edge of the circle to the back post in a 4-2 loss to Virginia Commonwealth in Richmond on Sunday. The grad student from Dublin now has three goals this season for the Friars (5-10).
 Hannah Mangan, a senior from Dublin, made three saves to help Albany defeat UMass-Lowell, 3-1, at home on Friday. The Great Danes then visited the main branch of the UMass system in Amherst, where they left with a 2-1 victory after two overtime periods. Mangan stopped eight shots as the 23rd-ranked Great Danes (11-4) upset the no. 18 Minutewomen. 
 Siofra Murdoch set up the winning goal as 15th-ranked Harvard staved off upset-minded Delaware, 2-1, in Cambridge, Mass. on Sunday. Murdoch is a sophomore midfielder from Dublin. The Crimson are 11-3.