Lauren Egbuloniu scored her first two goals of the season to lift Louisiana Tech's women's soccer team to a 2-1 victory over Alabama-Birmingham in Ruston, La. on Sunday. She is a sophomore forward from Cobh, Co. Cork. Tech is 7-7-3.
Roma McLaughlin nailed a penalty kick to enable Central Connecticut State to salvage a 1-1 tie with Sacred Heart on Sunday. She is a senior midfielder from Greencastle, Co. Donegal. The Blue Devils are 8-5-2.
 Rebecca Cooke finished off the scoring for Quinnipiac in a 5-1 victory over Manhattan in Hamden, Conn. last Wednesday. The junior forward from Dublin also set up the Bobcats' third and fourth goals of the match. She also picked up an assist in Saturday's 2-0 win over St. Peter's in Jersey City. She has 19 goals and six assists this season for Quinnipiac (11-2-1).
 Sarah Haddock set up the first goal of the match as Cumberland (Tenn.) shut out Shawnee State, 4-0, in Portsmouth, Ohio last Wednesday. She is a senior back from Newtownards, Co. Down. The Phoenix are 12-3.
Aisling Spillane got credit for an assist in Eckerd's 2-2 tie with Barry in Miami Shores, Fla. on Thursday. She is a sophomore midfielder from Dublin. The Tritons are 4-5-2.
Aislinn Meaney of Indiana (Pa.) earned an assist on the Crimson Hawks' lone goal in a 1-1 tie with Edinboro on the road last Wednesday. She is a senior forward from Ennis, Co. Clare. IUP is now 4-4-7.  
MEN'S SOCCER
  A Sean Kerrigan hat trick led Mercyhurst past Seton Hill, 6-0, in Greensburg, Pa. last Wednesday. The sophomore midfielder from Sligo scored on a penalty kick, a flick into the net off a pass from the right side and on a diving header from a free kick. The goals just kept piling up in Erie on Saturday as the Lakers (15-0-1) treated visiting Pitt-Johnstown to a 10-0 shellacking. Kerrigan again scored thrice for his second treble in the week. That's 17 goals on the season for him.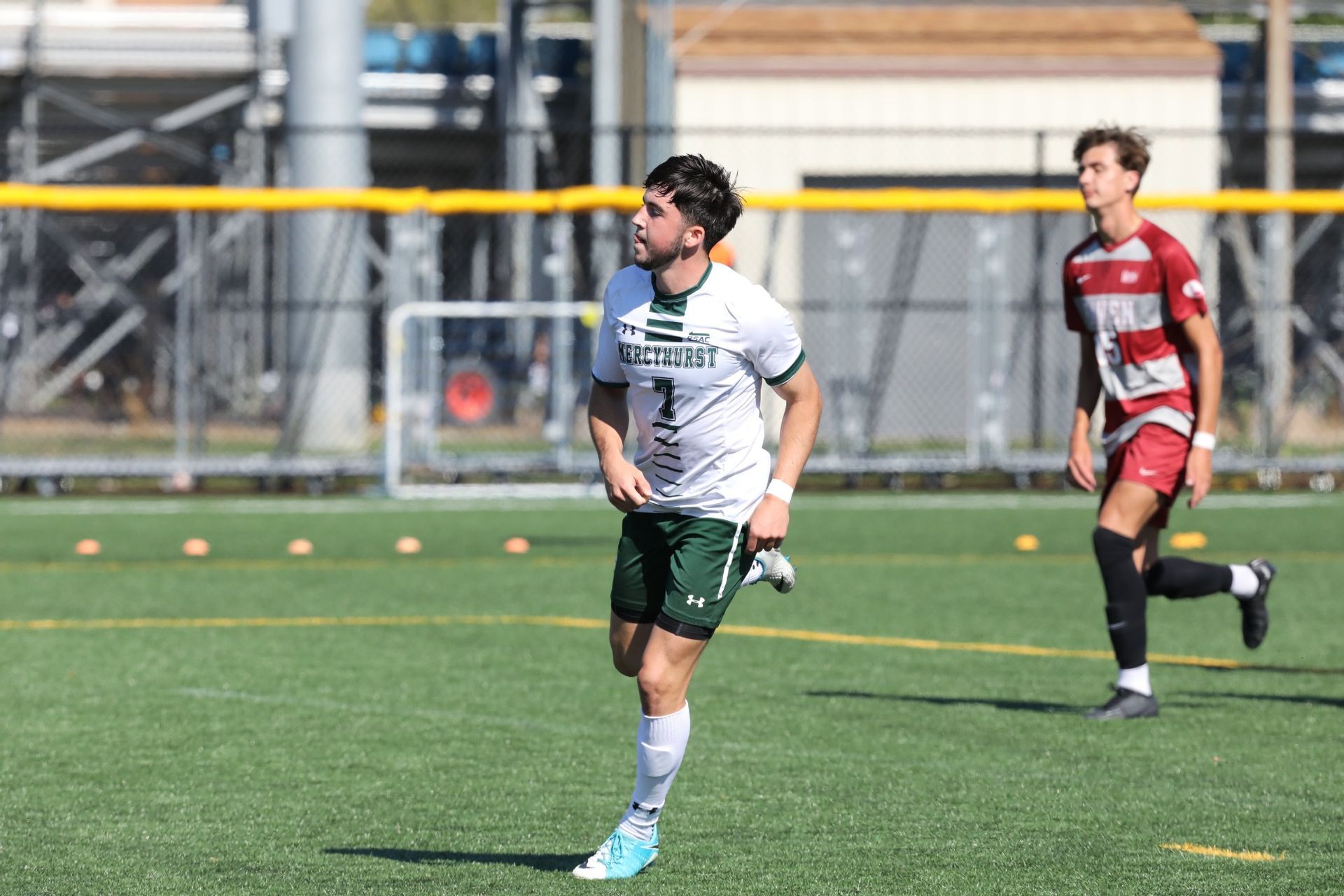 Sean Kerrigan. [Photo by Ed Mailliard]
Cian Foley blasted a free kick over five defenders and the keeper in the 88th minute to give St. Mary's (Tex.) a 2-1 victory over Lubbock Christian in a Saturday road contest. He is a senior midfielder from County Wexford. The Rattlers continue to sting at 10-0-5.
Paddy Burns's penalty kick made the difference in Notre Dame's 1-0 win over Virginia Tech in South Bend, Ind. on Friday. He is a junior back from Crumlin, Co. Antrim. The Fighting Irish are 7-6-1.
 Andy Brennan also converted a penalty kick to allow Truman State to salvage a 1-1 tie with Rockhurst in Kansas City on Friday. His tally came in the 82nd minute. He is a grad student from Dunboyne, Meath. The Bulldogs are 5-5-6.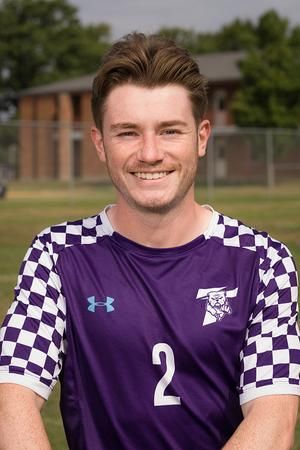 Andy Brennan.
 Alex Ruane scored a goal and earned an assist in Thomas University's 7-0 victory over Ave Maria in a Tuesday home match. He is a sophomore back from Dublin. The Night Hawks are 5-5-2.
 Freshman back Josh Barry saw his first action for Coker against an overmatched Emory & Henry in Emory, Va. on Saturday. The Dubliner used the occasion to score his first collegiate goal in an 8-0 drubbing of E&H. The Cobras are 6-1-8.
Reece Montgomery scored his first goal of the season on Friday. The Hawaii Pacific grad student out of Dromore, Co. Down finished the scoring in a 3-0 triumph over Fresno Pacific in Waipahu, Hawaii. The Sharks improved to 5-4-2.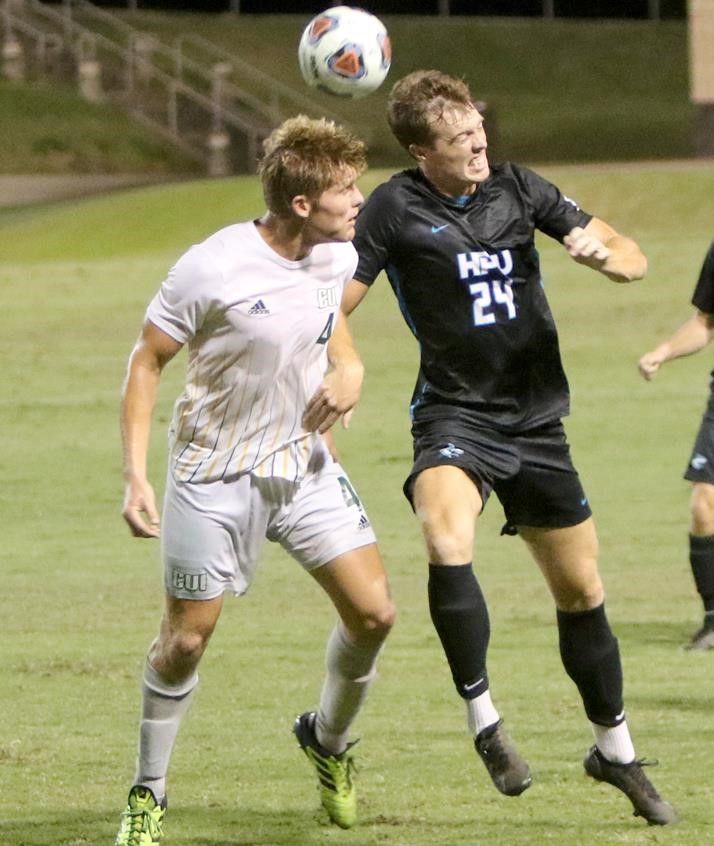 Reece Montgomery, right. [Photo by Eric Alcantara]

Ryan Carmichael carried much of the scoring load for Hofstra last week. The junior forward from Portadown, Co. Armagh accounted for the Pride's tally in a 1-1 tie with Virginia in Charlottesville, Va. last Tuesday. Then, he scored their second goal in Saturday's 2-2 draw with Drexel in Philadelphia. Hofstra is 9-3-3.
 A free kick by Daniel McIlroy found the head of a Carson-Newman teammate who redirected the ball into the goal for the Eagles' only tally in a 2-1 loss to Auburn-Montgomery. McIlroy is a sophomore midfielder from Larne, Co. Antrim. The Tuesday victory lifted the Eagles to 7-3-5.
Jamie Redmond, a sophomore midfielder from Dublin, set up West Liberty's goal in a 1-1 tie with West Virginia Wesleyan in a Sunday home match. The Hilltoppers are 2-9-4.
WOMEN'S CROSS COUNTRY
Grace Dervan finished 12th of 138 runners in the Adelphi Short Course Showdown in Bethpage, N.Y. The American International senior from Kilkeel, Co. Kildare ran the 5,000-meter course in 19:47.6. Ashley Corcoran of Southern New Hampshire won the race with a time of 18:03.4.
FIELD HOCKEY
Siofra Murdoch scored her fourth goal of the season in Harvard's 4-2 loss to Princeton in a Sunday road contest. She is a sophomore midfielder from Dublin. The Crimson dropped to 11-4.
MEN'S GOLF
Paul Conroy led Chattanooga to the team title in the Furman Intercollegiate in Greenville, S.C. The sophomore from Enniscorthy, Co. Wexford was the Mocs top finisher, firing rounds of 69, 69 and 68. He tied for third place, two strokes off the low number posted by two rivals.  
Kyle Honer of Oakland City University tied for second place in the Atomic City Classic in Oak Ridge, Tenn. The Dublin freshman shot 75 and 73 to finish four strokes off the medalist, Seth Robinette of Roane State. Honer's teammate, Jack Dolan, also a freshman from Dublin, got fifth place by shooting 74 and 76.
Marquette's Josh Robinson tied for sixth place in the Dayton Flyer Invitational at NCR Country Club in Kettering, Ohio. The Antrim senior signed to rounds of 72, 74 and 73 to finish the event six strokes over par and six in back of medalist Tyler Jones of Marshall.
 A shaky start cost Alex Maguire dearly in the Little Rock Invitational at Chenal Country Club in Little Rock, Ark. The Florida Atlantic senior from Mornington, Co. Meath slashed his way to an opening 78. He found his stride through subsequent rounds of 72 and 70 but that left him 12 strokes off the low score shot by Ryan Dupuy of Southern Mississippi. Farther back in the field were Ryan Milne, a Louisiana-Monroe sophomore from Waterford, who shot 234 (78-74-82) for a share of 73rd place, and Little Rock's Ryan McNelis, a junior from Ballygawley, Co. Tyrone, who shot 238 (78-80-80) for 81st place.
The scores came in on the high side in the Iowa Fall Classic at Blue Top Ridge in Riverside, Ia., with the medalist, Iowa's Mac McClear, the only man to break par. So, Connor Glennon's score of 238 (79-80-79) has to be viewed with some perspective. He finished tied for 34th place, 24 strokes behind McClear. Glennon is a senior from Glasson, Co. Westmeath.
Eoin Freeman of Sacred Heart struck consecutive rounds of 77 to claim a share of 23rd place in the Sacred Heart Fall Classic at Great River Golf Club in Milford, Conn. He is a sophomore from Dublin. He was 16 shots off medalist Colin Summers of Fairfield.
WOMEN'S GOLF
 Top-20 finishes were in the cards to Lauren Walsh of Wake Forest and Mairead Martin of Louisville in the Ruth's Chris Tar Heel Invitational at Governors Club in Chapel Hill, N.C. Walsh, a senior from County Kildare, tied for fourth place, having shot 71, 69 and 73. At 3-under-par, she was four strokes off the low number. Martin, a senior from Kanturk, Co. Cork, posted rounds of 75, 71 and 75, which was good for a share of 20th place.
 Little Rock's Anna Dawson tied for 10th place in the Little Rock Golf Classic at Diamante in Hot Springs Village, Ark. The Waterford sophomore had sole possession of the lead after opening with 68. But she couldn't maintain the pace as subsequent rounds of 75 and 75 left her five strokes off the winning score posted by Houston Christian's Elise Parel.
Indiana's Valerie Clancy took a share of 38th place in the Ally Invitational at Old Waverly in West Point, Miss. The senior from Mitchelstown, Co. Cork shot 77, 73 and 83 to finish 17 strokes over par and 20 behind medalist Andrea Lignell of Ole Miss.