The 14th Annual 1st Irish Festival, produced by the Origin Theatre Company, opened on Sunday and will continue through Jan. 31. The 2022 festival will host 20 live and virtual events – which include films, online panels and Zoom events, as well as a select number of in-person special events. 
But at the heart of the 2022 edition of the event inevitably is the mix of theatrical productions, both live and online.
Among the plays being seen digitally are six acclaimed new productions. Opening the Festival on Jan. 9, from Dublin's Fishamble ("Duck Duck Goose"); The Everyman in Cork ("City"); About Face in Dublin ("Transatlantic Tales 2"); The Wexford Art Centre ("One Voice Festival: Tales from the Quay"); The digital premiere of Irish Rep's NY Times Critics' Pick production of "A Girl Is a Half-Formed Thing;" and, from Solas Nua in Washington DC, the digital premiere of "In the Middle of the Fields."
Plays seen in-person in New York include John Kearns' "Boann and the Well of Wisdom" (opens the Festival live at Ryan's Daughter, Sunday, Jan. 9 at 2 p.m.); the world premiere of David Gilna's "A Bolt from D'Blue" (at the New York Irish Center); Clare O'Malley's solo musical "Transatlantic Living" (at the Irish Rep), and John McDonagh's crowd-pleaser "Off the Meter" (playing three times at 80 St. Marks).
The comedian Des Bishop will kick off this year's Festival on Thursday, January 6 at (Poor Mouth Theatre's An Beal Bocht Café), when he starts a five-show run of his new solo show "Mia Mamma."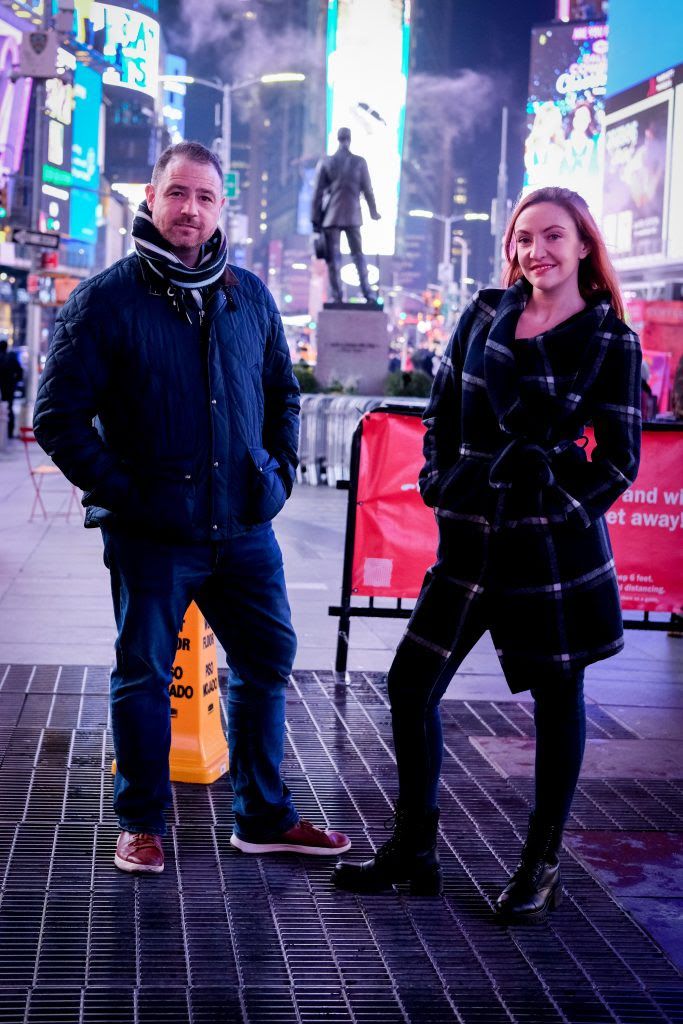 Origin's Artistic Director Michael Mellamphy and 14th Annual 1st Irish Curator Sarah Street.
PHOTO BY JAMES HIGGINS

Eyes of a friend
Fishamble's "Duck Duck Goose" by Caitríona Daly directed by Jim Culleton is the opening play of the Festival.  With Aidan Moriarty, Caitriona Ennis, John Doran, Liam Heslin, Naoise Dunbar, and Roseanna Purcell.  In this viscerally charged ensemble production we witness the unfolding story of a rape allegation through the eyes of a friend of the accused, who, in an attempt to help his friend, becomes deeply embroiled.  As the rules change, and confusion reigns, Chris struggles between loyalty, love and doubt.  Full of moral ambiguity and psychological complexity, "Duck Duck Goose" constantly shifts our perspective on ideas of consent, trust, and trial by social media.
Language of buildings
The Everyman (Cork) presents "City." Written and performed by John McCarthy and directed by Niall Cleary.  McCarthy's virtuosic solo work articulates a unique language of buildings, in a story of a city told from the inside out.  In "City" McCarthy uses the inner logic and pathology of microprocessor circuitry to trace the stories of fourteen intersecting streets, three time periods and a stretch of bog in the Midlands, to trace the stories contained in the buildings that collectively add up to a bristlingly real city. 
Zoom calls
About Face (Dublin) returns to 1st Irish for the second year running with an all-new edition of its award-winning made-for-digital production, "Transatlantic Tales." Directed by Paul Nugent, "Transatlantic Tales" lets us eavesdrop on eight Zoom calls between Ireland and America, capturing eight distinct Irish-American stories ranging from the funny and surprising, to the arresting and heart-breaking.  Written by eight outstanding Irish women playwrights, the mini-plays feature many familiar actors on either side of the Atlantic.

Storied Quay

"One Voice Festival: Tales from the Quay" directed by Paul Walsh, and produced by the Wexford Arts Center, in association with Paul Walsh Productions:  In this unique festival of stories inspired by Wexford's love affair with its storied quay, hard by St. George's Channel separating Ireland and Wales, the show, which was captured live in August, features a selection of specially-created monologues written and delivered by some of Wexford's best-known artists.

Novel adaptation 
The Irish Rep's NY Times Critics' Pick production of "A Girl Is a Half-Formed Thing": Eimear McBride's highly acclaimed novel, adapted for the stage by Annie Ryan, and directed by Nicola Murphy, stars Jenn Murray. 
'Fields' in DC
"In the Middle of the Fields" by Deirdre Kinahan directed by Laley Lippard:  This site-specific US premiere production was staged at P Street Beach Park by Solas Nua in DC (Rex Daugherty artistic director) in May/June 2021, to major acclaim.  
For full Festival program details and tickets go to OriginTheatre.org.