Kilcoo 3-10; Derrygonnelly 0-3
Kilcoo won't be the first team to win a game by 16 points in a final, but in terms of a spectacle, this game would even have to finish runner-up to watching cement set or flies walking up or down a wall.
Without meaning to disrespect either team in this Ulster SF club final, the game was the identikit of a football killer – so negative that it became a style of the rugby league code, played mostly in the Derrygonnelly half as a lively Kilcoo went over and backwards dozens of times per move before inevitably finding a gap to nip through and either score or kick a wide or on the odd occasion face a turn over.
Former Armagh All-Ireland winner Oisin McConville hit the nail on the head when he declared the contest "unwatchable" yet despite that, don't be a bit surprised if the Down and now Ulster champions manage to go all the way in this competition.
They are a team of fine footballers if not a fine footballing team and as we saw in the Athletic Grounds on Sunday: they know how to control a game and keep the scoreboard ticking over.
I'd watched with delight the progress of the Fermanagh champs Derrygonnelly to their first provincial final, but what a disappointment they proved for themselves and their strong legion of fans.  They set up like a terrified unit and once Kilcoo got the run on them, they were unable to get their hands on the ball and compete. Hopefully they will come back more self-assured because they are a better team than they looked in this game.
I fancy Kilcoo  when they come up against the new Munster champions, Cork's St Finbarr's, next weekend but there is no doubt they will face a bigger test than they faced on Sunday.
Goals win matches and when Daryl Branagan, Ceilum Doherty and Shealin Johnston struck at various times, they merely succeeded in putting nails into the coffin of an already dead corpse. Points alone would have seen Kilcoo emerge victorious by seven points – the goal were icing on the cake.
Three points over in an hour's endeavour shows clearly how inept the losers were on the day and the fact that all the had to show for their second-half efforts was a pointed free from Conall Jones is a clear indication they were out of their depth.
Kilcoo: N Kane (0-1f); N Branagan, R McEvoy (0-2f), A Branagan; M Rooney (0-2), D Branagan (1-0), D Ward, A Morgan; C Doherty (1-0), J Johnston, S Johnston (1-0); C Laverty, R Johnston, P Devlin (0-5, 0-3f) Subs: Anthony Morgan for R Johnston (51), A Branagan for Ward (55), F McGreevy for Laverty (55), P Greenan for Aaron Morgan (57), S McCusker for S Johnston (58)
Derrygonnelly: J McGurn; A Jones, T Daly, M Jones; O Smyth, D Cassidy, Lee Jones; S McGullion, R Jones (0-2); E McHugh, G Jones, Leigh Jones; S McGullion, C Jones (0-1f), G McKenna Subs: C Burns for Smyth (45), G McGovern for Leigh Jones (51), Rian McGivern for Lee Jones (54), Ronan McGovern for McKenna (55), P Ward for G Jones (57)
Ref: M McNally (Monaghan).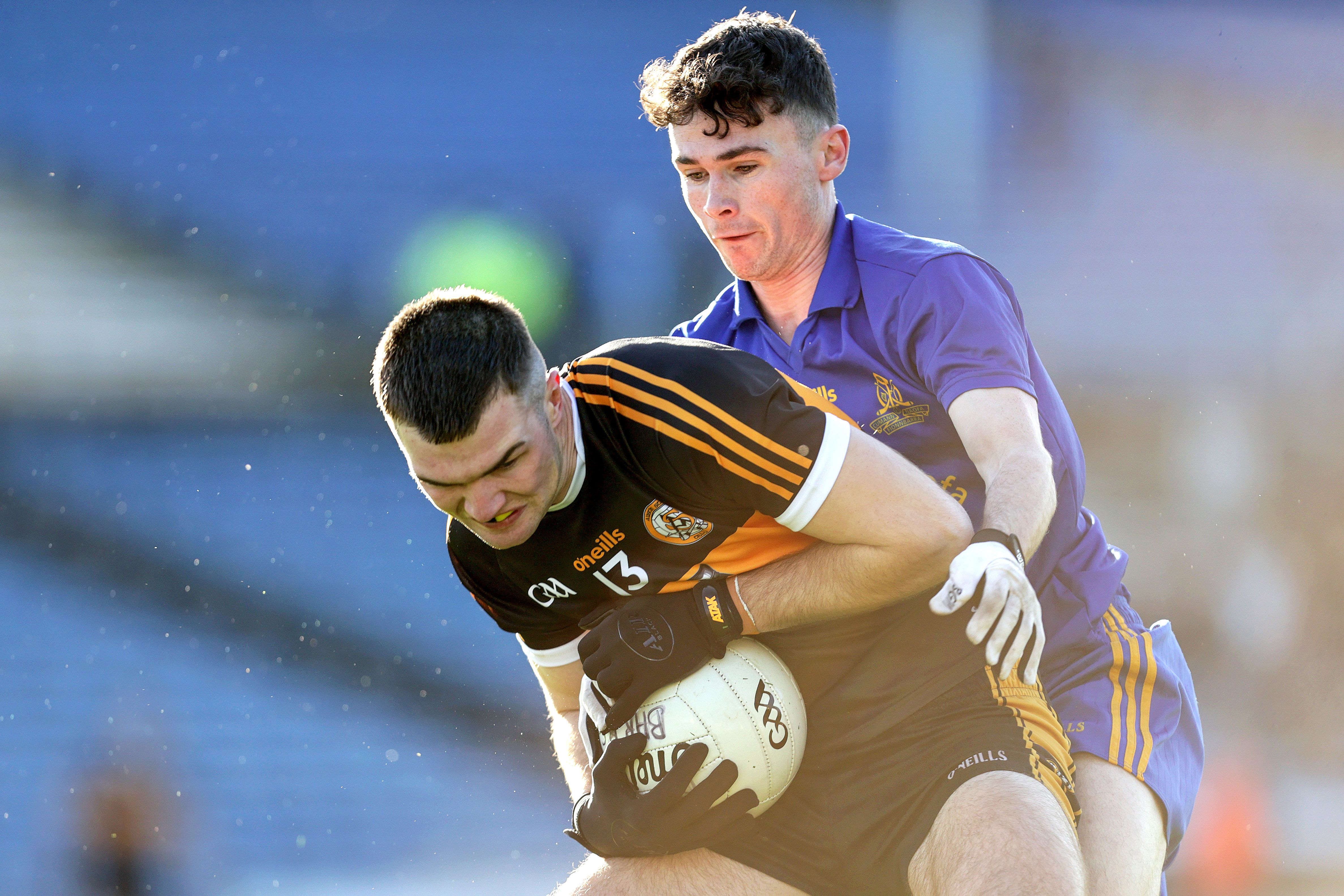 Barrs come through against age-old rivals
St Finbarrs 2-9; Austin Stacks 1-10
These were two of the great early trailblazers in this competition and for the traditionalists among us, it was great to see them back contesting a Munster SF club final again after more than 40 years.
It was the Cork outfit St Finbarr's who held on for a memorable win after a pulsating finish where it looked like the Tralee side would come back from the dead of a poor first half showing to nick the game on the final whistle at Semple Stadium on Sunday.
Overall, the Rebel side played the better football and just about deserved to hang on to claim their fifth Munster Club title. They went in at half-time six points to the good and apparently home and hosed, but Kerry's Stacks staged a great comeback to inch within a point thanks to a great third-quarter showing on their behalf.
When the Barrs ended a 20-minute drought with a point from Brian Hayes immediately after the second water break, it set up a grandstand finish. When
Enda Dennehy got through for a 59th minute goal to leave the winners 2-8 to 0-9 ahead, it looked as though they had finally staked the Kerry men. However the tradition of that county is they die with their boots on and so it proved as Sean Quilter beat Cork custodian John Kerins all ends up to reduce the gap to the minimum.
What way would the game go? Could the men from Rock Street continue their comeback or had the Barrs a final kick to get them over the line?
The Cork boys won the vital kickout after conceding the goal and when Michael Shields was fouled,  Steven Sherlock  slotted over the free to give them breathing space up to the long whistle.
St Finbarrs: J Kerins; S Ryan, J Burns, C Scully; C Lyons (0-1), B Hennessy, A O'Connor; I Maguire, E Comyns; D O'Brien, B  Hayes (0-3),  E McGreevey; C Myers Murray (1-1), S Sherlock (0-4,0-03f), C McCrickard Subs: C Barrett for D O'Brien (42), E Dennehy (1-0), for C Myers Murray (42), M Shields for C McCrickard (50), L Hannigan for E McGreevey (56).
Austin Stacks: W Guthrie; C Griffin, D Casey (0-1), J O'Shea; P O'Sullivan, C Jordan, R Shanahan; J O'Connor, G Horan (0-2);  M O'Gara, F Mangan (0-1), B O'Sullivan; S Quilter (1-4, 0-2f, 0-1m), K Donaghy, D O'Brien (0-1) Subs: S O'Callaghan (0-1), for B O'Sullivan (inj, 16), M O'Donnell for D O'Brien (ht), B Shanahan for P O'Sullivan (ht), A Heinrich for J O'Connor (inj, 50), A Curran for F Mangan (59)
Ref: C Maguire (Clare)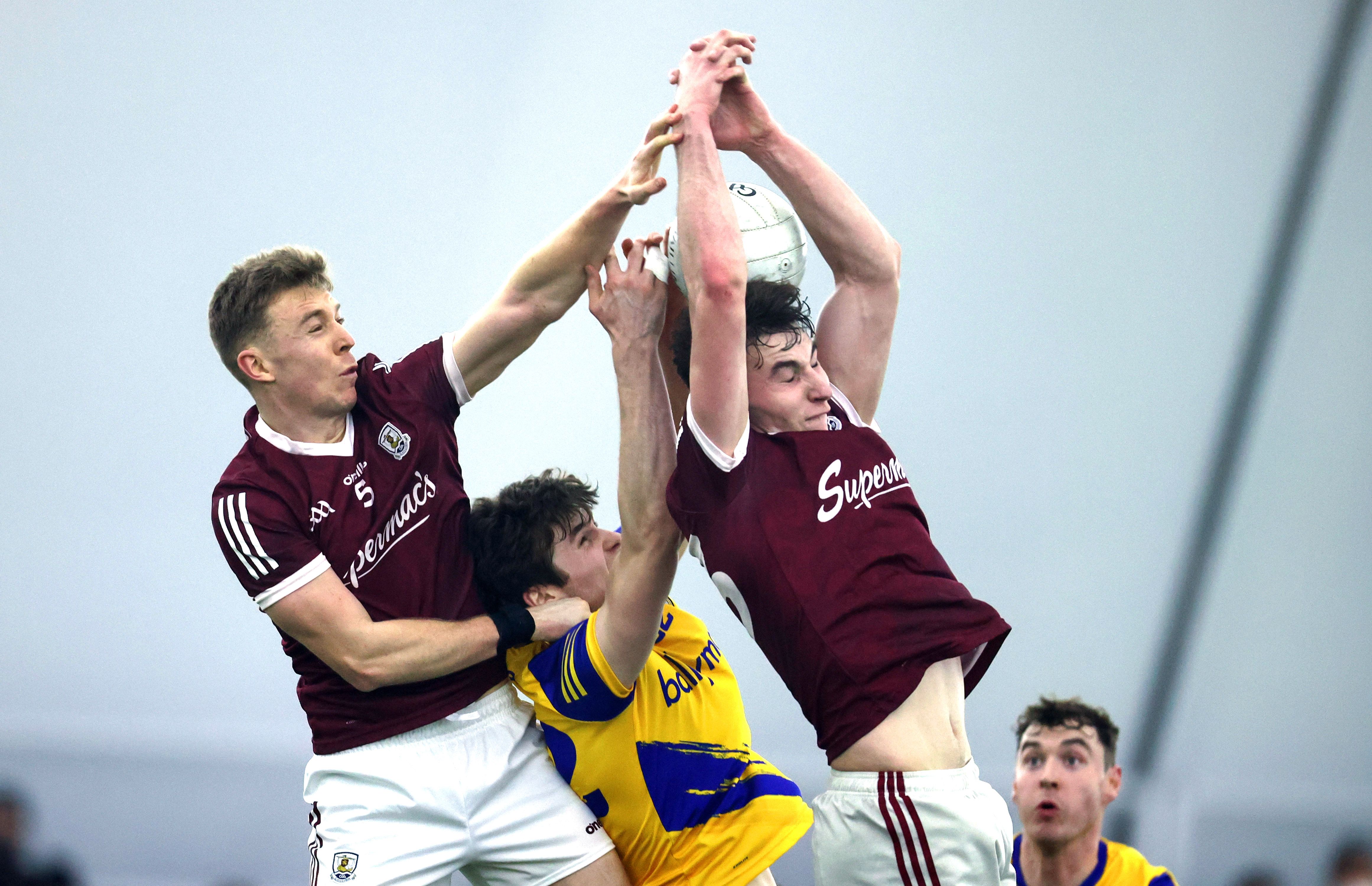 Galway take early West silverware
Galway 1-18; Roscommon 1-16
Galway captured their 10th FBD League title which will mean little or nothing to manager Padraig Joyce other than to show that he has his team ready early in the season to launch an assault on more meaningful competitions such as leagues, Connacht championships and, who knows, maybe even old Sam himself.
Roscommom started the more impressive with Kerry-born Conor Cox on fire with three early points but gradually Galway grew into the contest and made it four wins out of the last seven in this FBD Connacht League win at the GAA Air Dome on Saturday.
Rob Finnerty, Paul Conroy and Johnny Heaney found white flags from long range as the Smith brothers Donie and Enda kept the scoreboard operating for the primrose and blue.
Finnerty grabbed a second point to cut the gap after 17 minutes but the Smith brothers kept up the pressure with more scores. Sean Fitzgerald, arguably the man with the most recognizable mullet in Gaelic football, drew first blood when the full-back sallied up the field to finish home the first goal of the final to cut the Roscommon lead to manageable proportions and at the interval, Galway replacement Tony Gill kick the final score of the half to leave the Rossies 0-10 to 1-6 ahead.
Joyce would have been happy at how his charges took control of the third quarter and their superiority was reflected in the second water break scoreline of 1-13 to 0-12. Big midfielder Paul Conroy and Heaney added on another brace to make the outcome look safe for the Tribesmen but Enda Smith's goal put the game back into the melting pot.
Another sub Cathal Sweeney cashed in with two points to give Galway a five point cushion but Cox and Ciaran Sugrue got it back to a three point margin but the goal that the Rossies needed to turn the game at the death never came.