Patrick Fenton's article "Confessions of a Working Stiff" was published in New York magazine 48 years ago. It would be later anthologized in more than one volume, but when the Brooklyn-born writer was asked by various publishers to do his own book-length project he had to turn them down. Because, well, Fenton really was a working man and by the time the offers arrived he was married with very young children, and he preferred to stick with reliable ways of putting food on the table. 
The writer from Windsor Terrace worked as a cargo handler at JFK, as a court reporter and as a court officer, but he continued to submit pieces over the decades to newspapers like Newsday. He also tried his hand at plays, and his first, "Kerouac's Last Call," was fondly recalled by friends commenting on Facebook after his wife Patricia announced his death, which took place on Jan. 5. He was 80.
Recently, Pat Fenton wrote "Searching for Harry Chapin's America: Remember When the Music" and, the already frequent contributor to this paper was asked to do our author questionnaire. To the question "Name a book that you were pleasantly surprised by," he said "Ulysses."
He didn't say he was directly influenced by Joyce in any way, but certainly like the Dubliner, he believed fiction could work best when the setting was authentically recreated down to the smallest of details. That was the case with his 2015 play "Stoopdreamer," about real-life events in Windsor Terrace during the years Pat was raised there by a mother from County Galway and a father from Galway City. 
Among Fenton's Echo pieces were a few on arguably the most famous New York reporter of the latter half of the 20th century, including one on his funeral in March 2017
"It was one of those cold, windy mornings when everything seems black and white in Manhattan. The Blessed Sacrament Church on 71st Street off Broadway, which was built about 1920 or so, was a fitting place for the funeral of James Breslin. Its interior holds on to a piece of the past as surely as Jimmy Breslin's writing will. The cathedral-type building with its rows of tall columns and archways, massive stain glass windows, and a 20-foot crucifix that hangs over the altar were built at a time when churches, like bank buildings, were once built to last in America."
At the standing-room-only funeral Mass, he spotted Malachy McCourt and a few feet away, "standing against the back wall, was Governor Andrew Cuomo. Somewhere further into the church was the singer Tony Bennett mixed in with writers and journalists like Michael Daly, Tom Kelly, Denis Hamill, Bill Moyers, Jonathan Alter, former New York City Council Speaker Christine Quinn, and the photographer Brian Hamill."
Fenton mentioned what Breslin reported from London about a very famous man in 1965: "'He lies dying in bed, with the brandy going to waste on a shelf and his mouth unable to hold a cigar and the blood spilling inside his head, and now for the ages to come, everybody is going to be explaining his life,' he wrote of the war-time prime minister."
Fenton continued his eye-witness report, "Standing in the church where Jimmy Breslin's funeral is going on you think back on those words he wrote about Winston Churchill as he was dying, and you understand fully why a writer who made a living writing about characters like 'Shelly the Bail Bondsman' could pack a church like this."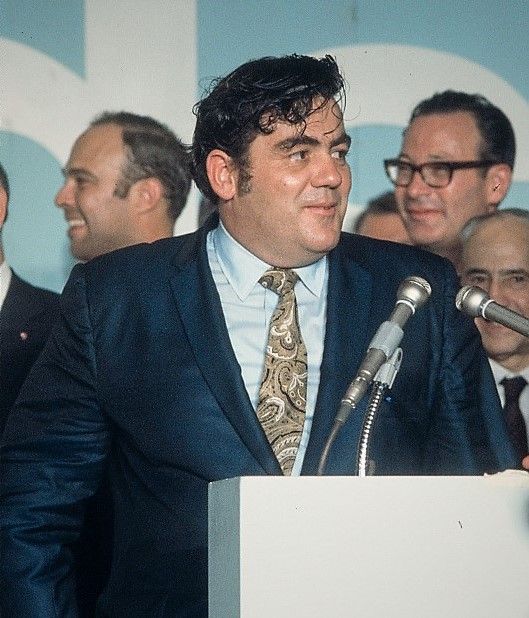 Jimmy Breslin in 1970.
Pat would call the Echo with an idea, and being a pro always sent in just what he said he would do. Back in 2014, a full three years before the funeral, he proposed going to Breslin's apartment to talk to him about his life.
Recalling one incident from the columnist's past, he wrote, "Most people would shudder thinking back on a memory of what he went through that night, but not Jimmy Breslin. For years, he walked in and out of the mob bars that existed throughout Queens as if he was part of that world. Truth was, it was Breslin's world too. He made his living putting his by-line on it.
"He just quietly shrugged, and said, 'I have a bad mouth. And that would start it off. And when I stopped drinking that ended, and nobody could get mad at me. Nobody could get mad at me for the next 40 years.'"
Later in the piece, Fenton inserted a detail that he thought readers would find the most surprising about his interview subject: "It's hard to imagine Jimmy Breslin, the tough, bar fighting, two-fisted drinker from Queens Boulevard, the Daily News columnist, putting a collection basket in front of someone on a Sunday morning, and they looking up at him from a church pew and recognizing him.
"'I always turned all the money in. I didn't take any of it, he said, making a sweeping motion into an imaginary collection basket with his hand.
"'You know, for car fare or anything. I always turned it all in,' and he smiles at me, a mischievous Jimmy Breslin, Queens Boulevard wise-guy smile."
If it was the last substantial statement by Breslin for print, there would be another for the screen, and Fenton was there in 2016 when Jonathan Alterman brought two great Irish-American writers to Farrell's Bar for his documentary about them. 
"In their drinking days both Pete Hamill [whom he also interviewed in 2014] and Jimmy Breslin spent their share of time here, but for Pete Hamill Farrell's bar is something more," Fenton wrote in the Echo, "his dad Billy Hamill, Belfast-born, often drank here. And one block away is the red-bricked, cathedral-like Catholic Church, Holy Name of Jesus where Pete Hamill once served as an altar boy. Once, he rushed by Farrell's on early Sunday mornings carrying his black and white cassock as he headed up 9th Avenue to serve in the first Mass of the day."
 "Breslin and Hamill: Deadline Artists" was released to acclaim in 2018. Fenton wrote shortly after that afternoon in Farrell's in 2016, "What Jonathan Alter and Steve McCarthy are working on is perhaps one of the most important documentaries of our time. We have reached a time in America when there are no more Jimmy Breslins, no more Pete Hamills, no more John Kennedys; sadly, America has run out of them."
In addition to Patricia, Pat Fenton is survived by his children Patrick and Kelly, his grandchildren Miguel and Christopher and other family members. The funeral and burial took place in Massapequa Park, N.Y ., on Sunday and Monday.