Ellen Walshe accounted for 18 of Tennessee's points in the Lady Vols' 163-135 swimming victory over Georgia in the latter's pool on Saturday. Walshe, a freshman from Dublin, won the 100-yard butterfly, timed in 52.91, and was back soon thereafter to lead the way in the 200-yard individual medley, won in 1:57.47. She also swam the third leg on Tennessee's 'A' team, winners of the 400-yard freestyle relay.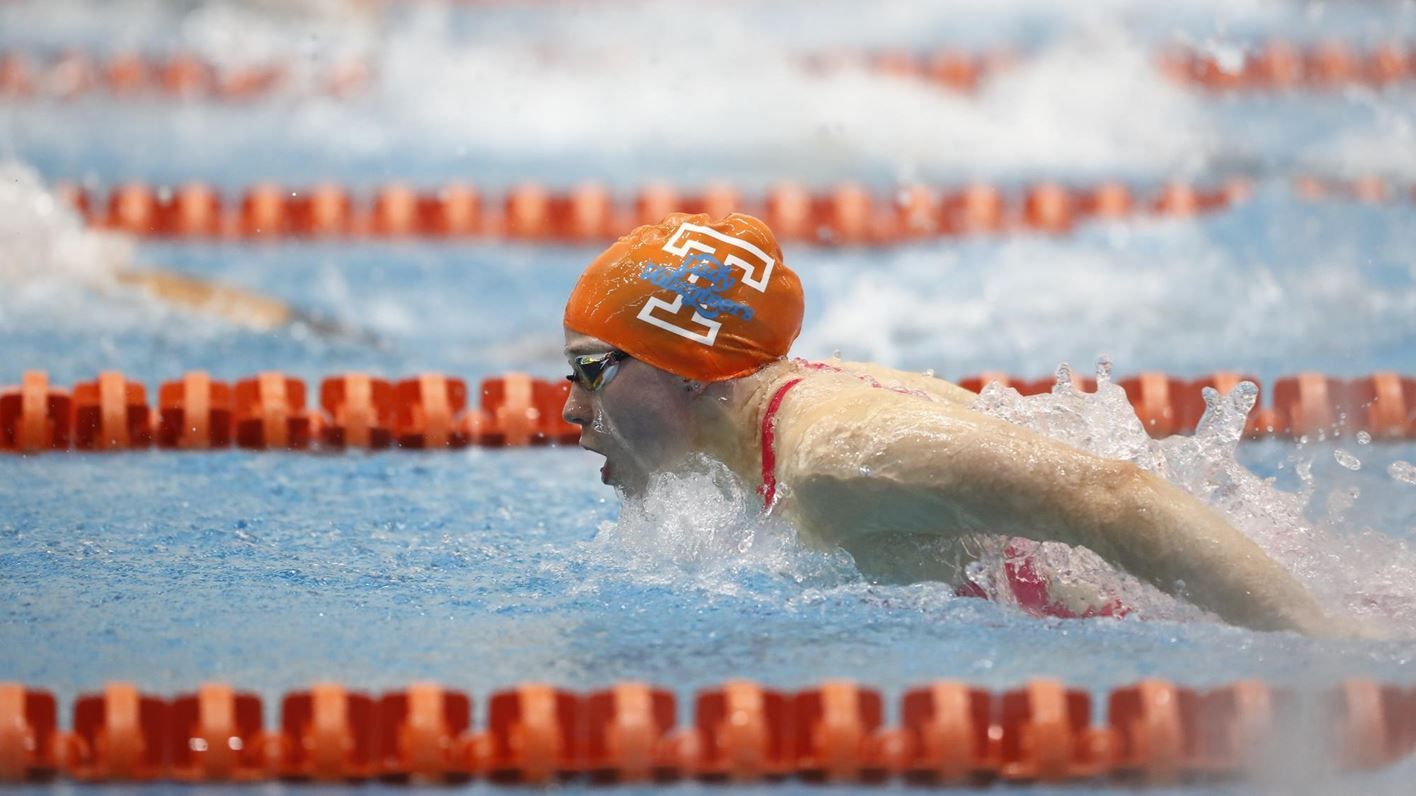 Ellen Walsh.
Cleveland State's Paddy Johnston, a Belfast freshman, won the men's 100-yard backstroke in a tri-meet with Denison and Gannon on Saturday. He stopped the teletimer in 49.87. He also got second place in the 100-yard butterfly, his 50.20 exceeded only by Denison's Ethan Bevill in 49.95. Johnston also anchored the Vikings' 'A' team's winning turn in the 200-yard medley relay. The host Vikings topped Denison, 180-118, and Gannon, 236-63.
Wagner's Dylan Egan got third place in three races over the weekend. The freshman from Swords, Co. Dublin finished the 200-yard freestyle in 1:53.0 in a dual meet against St. Peter's in Westfield, N.J. on Friday in a race won by the Peacocks' Luke Cillie in 1:46.09. Egan later got third in the 200-yard individual medley. He was along in 2:07.44 in a race also won by Cillie in 1:58.85. The Seahawks fell short to St. Peter's, 125-91. The action moved to Brooklyn on Saturday, when Wagner took on St. Francis. Egan got third in the 200 medley, this time in 2:07.50. Ironically, the race was won by Robert Wagner of St. Francis in 2:01.71. The Seahawks came up short here, 148-71. 
MEN'S BASKETBALL
Six was the operative number for James Beckom of John Brown University in Thursday's 101-56 rout of Langston in Siloam Springs, Ark. The 6-3 junior guard from Cork was on the floor for only nine minutes but he lofted six field goal attempts, all of which found their intended target, and took down six caroms. He also had two blocks to go with his 12 points. The Golden Eagles are now 13-8 overall and 7-6 in the Sooner Athletic Conference. 
WOMEN'S BASKETBALL
Houston Baptist was trailing Incarnate Word, 52-48, with just under five minutes remaining in Thursday's contest in San Antonio when Enya Maguire launched a successful three-point try that sparked a 10-point Huskies run. HBU prevailed, 62-57, to improve to 6-7 overall and 2-0 in Southland Conference action. Maguire canned one other longball as well as a free throw to finish with seven points. She is a 5-4 sophomore guard from Belfast. 
Bronagh Power-Cassidy contributed 13 points to Holy Cross' 63-57 victory over Lafayette in Worcester, Mass. on Wednesday. The 5-10 sophomore guard from Dublin made five of 10 of her field goal attempts, including three of six from the MassPike. The Crusaders are now 12-6 overall and 6-1 in the Patriot League. 
SQUASH
Columbia's Ellie McVeigh, a junior from Belfast, posted a 3-2 victory over Dartmouth's Emma Mactaggart in Hanover, N.H. on Sunday. Playing at no. 5, McVeigh won 11-4, 8-11, 11-6, 13-15, 11-5. As a team, Columbia won, 8-1. 
TRACK & FIELD
Many great milers have lined up for Providence over recent decades, too many to recount here. In time, Holly Brennan may add her name to the pantheon. The Friars' freshman from Bettystown, Co. Meath won the women's mile at the URI Coaches Invitational in Kingston, R.I. on Saturday. She cruised on home in 5:02.66 in front of teammates Ashley Foley (5:09.04) and Claire Kelly (5:15.11). Teammate Alexandra O'Neill, a sophomore from Ennis, Co. Clare, won the 500 meters in 1:15.30. 
In the men's mile in Kingston, Providence freshman Abdel Laadjel from Lucan, Dublin was second across. His 4:16.68 pushed teammate Patrick Thygesen to a winning 4:14.35. In the 3,000 meters, the Friars' Shane Coffey, a sophomore from Naas, Co. Kildare, got third place with an 8:44.17 clocking. The race went to Rhode Island's Ben Fleischer in 8:35.36.