The Irish Repertory Theatre is bringing drama back to the New York streets, with their latest on-stage production this season, Dion Boucicault's "The Streets of New York," which performs now through Jan. 30. For Charlotte Moore, this return goes beyond the metaphor, and not a New York minute too soon.
On an evening bustling with joyful frenzy, over an exchange between performances, I sat down with Moore, artistic director of the Irish Rep and director of "The Streets of New York," to discuss her experience returning to live theatre, her beloved Boucicault, and the play's recurring, unique meaning for the city.
"It's passionate and it's tough," Moore said of the Boucicault play. "This is a very tough piece. He says it right out. I mean, he holds nothing back here. I so admire him for that. I'd love to have known him. I might've married him!"
Her current revival of "The Streets of New York," which Moore has also adapted and written the songs herself, will be the first in-person performances she's staged for the Irish Rep since the theatre's shutdown. Asked how she feels to make theatre for live audiences again, she said: "I'm scared to death!"
The return to the real stage has not been without its lack of trepidation, surprises and excitements for her. "It's terrifying! It's anything but business-as-usual -- it's not only exciting and challenging, it's different. And directing with masks on, so it's difficult to see your actors' faces. Talk about a challenge!" Moore said.
To say that Moore is an aficionado of Dion Boucicault's plays would be to understate the director's devotion to the Anglo-Irish American artist. And Moore's selection of the politically-tinged 1857 class melodrama appears as much a choice of striking New York theatergoers with a socially hot iron, as it was near to her heart.
Moore considers Boucicault's plays like "The Streets of New York" to be full of compassion in ways that still speak volumes for a modern audience.
As Moore explained, the draw to this production is the personal connection—of place and people—to New York stories. "If [audiences] want to go down to 10th street and 2nd Avenue, where all of this happened, they can. It's there! It's still there, and he wrote for that place," she said.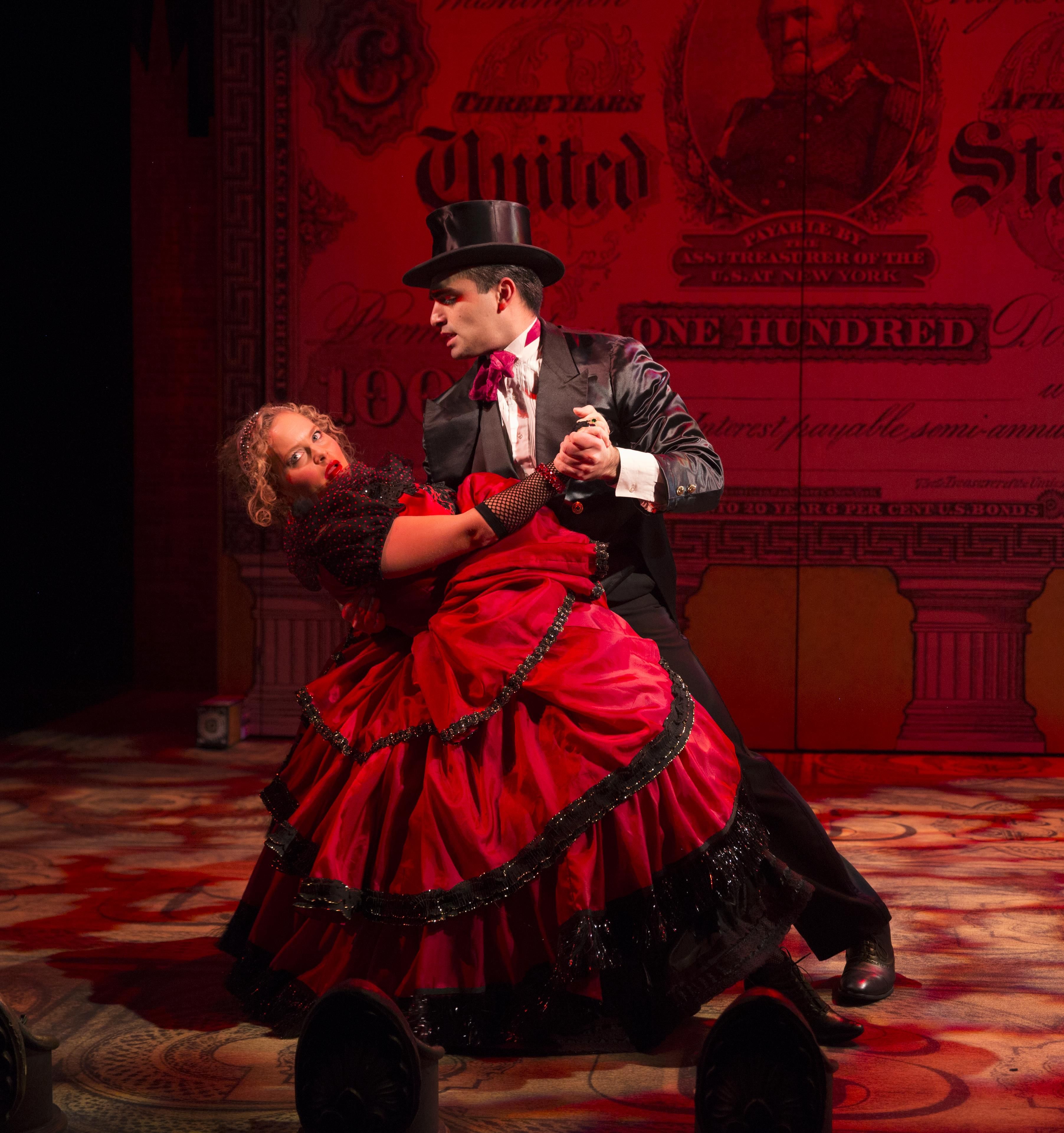 Amanda Jane Cooper and Daniel J. Maldonado in "The Streets of New York" at the Irish Rep. PHOTO BY CAROL ROSEGG
Yet it is not merely the locality, but the integrity of Boucicault's writing, which preserves the play's appeal. "He wandered around the streets there, and he would either go back to his flat, or his hotel room, or write it right there in the streets of New York. He did that. So it has a reality, even as a melodrama.  It really is so much fun to think you're sitting at a place where he might have walked around, looking at people and writing this play," Moore said.
Wondering aloud whether Irish voices, like Boucicault's, continue to have some significant part to play in theatre's contributions to American diversity, Moore dispelled all doubt: "I think it's a richer, much richer place, anywhere of course, with a diverse population, and my God, the theatre is rife with possibility for diversity.
"Going forward, I certainly want to work towards what we're thinking and what we're doing, and expand those possibilities, and enrich what we're doing. I want desperately to do that. Now that I've had a taste of working with diverse casts, I want more. It's enlightenment, it's true enlightenment, and I'm proud of it."
Speculating on her audience's expectations and tastes, Moore said: "I love audiences right now. I think they're thinking a bit deeper than they might have a year and a half or two years ago.
 "They want it to be good, they really do. And they appreciate when it is. And they don't appreciate it when it's not. I find, going to the theatre, by God, I want you to be good, and I want to feel something, and I want to feel passion. And I better feel it too, because it's time! Time to feel it, now. It's an interesting time, isn't it?"
Time to see.
For tickets, visit irishrep.org/ or call box office 212.727.2737.