Five years have passed since the death of the inspirational Detective Steven McDonald. Yet in contemplating Steven and his inspirational legacy, it seems as though he is still very much a presence, and those five years are the mere blink of an eye. 
I wrote on the day of his passing the following words:  "I will never forget the warm day in late July, thirty five years ago, when Steven was shot. The City was in the midst of a terribly violent era, and the NYPD and citizens of the City prayed for one, at least one, miracle." 
"Steven's prognosis was grim. He was not expected to survive. He did, beyond expectation. 
"What he then did is why that miracle was earned. 
"Steven became a paragon of all that is good and decent in the human spirit. He became the shining example of all that is noble in the hearts of his fellow cops, often misunderstood and condemned.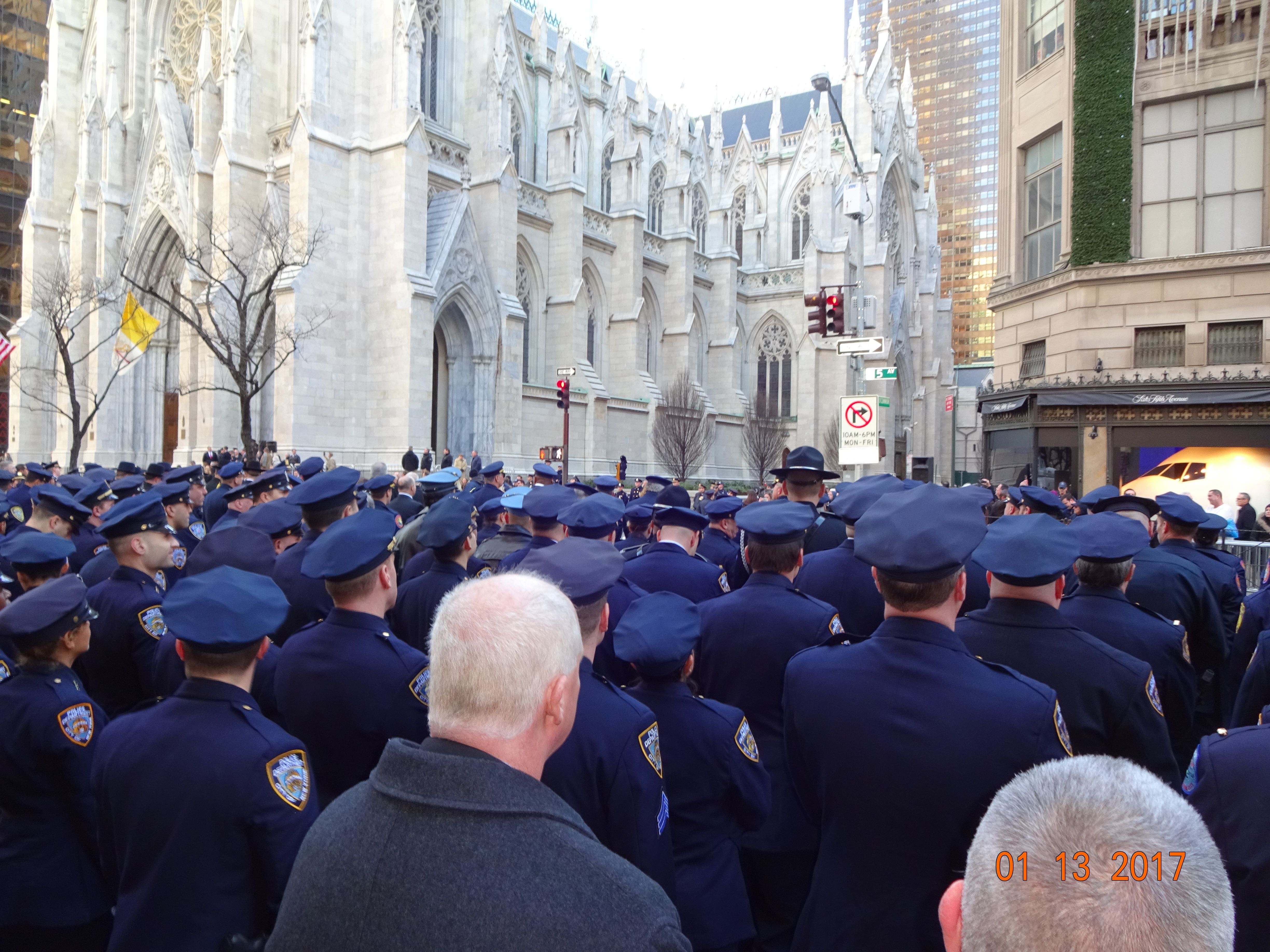 "He ultimately became a model for the world in redemption, forgiveness, conflict resolution and the primacy of the spirit over the body. He was the living embodiment of Faith and Love, and the triumph of Faith and Love over despair and hatred. I am proud to have called him a friend, I am humbled by his example, and strive to, in some small way, emulate his basic goodness.
"As those who knew just how dire Steven's situation was since Friday prayed for another miracle, it dawned on me that we had our miracle, that we lived with his saintly example and presence for three decades, beyond any expectation. I will never forget his kindness, warmth, and beatific grin. It was simply time for this courageous spirit in a broken body to be freed. Go in peace, my friend. May we all aspire to live up to your example in these faithless and divisive days."
Those sentiments have not diminished in the ensuing years, but rather become ever more pronounced and certain as Steven's influence and example continues to inspire, his presence felt, and his message of conciliation so desperately timely now.
Steven was truly a special soul forged through a tradition of service, sacrifice, and faith, and that tradition has carried on since he took the oath as a New York City Police Officer in the person of his son, Lieutenant Conor McDonald of the NYPD.
Steven's devoted wife Patti Ann also engaged in public service for years as the Mayor of Malverne, New York and is foremost in preserving the legacy of her departed husband. 
Conor is now the fourth generation of his family serving in the ranks of the NYPD. 
Steven's father, Sergeant David McDonald, was a founding member of the NYPD Emerald Society, a U.S. Army paratrooper, and post retirement the head of security at the renowned Leonard's of Great Neck. 
His maternal grandfather, Patrolman James Conway, was awarded the NYPD Medal of Honor in 1936 after surviving being shot and wounded in the line of duty.
Steven's brother, Thomas, also pursued a career in the policing service, first with the NYPD then transferring to the Suffolk County Police Department.
Another person closely related to Steven is his brother-in-law, Detective Kevin Murphy, whose thirtieth anniversary with the NYPD is also this month.
As is not uncommon within our community, the McDonald clan, a true Irish-American family in the sense of their multi-generational presence in the U.S., was united with the Murphy family, more recent arrivals. 
This joining of the two families owes its genesis to the good offices of Steven, who suggested that his sister, Dolores, would do well to go on a date with Kevin. The rest, as they say, is history.
Kevin is a proud advocate for Steven's legacy, and serves as an officer in the Ancient Order of Hibernians McGuinness-McDonald Division, honoring both Steven, and his friend and colleague in conflict resolution, Martin McGuinness.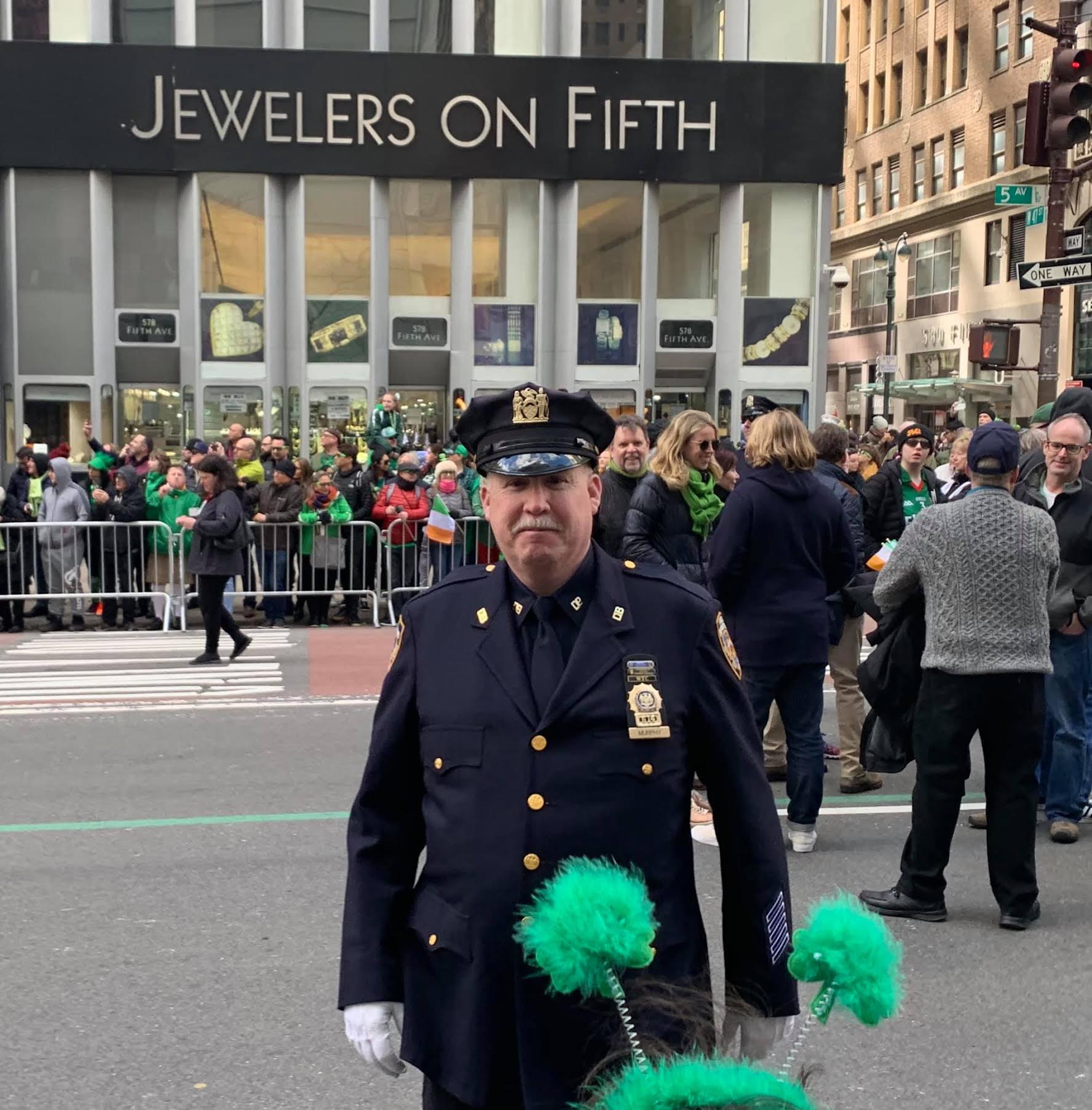 Kevin's long career of service began in the same Central Park Precinct that Steven served in, and after postings that included the hard-working Bronx Warrant Squad, is currently serving in the Missing Persons Squad.
Kevin's father was a seafarer from Wexford who immigrated to the U.S. and met Kevin's mother, a Lynott from Mayo, in Yorkville at a community ceilidh. Kevin is cousin to Sheila Lynott, a well-known Irish community activist, and also has two cousins in Ireland who serve with An Garda Siochana. 
Kevin's mom was not keen on Kevin joining the NYPD, having great concern for his safety. Kevin actually let his initial appointment date pass in deference to mom as well as to consider other career options.
Still, there was his desire to serve, and when his second opportunity to be appointed presented itself, he took the position despite his mother's misgivings, and thirty years later is still at it, with no plans on leaving soon. Mom ultimately came around and was immensely proud of Kevin, a soft spoken and very tall, physically impressive, officer.
Family is everything, and one of the beauties of the history of the Irish in this country has been the continuous welcoming of new arrivals, the romances and blending of families, sharp elbows and all, and the synthesis of a very distinct identity here in the States. 
Particularly pronounced are those Irish-American families who celebrate and preserve that heritage and have also followed the professions of service and sacrifice.
As Steven was fond of saying, "There is more love in New York City than there are street corners," and that love, for many of us, is a hearth love, a foundational love that is first awoken in the family and carries through generations of a shared ethos.
The families comprising the landscape of Steven's special story are steeped in that ethos.
Steven's exemplary life is celebrated and cherished by many throughout the world, and that example, like ripples in a pool, continues to spread and inspire, and is carried on by his family and friends and those who have picked up the torch to carry that work of reconciliation forward. His example and presence are needed now more than ever.
This is what is at the heart of the Long Blue Line.