Tyrone 2-14; Mayo 0-15
Tyrone escape to victory and to the glory of the banquet hall – for Mayo, detention in the torture chamber goes on indeterminably.
The 2021 All Ireland final is a story of two parts – how Tyrone came from nowhere to conquer and how Mayo, after finally laying their nemesis Dublin at the semi-final stage, once more found a way to lose a final – their 11th in all since last tasting final victory 70 years ago.
What makes our new champions story even more remarkable is that just over a month ago, the Red Hand County had pulled out of the Sam Maguire series due to the fact that they felt they had no choice but to forfeit given the Covid-19 problems encountered.
Could you ask for a more plot-laden build up and indeed outcome than this?
While Mayo are always the story in victory and most often in defeat, the Tyrone narrative too is one that defies  logic. They went from a team supposed to be in transition as joint managers Brian Dooher and Feargal Logan tried to fill Mickey Harte's boots, to a team in crisis when Kerry shot six goals past them in the league in Killarney in early summer, to a team in hospital wards with Covid-19. The journey of this Tyrone team was like that of a buterfly egg, larva, pupa and adult.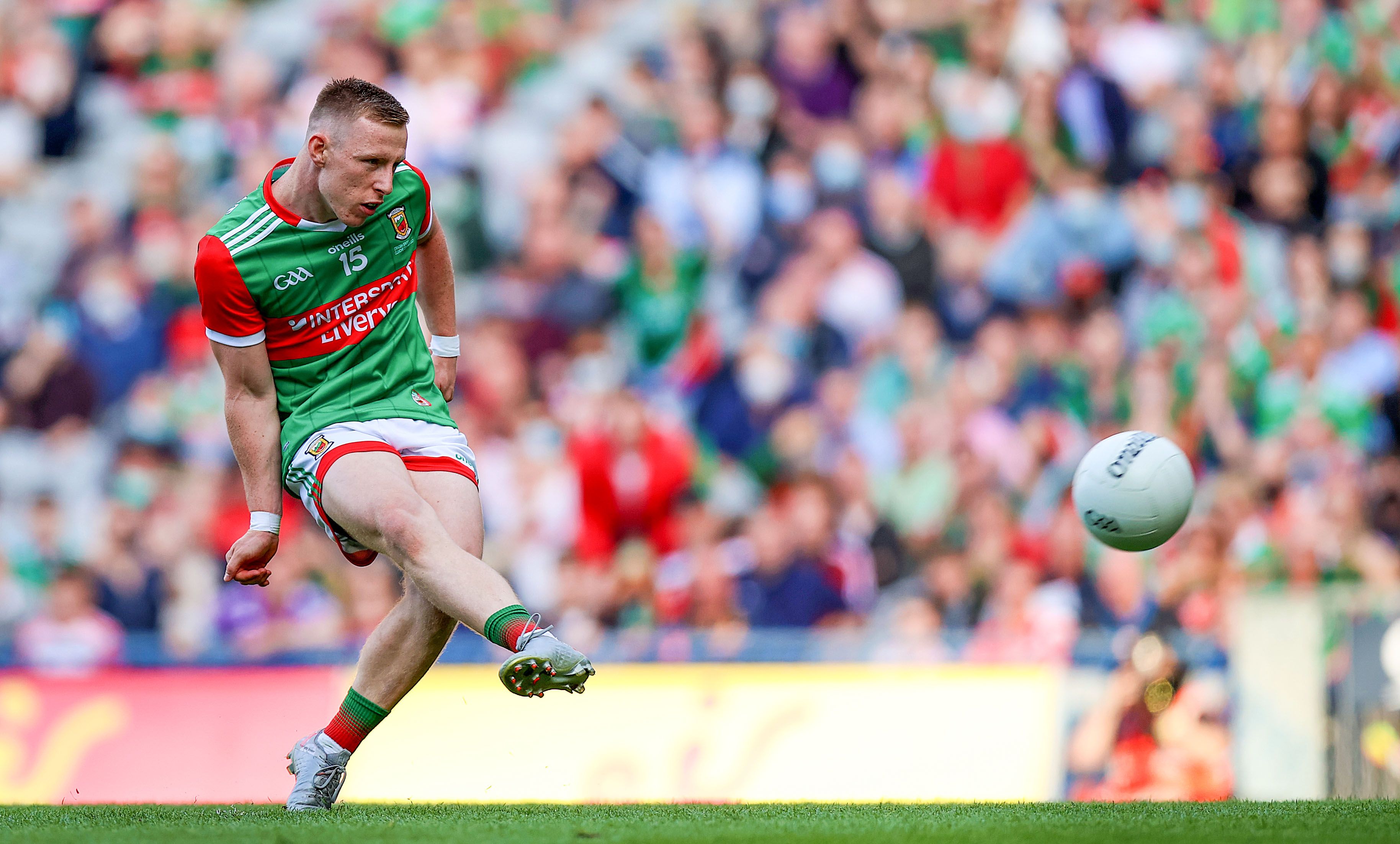 Mayo's Ryan O'Donoghue misses a penalty. INPHO/TOMMY DICKSON
And boy did they come of age against all the odds. Firstly they had to face their nemesis, Kerry, in the All Ireland semi-final where few so-called experts gave them any chance, mindful of the 16-point hiding they had received down in the Kingdom.
They outmuscled the green and gold to get to the final and then we saw the flight of the new champions – up, up and away from a Mayo team which didn't help their own cause by reverting to type on this big day. Not ever Mayo supremo James Horan could explain how his players had failed to deliver on any of the plan they had worked on.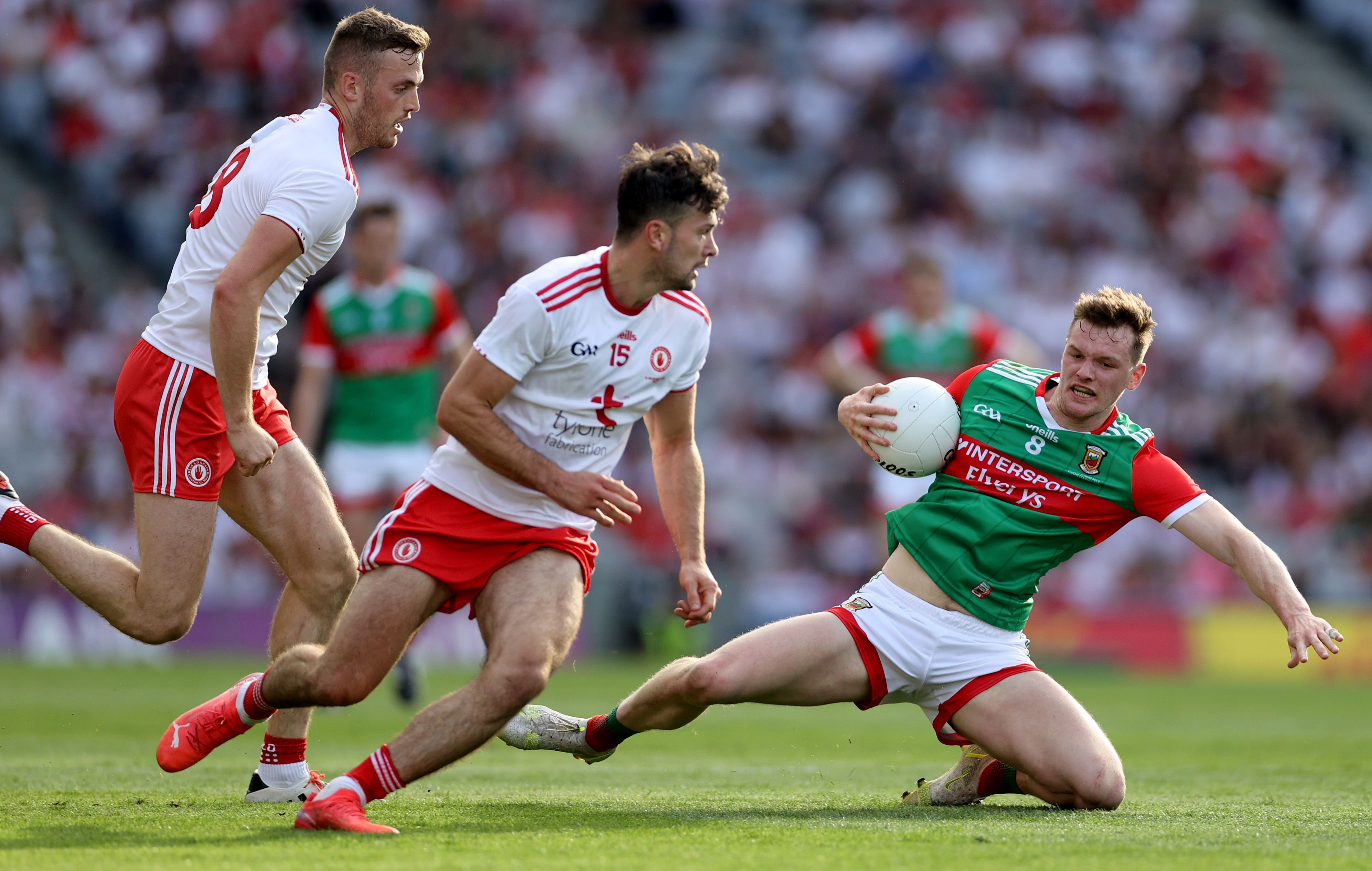 Tyrone's Brian Kennedy and Conor McKenna in Croke Park action with Matthew Ruane of Mayo
INPHO/JAMES CROMBIE
"We're disappointed with how we played today. Today is very disappointing but in the overall context, there was a lot of development. I think we gave away a lot of turnovers in the first half that weren't good decisions or good skills. Having said that, we were only two points down at half-time. The penalty was a big turning point as well. We could have gone one up. But overall, we started to snatch shots then. We just didn't play like we could today.
"The semi-final was such a hard game, we needed time to recover. Tyrone came through and had the same team that came through the semi-final. They obviously had no injuries. Maybe from that point of view, they had a bit of momentum. But at the same time, we started the game pretty well. Tyrone were very good. They were very strong, strong on their kickouts, they made great gains there. Tyrone were good and deserved their win for sure."
And before we see the other triumphant sides, let's revisit the above torture chamber, where Mayo entered in 1989 with a final three-point loss to Cork. That was bad but worse was to come seven years later, when they lost a big lead to Meath in the drawn game before succumbing once again at the death to a Brendan Reilly point in the last minute.
 They were back the following year in '97 but that was Maurice Fitzgerald's year as the Connacht champions went down by three points. Kerry then did a number on them twice in the noughties, beating them by eight points in 2004 and by 13 points two years later.
Before last Saturday, many thought their best chance of victory was in 2012 against Donegal, who had the game won by scoring two early goals, eventually running out winners by five points.
And then the torture chamber was increased in pain and agony as Dublin beat them by a point in 2013, by a similar margin after a replay in 2016, by a point again in 2017 and by five points last year.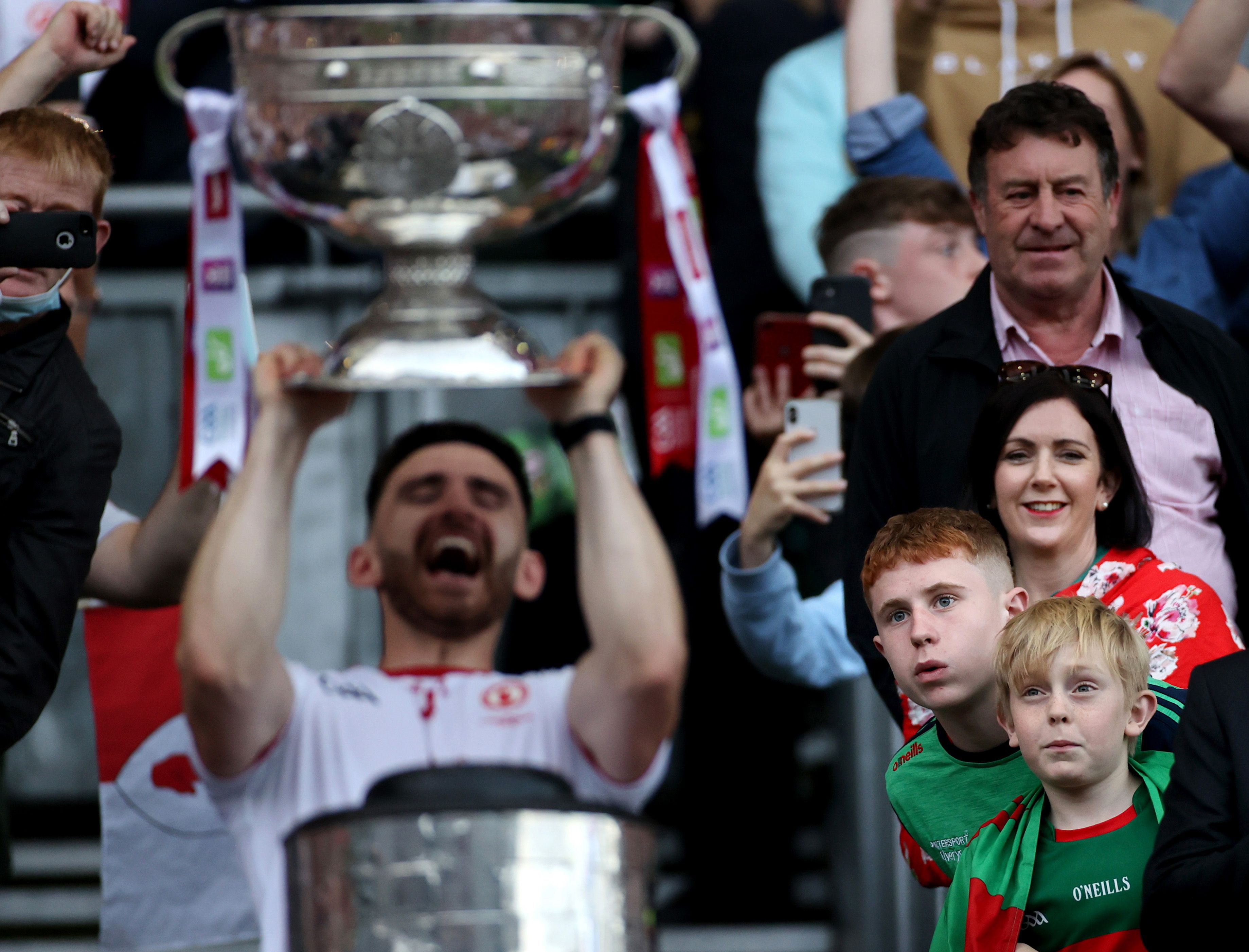 Young Mayo fans watch as Padraig Hamspey of Tyrone lifts the Sam Maguire INPHO/JAMES CROMBIE
That sure adds up to a whole lot of misery for any one team, doesn't it?
The flip side of that coin is the Tyrone story of rising from the ashes after appearing to have regressed into the chasing pack of counties.
When they announced they could not play Kerry on the appointed date in the All Ireland semi-final, it looked like their own exclusion would continue and Kerry would walk from Munster straight into an All Ireland final.
That the Kingdom and the GAA gave Tyrone the extra time they needed to recuperate was generous and fair… and ultimately gave the Red Hand a chance to show how much they were capable of improving.
That is not to say this game was a cake-walk. After a scintillating opening spell for Mayo which yielded two points, and their fans hopes of a fresh beginning in winning big matches, Tyrone fought their way back into the game and were two points to the good at the interval.
In a hectic four-minute spell after the change over, they looked to be in trouble as Mayo were awarded a penalty which Ryan O'Donoghue thudded against an upright and wide. If Tyrone have learned anything, it is to take advantage of play when you get a break. This they did to telling affect when a short time later super-sub Cathal McShane flicked home a perfectly weighed cross from Conor Meyler to put the first dagger in Mayo hearts.
This seriously damaged the opponents and when Conor McKenna showed outstanding team work to flight over a pace to Darren McCurry 12 minutes from the final whistle, he raised a green flag and Mayo were consiged to the bowels of  their torture chamber for another 12 months at least.
Yes, they rallied somewhat with the likes of Lee Keegan scoring a defiant point but they had no power in the punch, certainly nothing to knock Tyrone out with in the closing minutes.
Aidan O'Shea was still on, having failed to score in eight finals and you wondered why if he was taken off in the semi-final that he even started this game.
Until Mayo get rid of the sacred cows in their squad – and I thought Horan had done that with his actions against Dublin – there will always be something conditional surrounding this county set-up.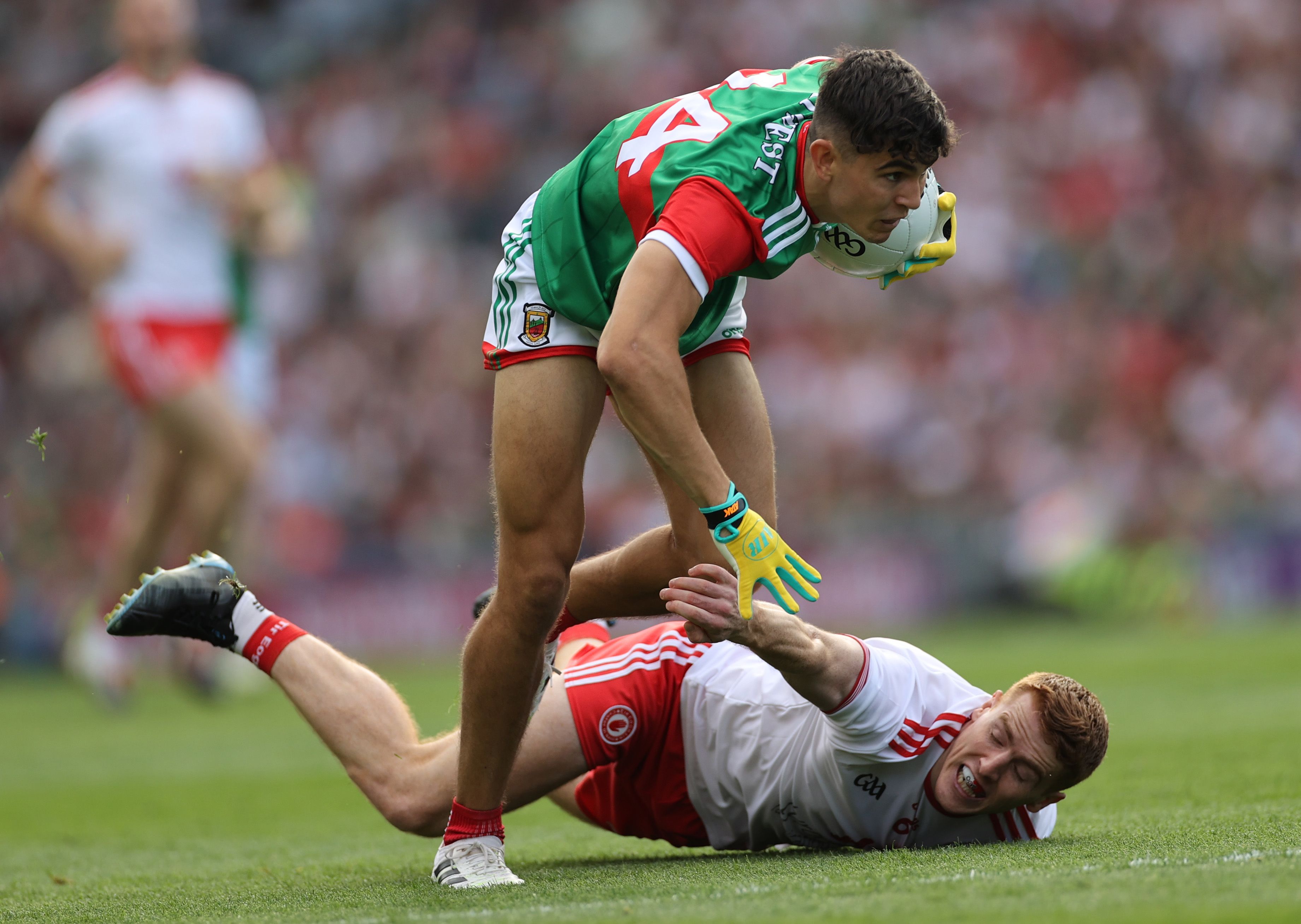 Mayo's Tommy Conroy and Peter Harte of Tyrone. INPHO/JAMES CROMBIE
Yes they have plenty of good young players in Tommy Conroy, who started and ended the game well, and O'Donoghue but they badly missed Cillian O'Connor as the fulcrum of their attack. Maybe in hindsight it was madness to think they could come without their prince and win because his absence was dearly felt as his younger colleagues began taking the wrong options leading to horrendous wides from the likes of Conor Loftus and substitue Jordan Flynn.
Conroy showed his incredible pace to round Tyrone skipper Padraig Hampsey but instead of kicking over the bar, shot the ball well wide on the run – a case of going for glory when what was required was to keep the scoreboard ticking over.
Kevin McLoughlin showed greater awareness and when he clipped over a point the margin was reduced to two points with a full 13 minutes left to play.
What followed was the most beautiful piece of traditional Gaelic football I have seen in years as Conn Kilpatrick rose like a salmon to fethch a massive kickout from Niall Morgan. He immediately fed McKenna who soloed through before selflessly feeding McCurry to palm the ball into an empty net.
Game, set and match.
Peter Harte, who has straddled the past glory years to the new, made a magnificent catch to extend the lead  and when sub Darragh Canavan (son of you know who) blazed in from the left side to fist over a point, the work of the writers was done and the story was now left to the delirium of post-match celebrations.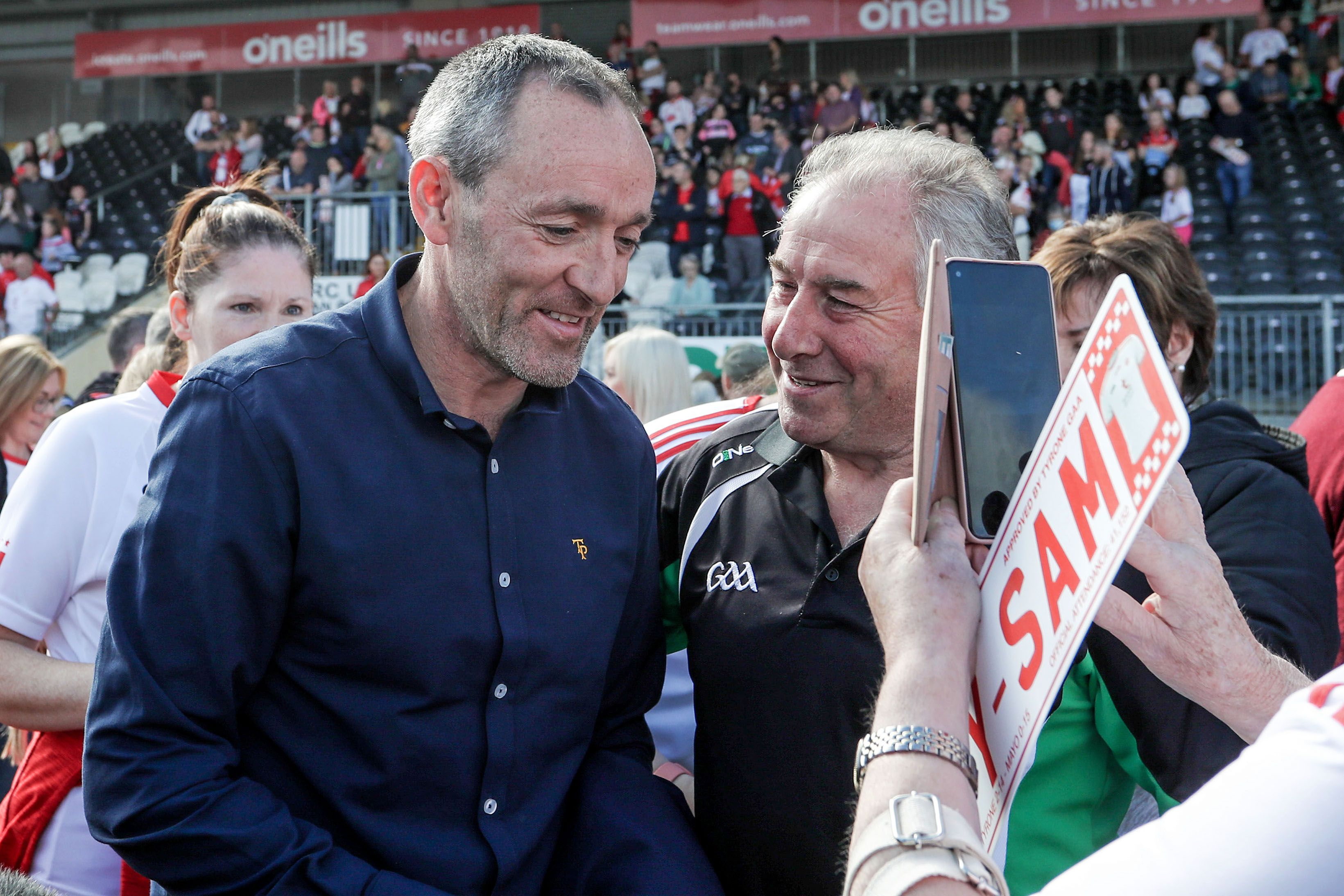 Tyrone joint manager Brian Dooher with fans at Sunday's homecoming at Healy Park, Omagh.
INPHO//PRESSEYE/PHILIP MAGOWAN
With time up, Mayo were reduced to 14 men when Matthew Ruane saw red after a handbags' war with Kilpatrick that left him in need of a new jersey.
Aterwards joint manager Dooher described Mayo's penalty miss as a "big game-changer." 
He said:  "The penalty was a big game-changer. We were under pressure at that time and Mayo were coming strong at us and they had a few other goal chances as well, but thankfully we repelled them. The defence held up again, the defence has been outstanding this year."
Reflecting on his time in charge with Logan, he said: "It's definitely been a rollercoaster of a season. We packed everything into the space of two or three months there.
We had a two-week turnaround there and we have an exceptional analysis team, who dug up all the information we needed to get our match-ups right, but it's a whole team effort."
Tyrone: N Morgan (0-3, 0-2f, 0-1 '45); M McKernan, R McNamee, P Hampsey (0-1); F Burns, P Harte (0-1,m), K McGeary (0-1); B Kennedy, C Kilpatrick; C Meyler, M O'Neill, N Sludden (0-2); D McCurry (1-4, 0-2f), M Donnelly (0-1), C McKenna Subs: C McShane (1-0) for Donnelly (42), D Canavan (0-1) for O'Neill (53) B McDonnell for Kennedy (56) P Donaghy for McKenna (65) T McCann for Kilpatrick (72).
Mayo: R Hennelly (0-1); P O'Hora, L Keegan (0-1), M Plunkett; P Durcan (0-1), S Coen (0-1), O Mullen; M Ruane, C Loftus; D O'Connor, A O'Shea, B Walsh; K McLoughlin (0-1), T Conroy (0-2), R O'Donoghue (0-8, 0-7f) Subs: E Hession for Plunkett (35), J Flynn for O'Hora (52) D Coen for Walsh (57) A Orme for Loftus (65) J Carr for McLoughlin (73).