Taking advantage once again of the virtual format imposed by the ongoing pandemic, this Aug. 24 salon was ably hosted by Lori Cassels, a California playwright and songwriter, who curated a delightful evening of diversion that ran the gamut of artistic genres served up by presenters across the country. (For September's please go to https://iamwa.org to sign up!)
First on the roster was debut presenter Maureen Duffy, a Chicago based poet, who read four poems dealing with love and loss:  "I Changed My Name Today," "Listen," "Not Today," and "I Lit a Candle."   All were selections from the new collection she is working on entitled, "Stopping for a Cool Drink."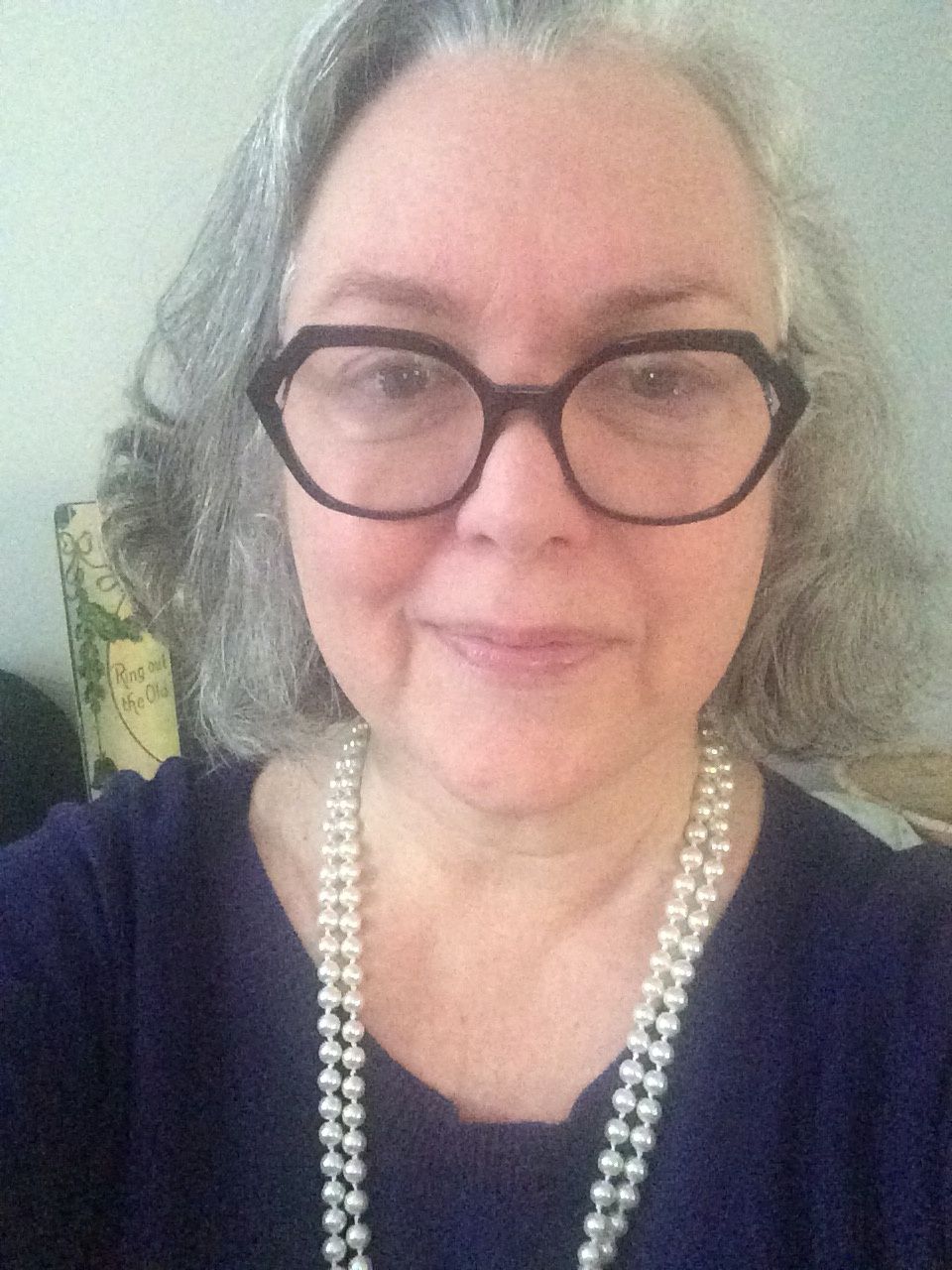 Maureen Duffy.
John Kwok, a writer and photographer, read his imaginative science fiction story, "Arc of Triumph," recounting an interstellar battle between a Commonwealth CoSFleet battlecruiser (good guys) and a Mercian war ship (bad guys). John writes science nonfiction as well as fiction, and was a prize-winning student of Frank McCourt's at Stuyvesant High School.
Zooming in from an undisclosed location, poet Red Barnes shared "Elegy for Peg," a tribute to her recently deceased mother.  The poignant piece conveyed facets of her mother's personality and interests and touched many in the audience who have experienced a similar loss.
Next up was Sarah Fearon, an expert dispeller of gloom, with some new comedy material to try out on the virtual crowd. She had them laughing at her take on Covid and other current matters, including the plight of living-alone singles.  Commenting on NY Gov. Cuomo's recent resignation, Sarah quipped, "First thing that comes to mind is: There's a real estate client!" (Fearon is one of New York City's top real estate agents. Her comic alter-ego, Snazzy Peabody —a real estate legend in her own mind— was the star of a short film that was a finalist in the Ladies of Laughter 2021 competition).
Renowned saxophonist, Jon Gordon, presented an excerpt from his book, "Jazz Dialogues," a collection of chats with several generations of great musicians about their careers, influences, and the dues they've paid.  The story he shared, about a trombonist who turns down three opportunities to play with Dizzy Gillespie, is a lesson in the importance of self-confidence for all artists. (When opportunity knocks, answer the door, ready or not!). John's book is available on Amazon, and you can catch the Jon Gordon trio at various NYC venues. For info : http://www.jongordonmusic.com/events.aspx≈≈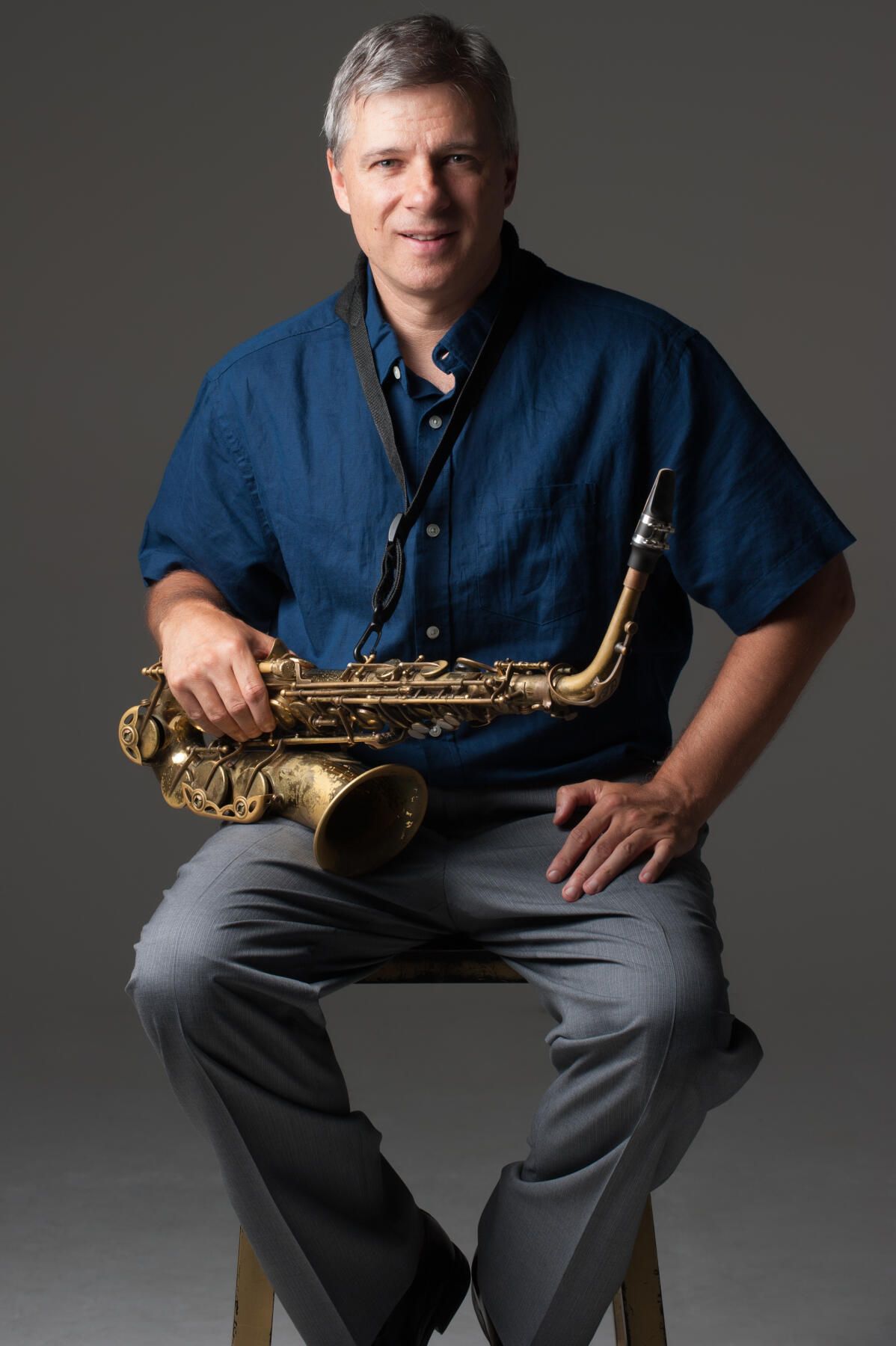 Jon Gordon.
Kevin & Carol Becker, Founding members of the Hudson Valley Folk Guild, were on hand to perform "Tear of the Clouds,"  which is the lake that is the source of the Hudson River.  The song was written by none other than salon host Lori Cassels.  They followed that with a very timely original tune written by Kevin in 1972, called "Keep on Keepin' On," a rallying song for civil rights and the Voting Rights Bill. Their CD,This Hudson River Valley, is an album of old and new songs and can be ordered by emailing the Beckers at hvfolks@aol.com.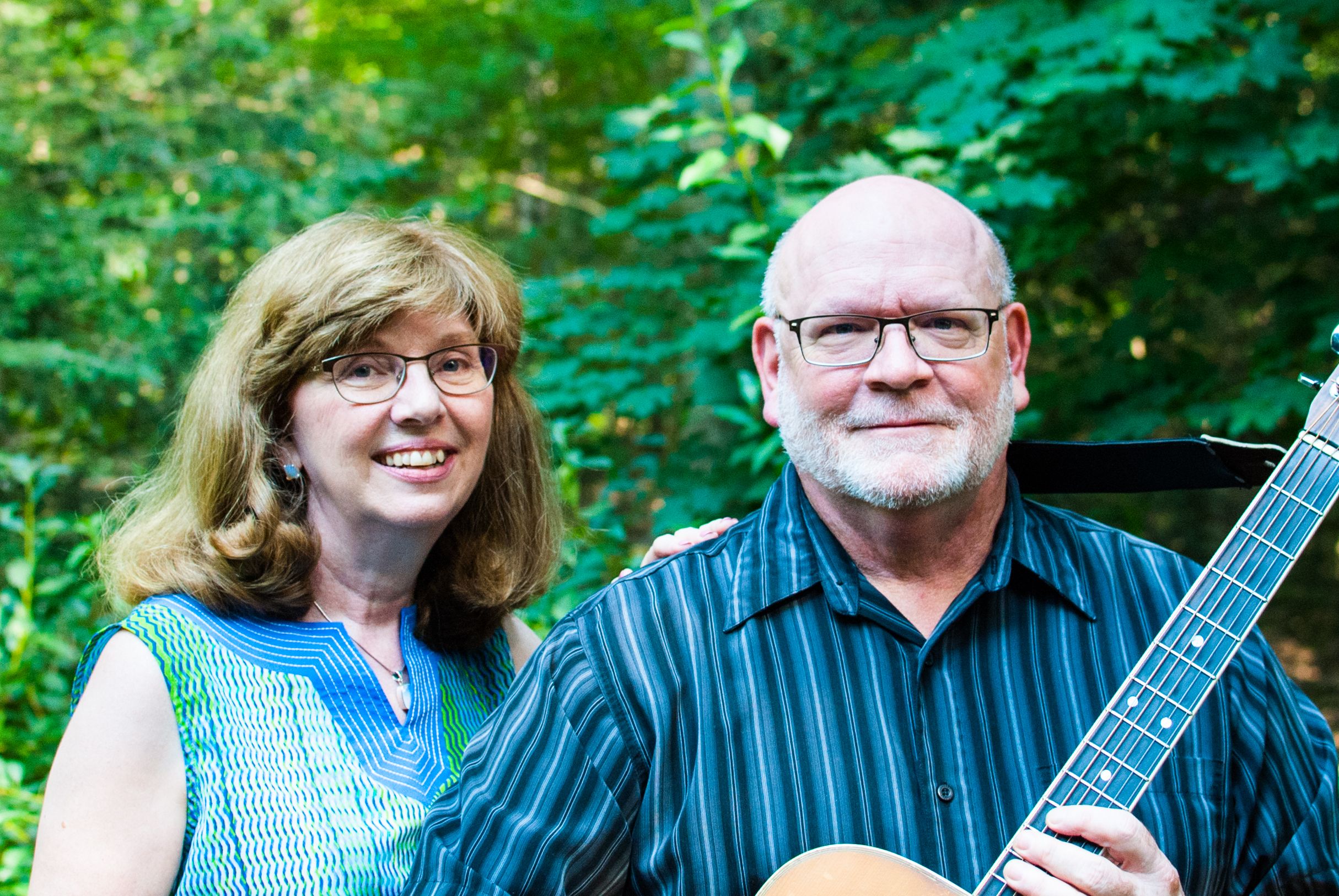 Kevin & Carol Becker
At this point, there was a break for a stretch, some refreshment, and a bit of online chat, facilitated by IAW&A Vice President, Brendan Costello, recently honored as an "Irish Rebuilder" at the Irish Echo's 2021 Big Irish Campfire event, announced the special 9/11 Remembrance Salon on Sept. 11th; and, the special Sean O'Casey Salon, which was hosted the following day by Conor Bagley in the U.S. and partnering with the Sean O'Casey Theatre in Dublin. 
The 2nd half opened with a film clip presented by Valerie Lapin Ganley from her documentary, "Shalom Ireland."  A filmmaker based in the San Francisco Bay Area, her discovery of the little known Jewish Museum in Dublin, during a 1993 trip, led to research that culminated in the film and led further to her discovery of her own family's connection to a synagogue in Waterford.  After the screening, Lapin Ganley commented on the two Jewish mayors of Dublin, Robert Briscoe and his son Ben, and on Rabbi Isaac Herzog, Ireland's first chief rabbi and, later, the chief rabbi of Israel, and his Irish-born son, Chaim, who was later elected president of Israel. For more information visit: http://shalomireland.com.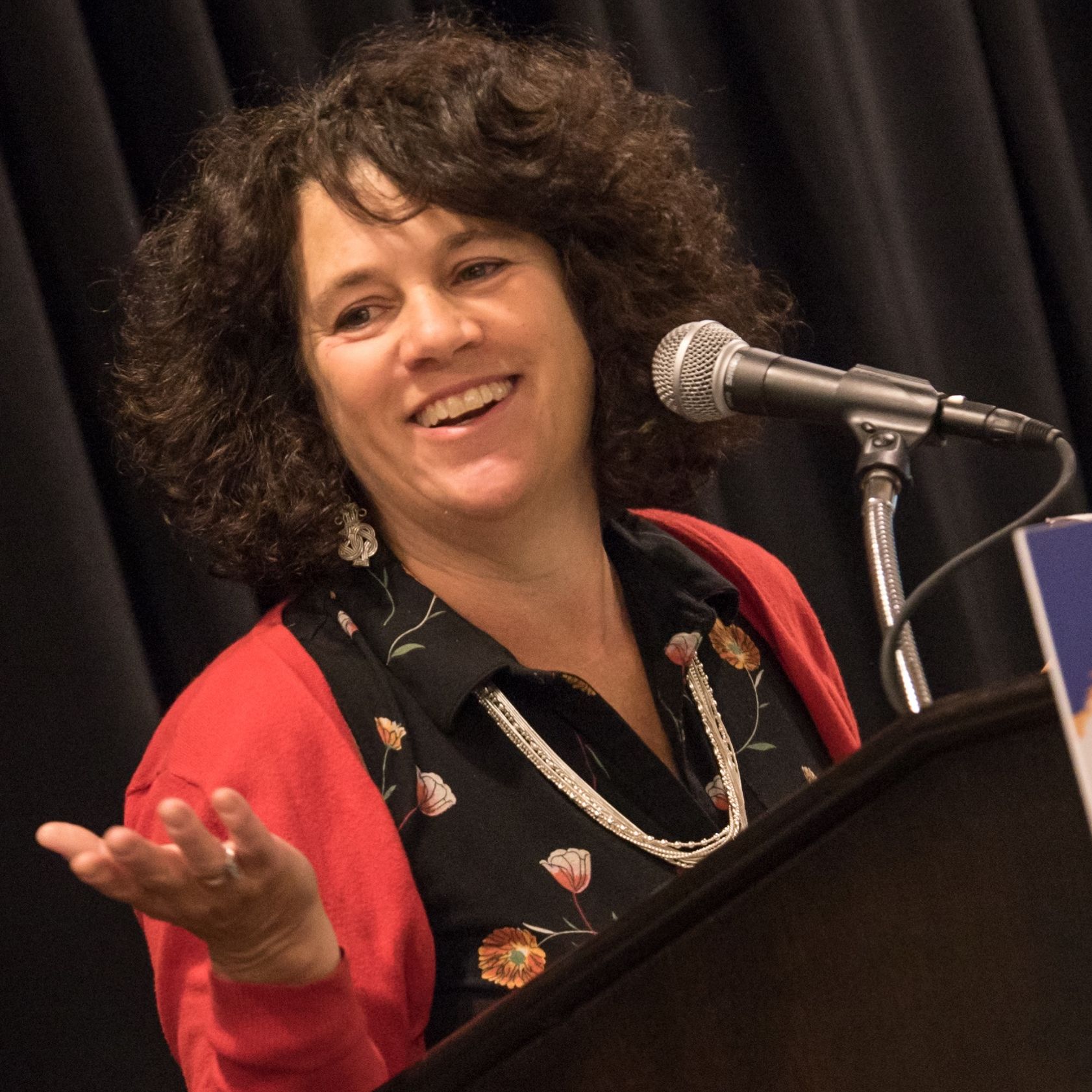 Valerie Lapin Ganley.
Educator, researcher and author Maureen Kenney writes social history articles about 19th Century Irish immigrants for the newsletter of The Irish Ancestral Research Association, where she is also a member of the Strategic Planning Committee. The 40-year-old organization offers a wide range of research and social resources on Irish history, culture and genealogy. Kenney's presentation, "1918: Year of Hope and Loss," tells the tragic tale of her aunt, Hanora Kenney, who died at 18 years during the second wave of the "Spanish Flu." 
Describing himself as "an old educator but a new writer," new IAW&A member, Larry McLaughlin read from his recently completed novel titled "The Four Kings of Ireland," a work of historical fiction about 60 years of war in the 12th century which was a  pivotal point in Irish history. The death and destruction from decades of war made the Island vulnerable to invasion, causing division which still echoes today. For more information go to https://lmclaughlinwriter.com.  
James A. Ross, who makes his home in the Teton Valley of Wyoming, is an award-winning writer in several genres.  He has been a Peace Corps Volunteer in the Congo, a Congressional Staffer and a Wall Street lawyer. His mystery novel, "Goldwater Revenge," won the Firebird Book Award for legal thrillers. The second book in the series, "Goldwater Confession," will be released in April 2022.The short story he read at the salon, "Aux Secours," was nominated for a Pushcart Prize. Set in the Congo, it tells of a young teacher accosted by stone-throwing kids and how he manages to cleverly extricate himself from a dangerous situation. Check him out at jamesrossauthor.com.
Poet Marcia Loughran's new chapbook, Songs from the Back-in-the-Back, is coming out in October (pre-sales starting now at poetrybox.com).  Marcia read three poems from the collection, including one inspired by family history, called "First Away," about her great uncle Gilbert Milligan Tucker Jr. , a ladies man who survived the "Titanic" by escorting three girls from the next cabin up to the deck and into a lifeboat —Lifeboat #7, capacity 65; 28 aboard. Thus Gilbert was, ever after, stigmatized for being the guy who did not adhere to the "women and children first" code of conduct. 
The mountain dulcimer is an American instrument originating in Appalachia. Virtuoso Rob Brereton, making his salon debut, displayed his versatility by playing two lively Irish tunes, "The Boys of Wexford" and "The Boys of Blue Hill," and then brought the salon to a close with the American jazz standard, "Don't Get Around Much Anymore" (which could be the Covid-19 anthem).  Rob's music is featured on his recording, "Someone to Watch Over Me," available for download on iTunes, CD Baby, and most other music download sites.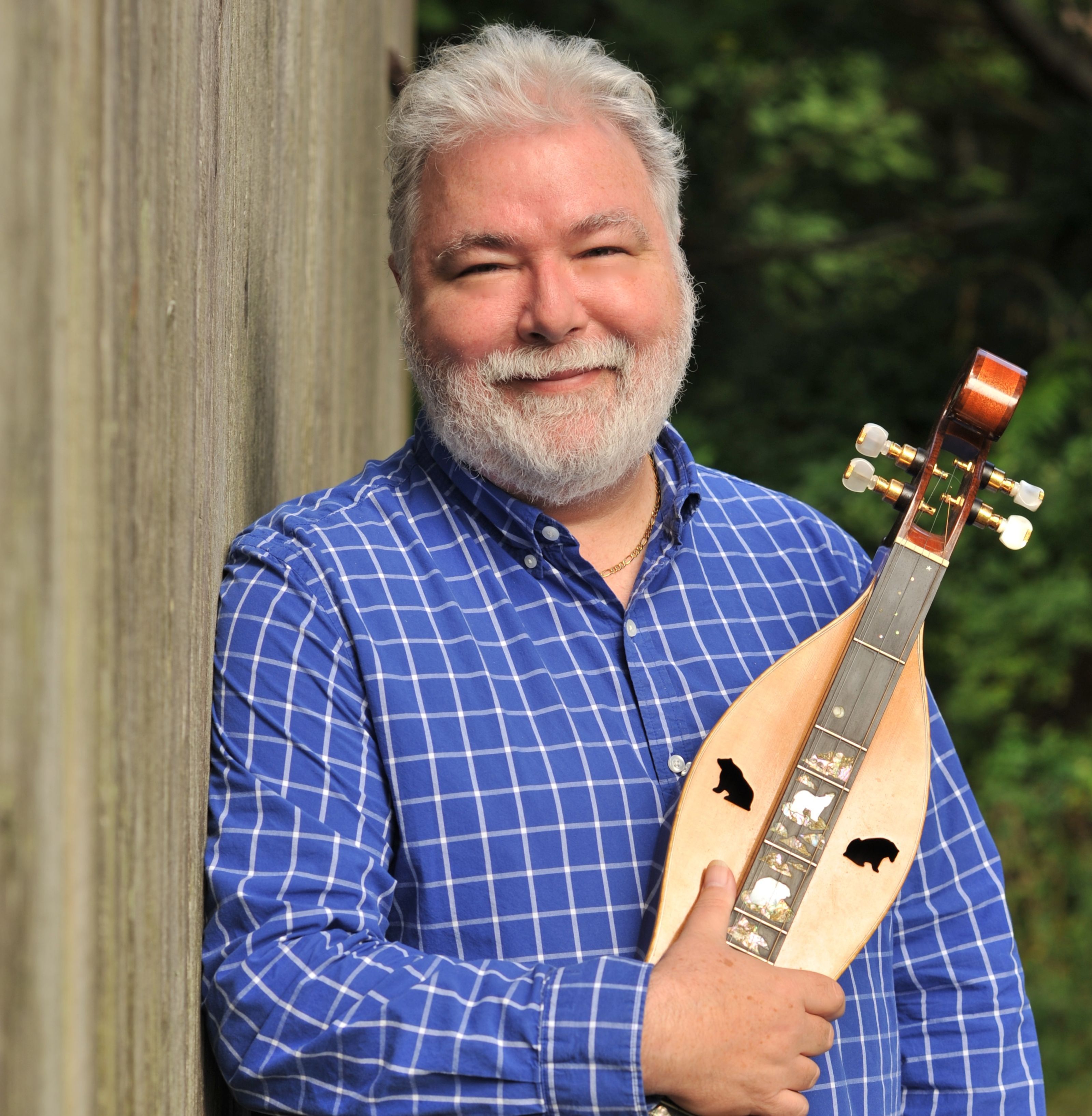 Rob Brereton.
You can nurture your creativity by signing up for a furture salon and becoming a member of Irish American Writers & Artists, Inc., at https://iamwa.org.