Christopher R. Agee's "Trump Rant" ought to be placed in a time capsule to explain the U.S. from January 2017 through January 2021 to people at some distant point in the future. 
If a significant minority might object, violently even, the poet would hardly be surprised.
"Trump is mob culture," Agee writes, "Trump likes interpersonal power."
"'Trump Rant' is terrific. I think Agee has covered everything – or nearly – and it's especially relevant at the moment," said the critic and essayist Patricia Craig. "I found myself laughing out loud at several points. It's really great!" 
"What a profusion of insults and vituperation, what a cornucopia of abuse, reproach, contempt, disgust and political and psychological analysis. What an abundance of inventiveness and unfailing imagination and versatility. I am reminded of the copious, imaginative and colorful execration one finds in Shakespeare," fellow poet Chris Peddle commented. "Agee's rant could only have been done by a poet with authentic delight in language and a proper poet's audacity. It has a poet's command of cultural allusions too. I admire all these qualities a lot, and enjoyed it immensely. Altogether this little book of outrage is splendid." 
After his birth on the West Coast, Agee grew up in Massachusetts, NewYork and Rhode Island. Following high school at Phillips Academy Andover and a year in Aix-en-Provence, France, he attended Harvard University and since graduation has lived in Ireland. His third collection of poems, "Next to Nothing," was shortlisted in Britain for the 2009 Ted Hughes Award for New Work in Poetry, and its sequel, "Blue Sandbar Moon," appeared in 2018. He is the Editor of Irish Pages, and recently edited Balkan Essays, the sixth volume of Hubert Butler's essays. 
"I think it is a monumental work ranging across both the European landscape and the deepest inner worlds," the novelist David Park said of "Blue Sandbar Moon."
"There is nothing small, nothing 'micro' about the very human rigors being explicated here, where everything – even a Belfast gasworks – is infused with a sort of stifled cry," Fred Johnson wrote in Poetry Ireland Review. "Agee's creative victory here is to strip each poem to its nature and, in doing so, invite his readers, whether 'dipping in' to the poems or reading them from cover to cover, to share in the dishevelment of grief and a gradual awakening to the world as it is. Each poem, in that sense, is a meditation or prayer, a key slipped into a lock." 
Chris Agee
Place of birth: San Francisco
Spouse: Nóirín McKinney
Children: Jacob and Miriam
Residence: Belfast and Korčula (Croatia)
Published poetic works: 1) "In the Hampshire Woods" (1992); 2) "First Light" (2003); 3) "Next to Nothing" (2008); 4) "Blue Sandbar Moon" (2018); and 5) "Trump Rant" (2021).
Personal: Editor of Irish Pages: A Journal of Contemporary Writing and The Irish Pages Press (www.irishpages.org)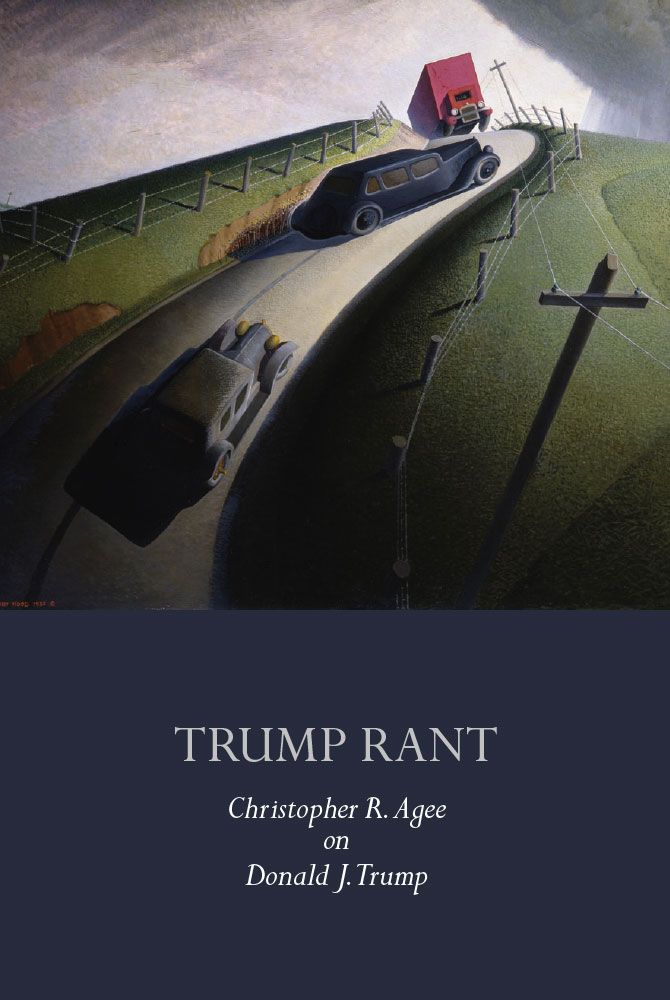 What is your latest book about?
Trump, Trumpists, Trumpistan … (see above).
What is your writing routine? Are there ideal conditions?
I never let professional work get in the way of a poem. Apart from that, I can experience the beginning of a poem (words and feeling in tandem with images and epiphanies, or vice versa) pretty much anywhere, though I often finish and record the final version out of memory in comparative solitude and quiet. But I especially like working mentally on my terrace in Croatia, over coffee or a beer, when the first stirrings, first words-cum-images, first lines, and indeed whole poems sometimes, can arrive with great swiftness.   
What advice do you have for aspiring writers?
Read a great deal! Much more important than creative writing courses undertaken without much reading. Then write out of the grain of your own genuine imaginative psychodynamics, wherever that leads you. But "dowsing" those psychodynamics is a key prerequisite of literary achievement. 
Name three books that are memorable in terms of your reading pleasure.
"Escape from the Anthill," by the Irish essayist Hubert Butler (1900-1991); "The Radetzky March," by the Austro-Hungarian writer Joseph Roth (1894-1939), translated by Michael Hoffman; "American Nations: A History of the Eleven Rival Regional Cultures of North America," by Colin Woodard.
What book are you currently reading?
"The See-Through House," by Shelley Klein.
Is there a book you wish you had written?
"Austerlitz," by the German writer W.G. Sebald.
Name a book that you were pleasantly surprised by.
"Denial: The Unspeakable Truth," by Keith Kahn-Harris
If you could meet one author, living or dead, who would it be?
The lyric poet Sappho (c. 630 – c. 570 BCE), the earliest surviving woman writer in the West, standing at the beginning of Western literary history.
What book changed your life?
"Silence," by Erling Kaage – my mental life, that is.
What is your favorite spot in Ireland?
Trá na Rossan beach, on the Rosguill peninisula, in north County Donegal.
You're Irish if...
Still working on it … but definitely not freckles or any sort of "shamrockery."
'Relentlessly dangerous drumbeat'  /  By Ciarán O'Rourke
"Caustically humorous and polemically compulsive, 'Trump Rant' is a work of meticulous political portraiture: a deep-delving and epoch-spanning investigation into the nature of power in American life, made luminous by Agee's nuanced, exploratory understanding of authoritarian drift and thwarted democratic aspiration in a number of world-historical contexts, from Belfast to the Balkans to the formerly Confederate South. Free-roaming in its breadth of reference and tonal range, the 'Rant' is at once viscerally personal and unsettlingly resonant, infused throughout with an almost hypnotic sense of scale, largesse, and historical moment.
"Already renowned as a poet of emotional delicacy and singular stylistic vision, Agee's hallmark gifts of writerly intimacy and ethical resolve are here expanded and reconfigured on a panoramic canvas – moving from a pared-back opening section to the accelerating pace and barrage-like linguistic assaults of the latter addenda. But for all its freewheeling furies, shifting emotional registers and Kubrick-like black humor, it remains a remarkably formal work, moored to the relentlessly dangerous drumbeat of Donald J. Trump.
"The result is a combination of long-form radicalism and eclectic satire, startlingly unique in its blend of aphorism, acuity and epic cultural imagining. Composed chronologically for nearly four years (from early 2017 to Election Day 2020), 'Trump Rant 'is a triumph of artistic witness and denunciation; an urgent retort to a global culture of imperilled legal standards and depleted literary response; and an incisive model of enlightenment and outrage in a "post-truth" world being visibly darkened by its criminal shadows."  
"Trump Rant" can be ordered at irishpages.org and can be listened to here.