Limerick 3-32; Cork 1-22
The bad news for everyone else is that Limerick feel their dominance has only just begun.
Winning back-to-back All Ireland finals or even three Liam MacCarthys in four years doesn't fulfil the great thirst that accompanies this team John Kiely has built for success.
Even worse for the pretenders – of whom we thought Cork were one – is the fact that the Treaty boss genuinely believes that his side has plenty more scope for improvement. In other words for the Corks, the Tipps, the Galways and Kilkennys of this hurling world, things could get an awful lot worse before they get better.
They were so far ahead of their rivals before 40,000 fans at Croke Park on Sunday that the game was killed as a spectacle long before Fergal Horgan blew the short whistle for half-time. If new President Larry McCarthy had called Declan Bannon over and delivered the cup at that stage, few Cork people would have complained that their side had the potential to recover.
 We knew and they knew they hadn't -- and Limerick went easy on them by turning a 13-point half time advantage into only a 16-point margin by the end.
That's not Limerick's fault that they others are unable to measure up as they claimed their first ever successive title victories and 10 in all.
As the previous revered eras of the Mackays retreated in the rear mirror, it became clear that this is the best Limerick team ever to set foot in Croke Park. They now have to decide – and this is what Kiely alluded to – if they want to become either the best arguably or one of the best hurling teams of all time.
Said Kiely: "I just think this group are very much on an upward trajectory and today's performance copper-fastens that belief. We played very much as a team when one player made a mistake or there was an error in there, another player came in to make up the difference. That for me was the most pleasing aspect of the performance.
"We got things right from the start, in terms of our set-up, energy levels right. We started putting a lot of pressure on Cork ball coming out of defence and most of all, when we had the ball ourselves, we used it really well. And the lads up front were running mad into space and we were retaining the ball. Our accuracy was very high. We got into a flow and when you get into that state, it is very hard to stop.
"I was acutely aware of Cork's rising levels of performance over the summer and the confidence they were garnering, the support they were garnering. They had a head of steam up and when you have a head of steam up, as we know in 2018, it can often be very hard to stop.
"Whilst we were aware about it, we didn't obsess about it. We trusted our own players, trusted the work we were doing and we stayed focused on that work and what was important to us coming into today's game and trying to deliver on that," he explained.
It was more than that from the outset as the men in green ruthlessly tossed their opponents to the side like rag dolls as they posted he biggest total on a final scoreboard. All their forwards were on fire and had contributed at least one scores a mere 18 minutes into the game. The swashbuckling hurling giants had Cork gasping for breath to compete as theystuck daggers in from all sides and agngles to lead by 3-18 to 1-9 at the interval. 
Last year's 'Hurler of the Year' Gearóid Hegarty  obviously likes the big occasion and this time around he accounted for 2-2 while Peter Casey was on fire inside as he hit five great points from play. The only thing that could stop him on the day was injury and his twisted knee saw him depart before the interval, by which time he had his day's work done at the coalface.
 The problems for Cork  kept growing as when they tried to plug one hole in their leaking vessel, another appeared. If it wasn't Casey and Hegarty causing major damage, it was  the unrelenting Cian Lynch  and the accomplished Aaron Gillane who were  breaking down fencee with the pair accounting for  1-12 between them on the scoreboard.
Cork's resistance was from the evergreen veteran pair s Seamus Harnedy who it four points from play and the exceptional Patrick Horgan who hit a dozen points, with two of those coming from general play.
Many neutrals would have like to see Hoggie in particular get his Celtic Cross but on this showing he will have to play well into his late thirties to get the opportunity. Meanwhile Cork, once the kings of hurling, have now failed to taste victory on final day since 2005.
A few examples of what Limerick now possess can be seen from the way they went about their business. Lynch had them ahead after 10 second play and when Cork erred in defense, the same Lynch presented Hegarty with his firs score – a goal in the second minute.
There followed a cameo which gave onlookers hope that this game could turn into a keenly contested final as Cork hit back with a goal that had the Rebel fans on a high for the one and only time on what turned out to be a long day.
Shane Kingston, recalled by his father Kieran and his selectors after a scintillating psocring perforance when called on against Kilkenny in the semi-final, left Sean Finn for dead before despatching an upstoppable shot past Nickie Quaid.
That pricked the giant into further mayhem as Casey, skipper Declan Hannon and full-forward Seamus Flanagan fired over three great points. Cork were fighting hard and frees from Horgan and  Jack O'Connor fine score saw them one down after the first 15 minutes.
If Cork could have got to the water break in this position, who knows what confidence it might have given them. 
However their corner back Sean O'Donoghue and full back Robert Downey lost their radar momentarily – and that was all it took. Flanagan gathered without fuss, fed Gillane in acres of space and he had the umpire diving for green with the accuracy of his drive past Collins.
For the second quarter of the first half, Limerick used their power to bully Cork into submission. These legitimate hits meant the Rebels were getting to the ball slower and this showed when Limerick outgunned them by 2-10 to 0-5 in this moiety. Casey thrived on the ball into him and had raised a fifth while flag of his calling when replace after 25 minutes. Shortly after Hegarty had 2-2 to his name but probably will be cross that he missed a clear goal chance before the end of the half.
After all the decades when Cork were kingpins and Limerick being forced to live off the odd very years of dominance, this felt good for the fans in green who must have wished for the gates to be locked so Rebel fans might endure what they had to down the decades.
The pace and penetration of Lynch and Gillane meant they could break tackles and rack up scores and if that didn't happen then it was a case of someone like Hannon, Byrnes and Barry Nash notching points from way out.
Tom Morrissey plugged away unselfishly yet ended up with three points to his credit while subs David Reidy and Pat Ryan came on and scored individuals points to make their appearance memorable for themselves.
Cork had to rely of Horgan's frees and he hit their last five scores in that fashion.
Rebel Manager Kieran Kingston defiantly predicted that, despite the pasting his side took, they would bounce back in the coming seasons.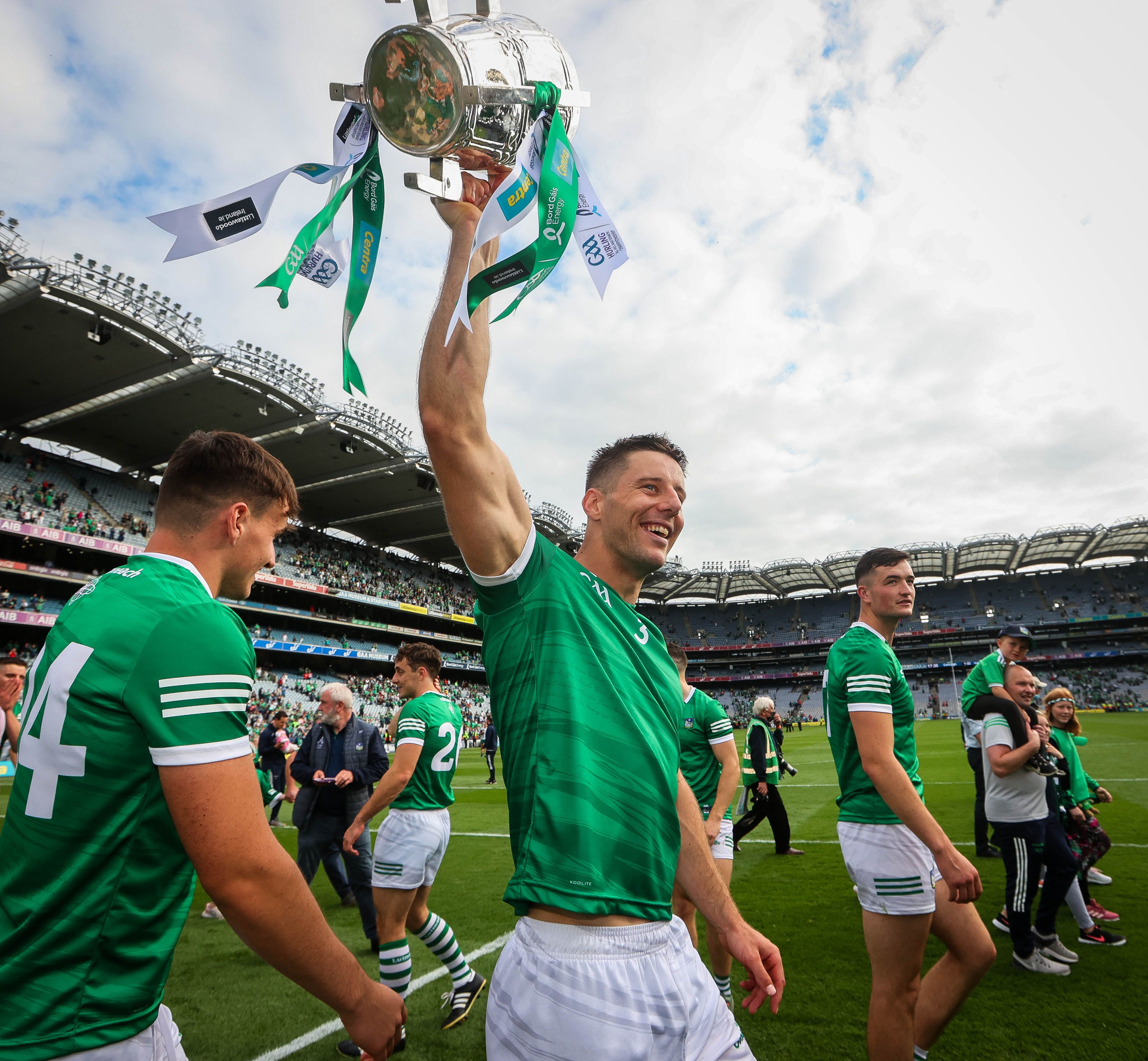 Limerick's Dan Morrissey celebrates after the game with the Liam MacCarthy Cup. INPHO/RYAN BYRNE 
His confidence was based on the fact that his is a very young side of 24 years in average and they would learn from Sunday's loss.
"They're young, but young sides have won before in Croke Park. But it was a chastening experience for them, no question about that. We came up against a team at another level to us. And they've been at another level to any other team in the country this year, and over the last three or four years."
He added: "Any time you lose an All-Ireland final, it's massive, massive disappointment. Everybody is gutted because it's a huge, huge amount of effort that went into getting us here. But I have to compliment and thank the backroom team and the players.The last four months or so, trying to implement a new way of playing, they've bought into that and they've worked on that and they've been fantastic. These lads have a big future, they're really, really hungry.They want to play for Cork.
"I do believe this team will be successful and when they are, it's days like this that will make them stronger. What doesn't kill you makes you stronger.
"They certainly will come up under no illusions the next time they get here. And there's no guarantee you're going to get here next year or the year after because it's a long road to get to an All-Ireland final anytime. That will make them resilient. It'll teach them a lot, in many ways."
Limerick: N Quaid; S Finn, D Morrissey, B Nash (0-1); D Byrnes (0-2, 0-1f), D Hannon (0-2), K Hayes; W O'Donoghue, D O'Donovan (0-1); G Hegarty (2-2), C Lynch (0-6), T Morrissey (0-3); A Gillane (1-6, 0-3fs), S Flanagan (0-1), P Casey (0-5) Subs: G Mulcahy (0-1) for Casey (36), D Reidy (0-1) for Hegarty (62), P Ryan (0-1) for T Morrissey (62), C Coughlan for Hannon (65), B Murphy for Mulcahy (68).
Cork: P Collins; N O'Leary (0-1), R Downey, S O'Donoghue; T O'Mahony, M Coleman (0-1), E Cadogan; D Fitzgibbon, L Meade (0-1); C Cahalane, S Harnedy (0-4), R O'Flynn; J O'Connor (0-1), P Horgan (0-12, 0-10f), S Kingston (1-0) Subs: D Cahalane for C Cahalane (ht),  S O'Leary Hayes for O'Leary (48), A Cadogan (0-1) for O'Connor (48), S Barrett (0-1) for Fitzgibbon (48), N Cashman for O'Donoghue (52), D Dalton for O'Flynn (55).
Ref: F Horgan (Tipperary)