In a recent essay in the Irish Echo, Cian T. McMahon wrote, "Troubled by the sight of asylum seekers taking their chances in unsafe boats upon the Mediterranean Sea in recent years, John Roche of the Irish Red Cross has said that until European governments find ways to address the crises plaguing many countries in North Africa, 'desperate people will continue to risk their lives on these coffin ships.'
"Similarly, one of Ireland's leading public intellectuals, Fintan O'Toole, responded to the discovery of 39 dead Vietnamese refugees in a refrigerated semi-truck driven by an Irish man in England in 2019 by reminding his readers that 'we too had our coffin ships' during the Famine.
"There was that phrase again: the coffin ship. It's a cornerstone of Irish memory. Everyone's heard of it. So how come no one's written a book about it?"
And so, he did, and it's called "The Coffin Ship." 
It was inspired in part by hearing Professor Marcus Rediker, who has written 10 social histories of life at sea, give a lecture
McMahon recalled, "I walked home that evening, I could not stop thinking about the exciting possibilities of Rediker's approach to maritime history.
"What was life actually like on a slave ship? What role did violence play in the maintenance of order? How did the slaves respond? Could some of what we now call African American culture have been born on the ships?
"And then it dawned on me. The coffin ship," said McMahon, who grew up in Dublin, emigrated to Canada as a teenager, and moved to the United States in his late 20s to pursue a PhD at Carnegie Mellon University in Pittsburgh.
"Rediker's questions re-echoed in my head: what was life actually like on an Irish Famine emigrant ship?" he added. "What role did violence play in the maintenance of order? How did the emigrants respond? Could some of what we now call Irish American culture have been born on the ships?"
McMahon, who the American Southwest 10 years ago and is now associate professor of history at the University of Nevada, told the Echo last week, "'The Coffin Ship' uses the letters and diaries of the emigrants themselves to offer a fresh, new perspective on the process of mass migration during Ireland's Great Famine. 
"Each chapter examines a different stage of the journey: from gathering the resources to leave," he said, "to making one's way to the port of embarkation, to surviving life, and death, at sea, to getting settled in the New World, primarily the United States but also Canada and Australia. By sharing their stories and experiences, I hope I have gone some way towards restoring the individuality and agency of these brave people."

Cian T. McMahon
Date of birth: April 5, 1975
Place of birth: Dublin
Wife: Deirdre Clemente, PhD
Children: Four
Residence: Las Vegas
Published works:  "The Coffin Ship: Life and Death at Sea during the Great Irish Famine" (2021); "The Global Dimensions of Irish Identity: Race, Nation, and the Popular Press, 1840-1880" (2015).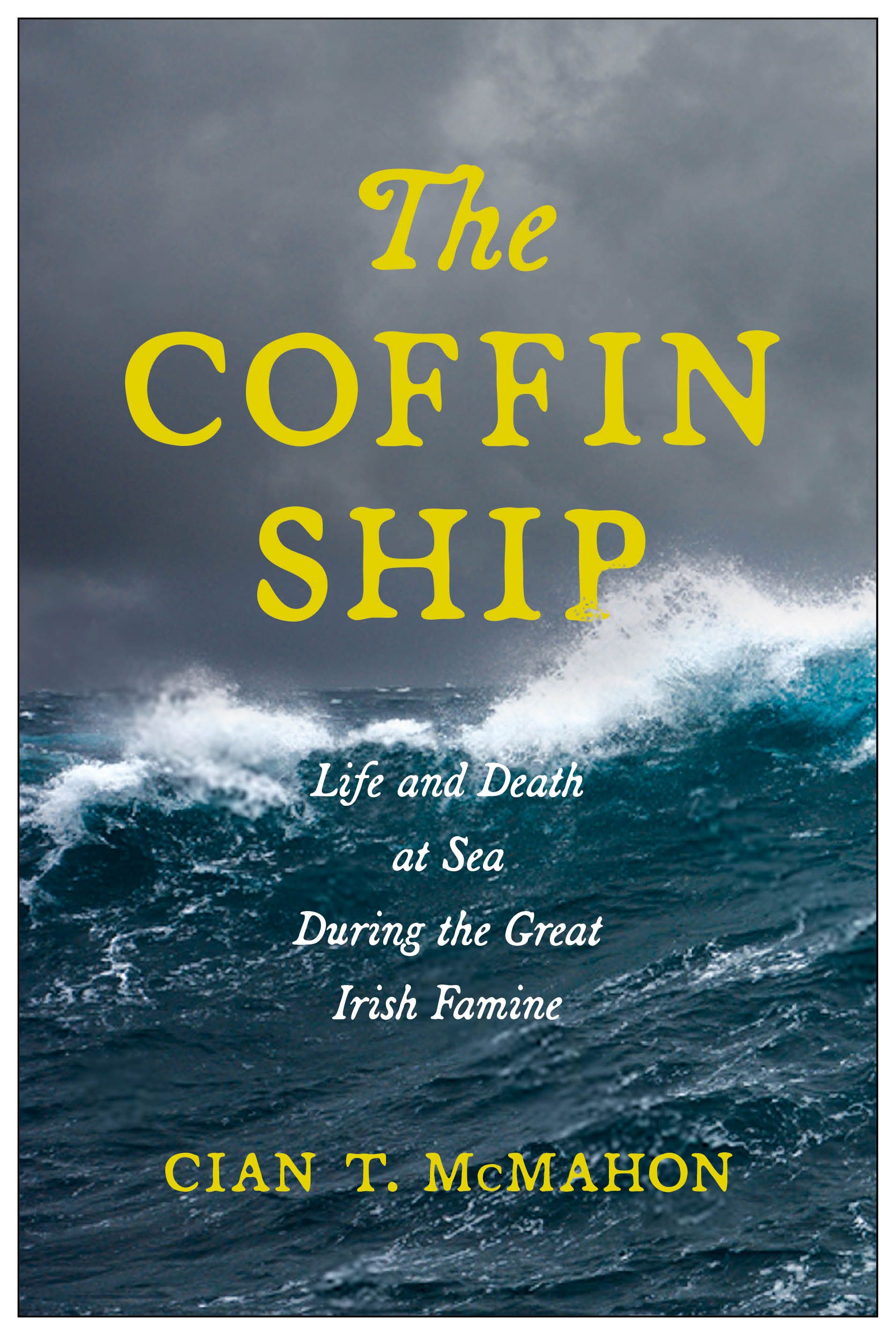 What is your writing routine? Are there ideal conditions?
 My four wonderful children and scores of students are deeply enriching to be around but, let's be honest, they get in the way of writing. So does email. I have adapted by dealing with teaching and administrative errands in the morning, and carving out four-hour blocks a few afternoons a week to pound out paragraphs. I always count my progress in paragraphs, not words or pages.

What advice do you have for aspiring writers?
 Embrace criticism as a part of the process; accept that writers rarely make money on their writing alone but that being a thoughtful, clear communicator opens lots of other doors; and always try to learn something from each and every rejection.
Name three books that are memorable in terms of your reading pleasure.
  When I was a teenager, and still thought of reading as something one had to do to satisfy schoolmasters, my uncle insisted that I read Irving Stone's "The Agony and the Ecstasy" (1961). I told him I was into Metallica, not Michelangelo, but read the book anyway and was soon enraptured. I ran back for another suggestion and got Leon Uris's "Trinity" (1976), which was deeply moving in a totally different way. I returned a third time and was handed Morgan Llywelyn's "Lion of Ireland" (about Brian Boru). From then on, I was a committed reader of history and fiction.
What book are you currently reading?
 Patrick Kingsley's "The New Odyssey: The Story of Europe's Refugee Crisis" (2016). I'm doing so in order to strengthen the intellectual connections in my mind between the 19-century emigrants I read and write about and the 21st-century migrants who are facing similar challenges on the Mediterranean Sea.
Is there a book you wish you had written?
 Kerby Miller's "Emigrants and Exiles: Ireland and the Irish Exodus to North America (1985)."
Name a book that you were pleasantly surprised by.
  Jack Kerouac's "On The Road" (1957). I spent a lot of my 20s rambling the highways and byways of Canada, America, and western Europe and always rolled my eyes when summertime backpackers encouraged me to read the Beats. But I pessimistically started "On The Road" when bored out of my mind one rainy day in Virginia and couldn't put it down. It seemed to describe, in such clear, stark terms, many of the things my friends and I were into at the time.
If you could meet one author, living or dead, who would it be?
  My first book, "The Global Dimensions of Irish Identity", followed the Young Ireland rebels on their trials and tribulations around the world so I would probably like to meet one of them. Going on the tear with James Clarence Mangan would be fun.
What book changed your life?
 Too many to count but, honestly, I'd have to say Richard Bach's "Illusions: The Adventures of a Reluctant Messiah" (1977). I read it (about three times) when I was 18 and it blew my mind. It helped me realize that I am 100 percent responsible for my own life, love, and happiness.
What is your favorite spot in Ireland?
  Again, too many to count, but maybe walking from the National Library in Dublin to Kehoe's pub after a full day of reading, with loads of ideas bouncing around in my brain and a terrible thirst in my throat.
You're Irish if...
 Your knowledge of the Great Famine encourages you to empathize with modern-day refugees.
"The Coffin Ship" is published by New York University Press. For more about the book, visit here.