Ooh, it's a good one this week!
 Up first, we have "The Dreamer," the new tune book from Chicago-based pianist and accordion player Marty Fahey.  Fahey is a musicians' musician who grew up playing in the company of Liz Carroll and Jimmy Keane (more on Keane below!) and over the years he's been involved with some great projects, notably the album "Music At The House" (with Brendan Bulger & Kathleen Gavin, 2003) and the "Ireland: Crossroads of Art and Design" exhibit, catalog, and CD, through the Art Institute of Chicago (2018).
 He's the type of player who has a great ear for tunes and he's able to find ways to make his own head turners.  For example, there are a couple to hear on the "Music At The House" album ("Musical Manicure," "Failing Memories" ), one on Rose Conway and Laura Byrne's album "Forget me Not" ("The Friendly Advisor"), and over the last few days a few have floated around on social media.  Keep an eye open for Diarmuid Ó Meachair and Colm McGonigle playing his reel "Down the Bowers" (which is a great one), the Knocknashee Céilí Band playing his march "The Gauntlet," and Out the Gap playing "The Mystic" – the versions are as great as the tunes themselves.  And if you're not on social media, you can get a taste of his style by visiting martinfahey.com, where you can listen to Damien and Colman Connolly playing "The Long Week." And hey, while you're there you can buy the book, too. Makes a great holiday gift!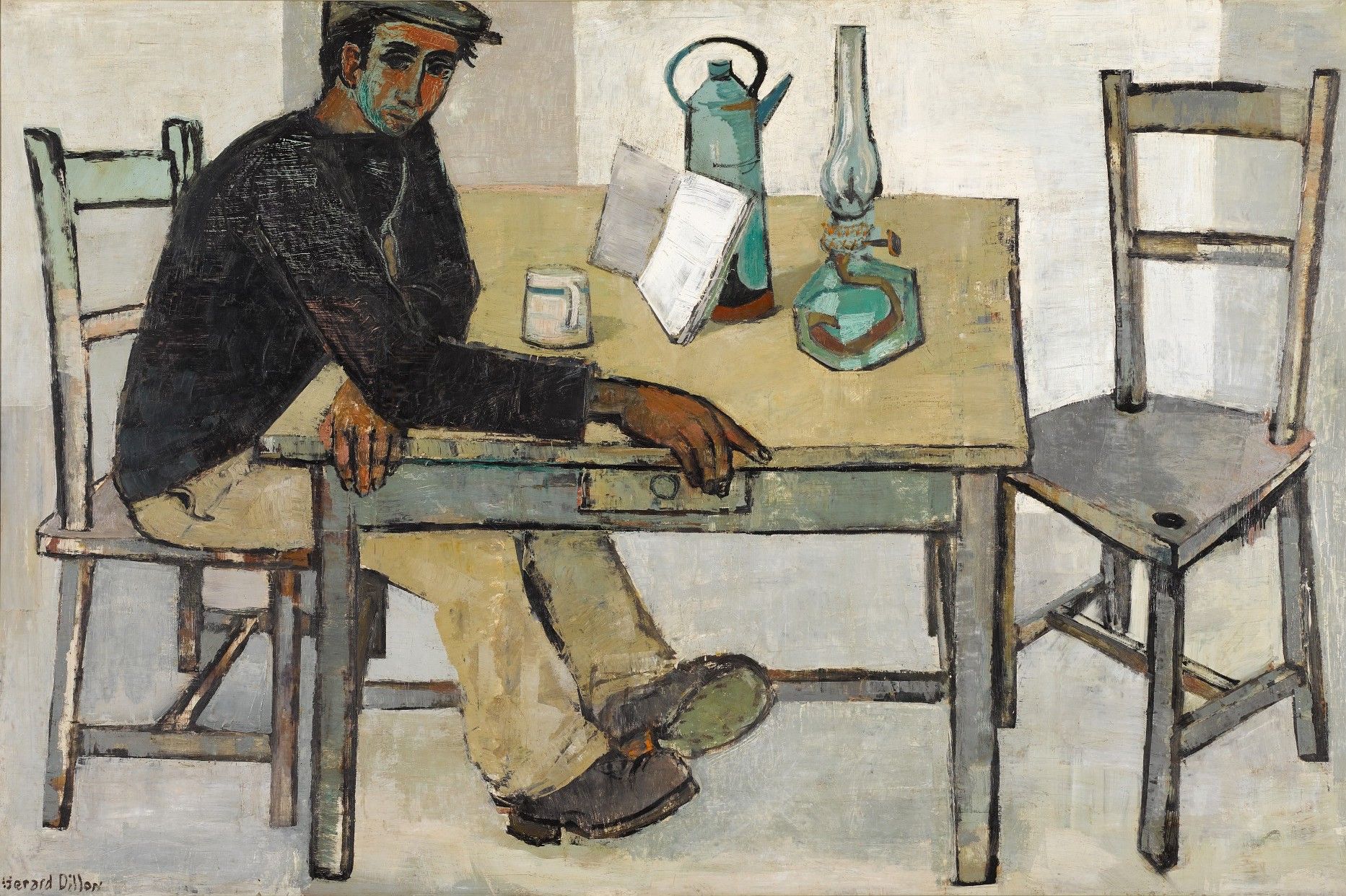 "The Dreamer"
Next up we have the reissue of three seminal and highly influential albums, "Kilkelly" and "There Were Roses" from Mick Moloney, Robbie O'Connell, and Jimmy Keane, and Green Fields of America's "Live in Concert 1988."  Many of this column's readers will be more than familiar with these albums (for some, they were even a gateway to Irish music) and have reason to celebrate as these reissues improve significantly upon the sound of the originals.  They will undoubtedly help introduce this important music to new generations of traditional music listeners. 
 Moloney O'Connell Keane had a robust following in their heyday.  Driven by great songs and virtuosic musicianship, the band was known for their energetic live shows.  The albums they released were critically acclaimed and strengthened the reputation of each of the three musicians.  They were one of the music's dominant voices in the 1980s.
 These new issues are the product of Keane's work, who seems to have spent the entire pandemic in a mixing studio, not only working on these albums but also on his epic "Horse" project I wrote about at the end of September.  With limited source material (the original 24-track tapes for each album are considered lost), he approached things carefully, remixing, balancing, and mastering the material at hand with a light touch.  But what he's achieved is incredible.  I have A>B'd the older digital versions of "Kilkelly" and "There Were Roses" to the new ones several times now, and while the older versions still sound fine, they're "merely" fine – you would hardly choose them over these new versions, which are completely different animals.  Keane's new renderings are bright, open, full of space, and give the music new life. 
 Tracks like "There Were Roses" and "Kilkelly" are great examples of what I mean.  Both are brilliant songs that communicate timely issues and show O'Connell at the top of his game.  However, the sound of the older digital versions is muted and lacks life.  It is far, far easier to hear the nuance and expression in O'Connell's voice in the new versions.  The same could be said for Moloney's voice on a track like "Drimin Donn Dilis," but the effect is enhanced here as Keane finds a way to pull even more out of the mix.  On this track, the core group is joined by Jerry O'Sullivan (uilleann pipes) and Eugene O'Donnell (fiddle).  On earlier versions, their contributions sit quite low, but now they feature far more prominently, adding a more explicit gravitas that was only hinted at before.  This sort of difference is apparent in several places on these albums.
 This new issue is also a great place to appreciate "The Green Fields of America," a nearly 22-minute concept track that "links the themes of emigrations, settlement, cultural adaptation, and continuity through 150 years of music and song drawn from the broadsides, vaudeville, music hall, cinema, radio and the 78 rpm recording industry."  It was a daring idea to begin with, and the improved audio makes it a more enjoyable ride.
 "Live in Concert 1988," a Green Fields of America performance that features the Moloney/O'Connell/Keane trio and includes Eileen Ivers, Seamus Egan, and Donny & Eileen Golden, benefits similarly from the remaster as it really succeeds in enhancing the night's craic.  There's more space in the sound to appreciate the heavy lifting Egan (who plays pretty much everything) and Ivers do in general, the specific interplay between all members on a track like "The Kerry Jig / …," and the beauty of O'Connell's performances of "Kilkelly" and "Stick to the Crathur," and Moloney's "A Tribute to Ed Reavy" and "Reynardine," which stand out to me in particular.
 The presentation has left no stone unturned: each album will be available – directly from the band, no less – as an individual bundle, with a "bundle" being the full album in both high resolution MP3 and WAV file formats, newly-set liner notes (which are a joy to read), and new cover art by Declan Forde.  Folks get a lot of bang for their buck purchasing each album individually, but those interested in having all three will be able to buy the three together at a discounted rate – it promises to be a superior value.
 "Kilkelly," "There Were Roses," and "Live in Concert 1988" have always been must-have albums, but over the years they've somehow fallen off the radar.  (I imagine much of this has to do with the rise of the MP3 coinciding with the fall of Green Linnet records, the label on which these albums were originally issued.)  These new reissues not only make these albums better, but they make them more immediately available and as relevant as ever.  I recommend this trio of releases unreservedly – they tell a story of Irish music in America in the 1980s, but they also get at the history of Irish music in America in a way that still pays dividends.  Must haves, again, each of them.  To learn more and to purchase, visit moloneyoconnellkeane.com.