First off, congratulations are due to 2021 RTÉ Radio 1 Folk Award winners Ye Vagabonds (Best Traditional Folk Track, "I'm a Rover"; Best Folk Group), John Francis Flynn (Best Folk Singer; Best Emerging Artist), Caoimhín Ó Fearghail (Best Folk Instrumentalist), and Eoghan Ó Ceannabháin and Ultan O'Brien (Best Folk Album, "Solas an Lae"). These are richly deserved honors for some very fine musicians – the recognition speaks well of the sounds coming out of Dublin these days.
 Hey, it's Thanksgiving week, the first sign we're marching headlong into the holiday season, and that means it won't be long until we're absolutely inundated with Christmas music!  And sure, don't we all want to be discerning listeners, so it's great news that "A Winter Wonderful" from Irish music supergroup We Banjo 3 will launch on Dec. 3.  The album, which I've had a chance to listen to, is excellent – full of soothing sounds that are just right for the season.
 Folks can look forward to Christmas standards, like "Silver Bells," "Joy to the World," "We Three Kings," "Little Drummer Boy" and "The Wexford Carol," but some great newer songs, like "Christmas in Prison" and "Driving Home for Christmas" are featured and fit in well with the more traditional fare.  Fans of the group will be absolutely delighted.
 "A Winter Wonderful" makes a great gift!  And anyone looking for more WB3 are encouraged to tune in to the band's special holiday performance live stream on Dec. 18 at 8pm ET.  Fans who followed We Banjo 3 throughout the pandemic and saw last year's streaming Christmas show know they set a high bar, so this year's installment will really be something to look forward to.
 "A Winter Wonderful" is already available for pre-save on streaming platforms ahead of its actual release.  CDs and tickets for the live stream (which can be discounted, if you purchase them as part of a gift bundle) are available through www.webanjo3.com.
 Another gift option?  Sure!  Previously available only as a digital download, the album "I Am Of Ireland," a collection of 23 poems by W.B. Yeats set to music by Raymond Driver and featuring a host of incredible guests, is now available on compact disc.  I wrote about this one back in May and quite enjoyed it.  There's some great music here, but having it available on CD gives you another excellent holiday gift option for the music and literary buffs in your life.  To purchase the album at yeatsinsong.com.
 In other news, concertina and accordion player Christy MacNamara has released a new video for a composition of his called "The House Under The Hill."  In MacNamara's artist's statement, he calls it "a musical tribute and a celebration of the role that families and communities (like my own in County Clare), gave in the struggle for Irish Independence (1919 to 1921), providing food, shelter and refuge to the volunteers."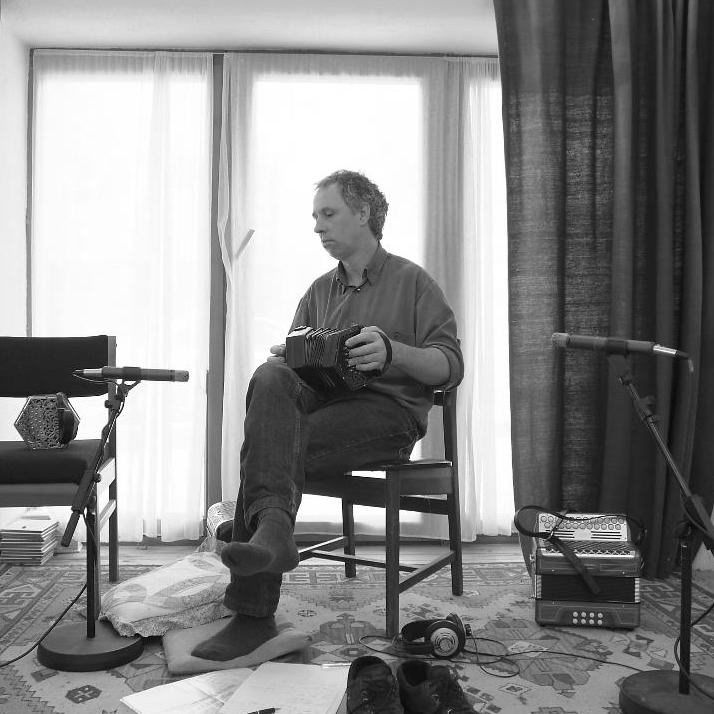 Christy MacNamara is featured in "The Job of Songs."
It's an interesting tune and something readers may be interested in checking out.  To view, visit tinyurl.com/thuth.
 Speaking of MacNamara, two weekends ago I had the opportunity to see "The Job of Songs," a new documentary film about traditional music in County Clare in which he appears.  Directed by Lila Schmitz and shot by Anika Kan Grevstad, it shot largely in Doolin and was part of the DOC/NYC film festival.
 "The Job of Songs was born of a feeling," Schmitz's artist statement reads.  "When I traveled to Ireland for the first time, chasing my ancestral roots, I stepped into a session in Doolin, County Clare and the feeling overwhelmed me. I could not describe it in words, yet there was something so important and gripping in those moments spent in the pub. The community. The history. The music. It did not leave me. I wanted to capture this feeling the best way I know how-- and so this film came into being."
 The film is in many ways a reflective journey, but it's one that includes performances and commentary from a rake of musicians, all of whom are likely familiar to readers of this column, including MacNamara, Eoin O'Neill, Kate Theasby, Aine Rynne, Ted McCormack, Luca Bloom, Kiernan O'Connell, Christy Barry and Adam Shapiro.  The movie includes several performances, some staged and some shot live at sessions, that showcase the talents of each musician.  In the interview segments, the artists take time to reflect on music and Doolin's special charms, and reflect on things that speak to the meaning of "tradition," how it is preserved, and how it adapts to a changing world.  
 Schmitz's approach is to look at traditional music's humanity in an effort to tease out its profundities.  The cinematography here is excellent and frames Doolin's beauties well.  The film gives viewers a fleeting glimpse of what the craic's all about and will hopefully lead those who want a more in depth look to things like the music of Micho Russell and Kevin Griffin, Eoin O'Neill's show on Clare FM (www.clare.fm), Oliver O'Connell's recent (and as of last weekend, officially launched) audiobook "I Remember It All," and maybe even Ciaran Carson's seminal book "Last Night's Fun."  To learn more, visit thejobofsongs.com.