James Hoban's handiwork is with us every day, as Ireland's top diplomat to the U.S. reminds us.
Ambassador Dan Mulhall, in commending "Irish Lives in America," mentions that President Joe Biden is the 23rd person of Irish descent to occupy the White House, which was designed by Hoban. 
The County Kilkenny-born architect doesn't have a high profile name-wise, even if he once did get a shout-out from a fictional president – played by an Irish-American actor – on television's "The West Wing." By any measure, however, he has left an "indelible mark" on American society and culture, which is the factor that editors Niav Gallagher and Liz Evers were looking for in their selection of 50 Irish-born high achievers for "Irish Lives in America."
Says Mulhall: "The 50 biographies collected here are representative of the multitudes of Irish immigrants whose contributions to America were less notable, but no less important. Their descendants, now 35 million in number, are to be found in every walk of American life."
The ambassador continues: "As I wrote this piece with the coronavirus pandemic still raging across America and around the world, I was glad to be reminded of the contribution of Irish immigrants in the field of medicine, represented here by Gertrude Brice Kelly, one of New York's first female surgeons who was also a staunch advocate of Irish independence and president of Cumann na mBan in New York, and Limerick-woman Mary O'Connell, described as America's Florence Nightingale. It is also timely to recall that an Irish immigrant, John Crawford from County Antrim, was one of the first doctors to introduce smallpox vaccination into America."
Editor Gallagher also includes Hoban in her name check for the Irish Echo, as well as "Thomas 'Broken Hand' Fitzpatrick, born in Cavan, who served as guide to westward-bound settlers; Belinda Mulrooney from Sligo, for a time the wealthiest woman in the Klondike who ended her days cleaning steel welders in a shipyard; Clareman John Philip Holland, inventor of the submarine; Donegal woman Kay McNulty, pioneering Second World War computer programmer; and John Wallace Crawford, also from Donegal, who travelled with 'Buffalo Bill' Cody and helped found the town of Deadwood."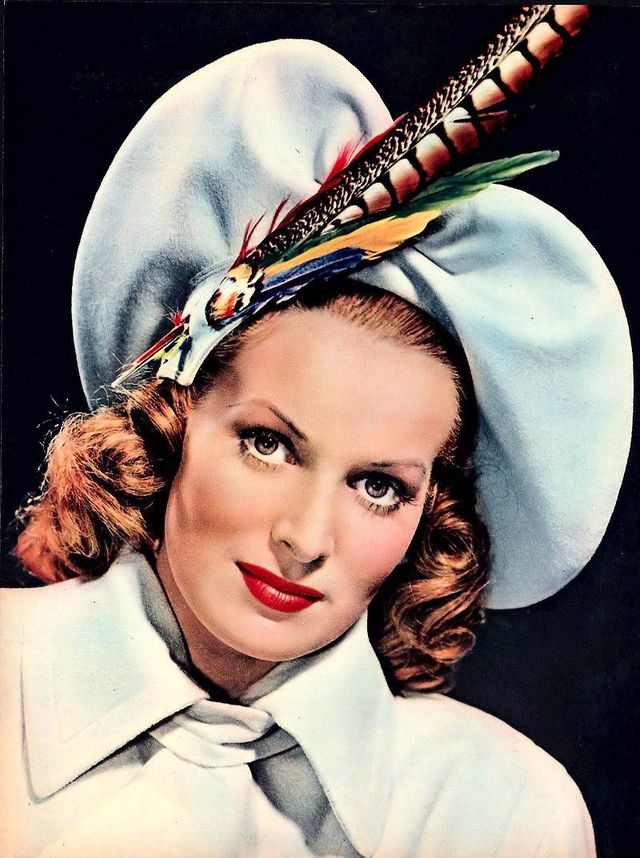 Maureen O'Hara (1920-2015) in a picture from Modern Screen magazine in 1947.
The 50 were chosen from "The Dictionary of Irish Biography," a research project of the Royal Irish Academy, which is the "most comprehensive and authoritative biographical dictionary yet published for Ireland. It comprises over 10,000 lives, which describe and assess the careers of subjects in all fields of endeavor, including politics, law, religion, literature, journalism, architecture, music and the arts, the sciences, medicine, entertainment and sport."
The editors write: "Although biography is the history of the individual, we hope that by bringing together these 50 Irish lives in America we have given a sense of the movement of Ireland's people, and their continuous and significant impact on the culture and history of other countries."
 They continue: "We feature individuals across a broad field of endeavor—from political figures to artists and entertainers; soldiers to scientists; slaveholders to abolitionists; from the scouts who opened up the western frontier to the religious who established congregations across the country; from those who spent their lives fighting for the rights of workers to the industry titans who capitalized on the labor of others to become the country's first millionaires.
The volume covers 300 years of American history and a story that takes in five centuries -- from the 1674 birth in County Armagh of public servant and scientist in pre-independence America James Logan through to the death of Hollywood star Maureen O'Hara in 2015.
Gallagher's collaborator Evers joined "The Dictionary of Irish Biography" as researcher and project copy editor in 2018. She is a writer and editor who has worked in the publishing industry in the UK and Ireland for many years and is the author of several popular reference books on diverse subjects, from Shakespeare to horology. Evers is a graduate of University College Dublin (BA English) and Dublin City University (MA Film).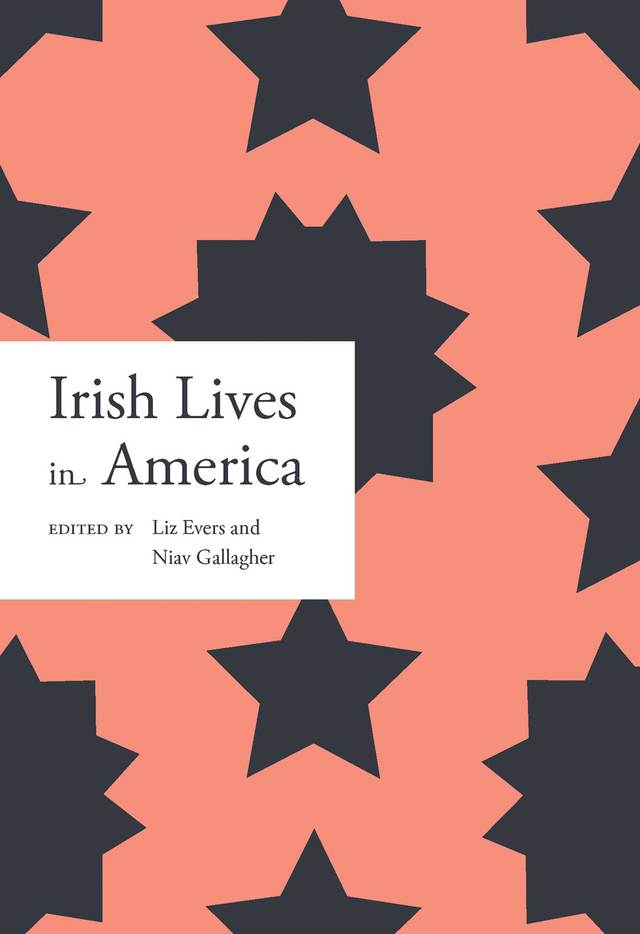 Niav Gallagher
Date of birth: July 1972
Place of birth: Dublin
Spouse: Fearghal
Children: Abi and Izzy
Residence: Greystones
Published works:  I started my career as a medieval historian specializing in the role the Franciscan order played in the wars of Ireland, Scotland and Wales, so I have published various journal articles and chapters in books in that field. Most recently I have been working for the "Dictionary of Irish Biography" project and have written several biographical essays, including jewel thief Peter Gulston, legendary stage school owner Billie Barry and mountaineer Ian McKeever. Co-edited "Irish Lives in America," which is published by the Royal Irish Academy.
What is your writing routine? Are there ideal conditions?
Because this book is a collaborative edited volume, the routine was very different to my usual writing routine – although both involve vast quantities of tea. Myself and Liz had an office together in the Royal Irish Academy until lockdown in March 2020 so we were able to sit down and thrash out our ideas for the book. We then spent a considerable amount of time going through the "Dictionary of Irish Biography" picking out lives that interested us and we felt would interest the reader. We had about 500 to choose from and whittled it down to 50. Since last March our collaboration has been remote. But still involves tea.
What advice do you have for aspiring writers?
The worst part of any writing endeavor is facing a blank screen. No matter how many times you sit down to begin something, that feeling never goes away. My only advice is to fill the space with words, no matter how random and poorly thought out they are. Sentences can be finessed, ideas can be developed or discarded, but until there are words on the screen nothing can happen.
Name three books that are memorable in terms of your reading pleasure.
My favorite book is always the one I'm about to start reading, but if I had to choose three I keep returning to I would choose "Good Omens" to start – I'm an unashamed Neil Gaiman and Terry Pratchett fan, so their collaboration remains one of my favorite books (close seconds from them individually are "American Gods" and "Nightwatch"). I also love science fiction, so anything by Ian M. Banks in his Culture series is always worth a re-visit. And because I'm a medieval historian, I love anything that brings that period alive – Umberto Eco's "The Name of the Rose" is both a brilliant mystery and a beautifully written evocation of the medieval period.
What book are you currently reading?
Hilary Mantel's "Wolf Hall."
Is there a book you wish you had written?
"Neverwhere" by Neil Gaiman.
Name a book that you were pleasantly surprised by.
          C.J. Sanson's Shardlake series – I am always wary of historical fiction, but "Dissolution" was a great read and I devoured the rest of the series.
If you could meet one author, living or dead, who would it be?
          Terry Pratchett. His warmth and humor shine from every page and anyone who ever met him was never disappointed.
What book changed your life?
"The Hobbit." My brother gave it to me for Christmas when I was 9 and I had never read anything like it. 
What is your favorite spot in Ireland?
Oysterhaven near Kinsale. I have been going there since I was a child and it is my favorite place to be.
You're Irish if...
Everything is grand. 
Next Wednesday's launch at EPIC The Irish Emigration Museum (6:30 p.m., Irish time) with have a panel discussion, "Irish lives in America: underdogs or overlords?", chaired by Patrick Geoghegan and featuring Miriam Nyhan Grey, Diane Negra, Neville Isdell and Liz Evers. It will be live-streamed here.