President Michael D. Higgins has led tributes to Paddy Moloney, the musician, composer, arranger, and founder and leader of The Chieftains, who has died at the age of 83, media outlets reported on Tuesday.
"The Irish music community, and indeed the much larger community throughout the world who found such inspiration in his work, will have learned with great sadness today of the passing of Paddy Moloney.
"Paddy, with his extraordinary skills as an instrumentalist, notably the uilleann pipes and bodhrán, was at the forefront of the renaissance of interest in Irish music, bringing a greater appreciation of Irish music and culture internationally.
"On behalf of Sabina and myself, and on behalf of the people of Ireland, I would like to express my deepest condolences to Paddy's family and friends, and in particular his wife, Rita, and his children, Aonghus, Pádraig and Aedín."
Taoiseach Micheál Martin praised Moloney for his "massive contribution to the life of our nation. The term 'legend' is regularly overused, but hard to think of any other way to describe this giant of Irish music and culture."
The Irish Traditional Music Archive said few could lay claim to the "level of impact Paddy Moloney had on the vibrancy of traditional music throughout the world".
It added: "Uilleann piper, tin whistle player, composer, arranger and leader of The Chieftains, Paddy made an enormous contribution to Irish traditional music, song and dance.
"What a wonderful musical legacy he has left us."
Singer Imelda May said that the Chieftains' founder "made us all so proud of our heritage and brought such joyous energy.
"He was ours wasn't he. I'm honored to have known and worked with not just a legend but a thoroughly lovely man."
Irish musician Frances Black said she was "deeply saddened to hear of the passing of the Great Paddy Moloney".
"What a lovely talented gentle man. We'll miss his wonderful playing always, Sleep well Paddy."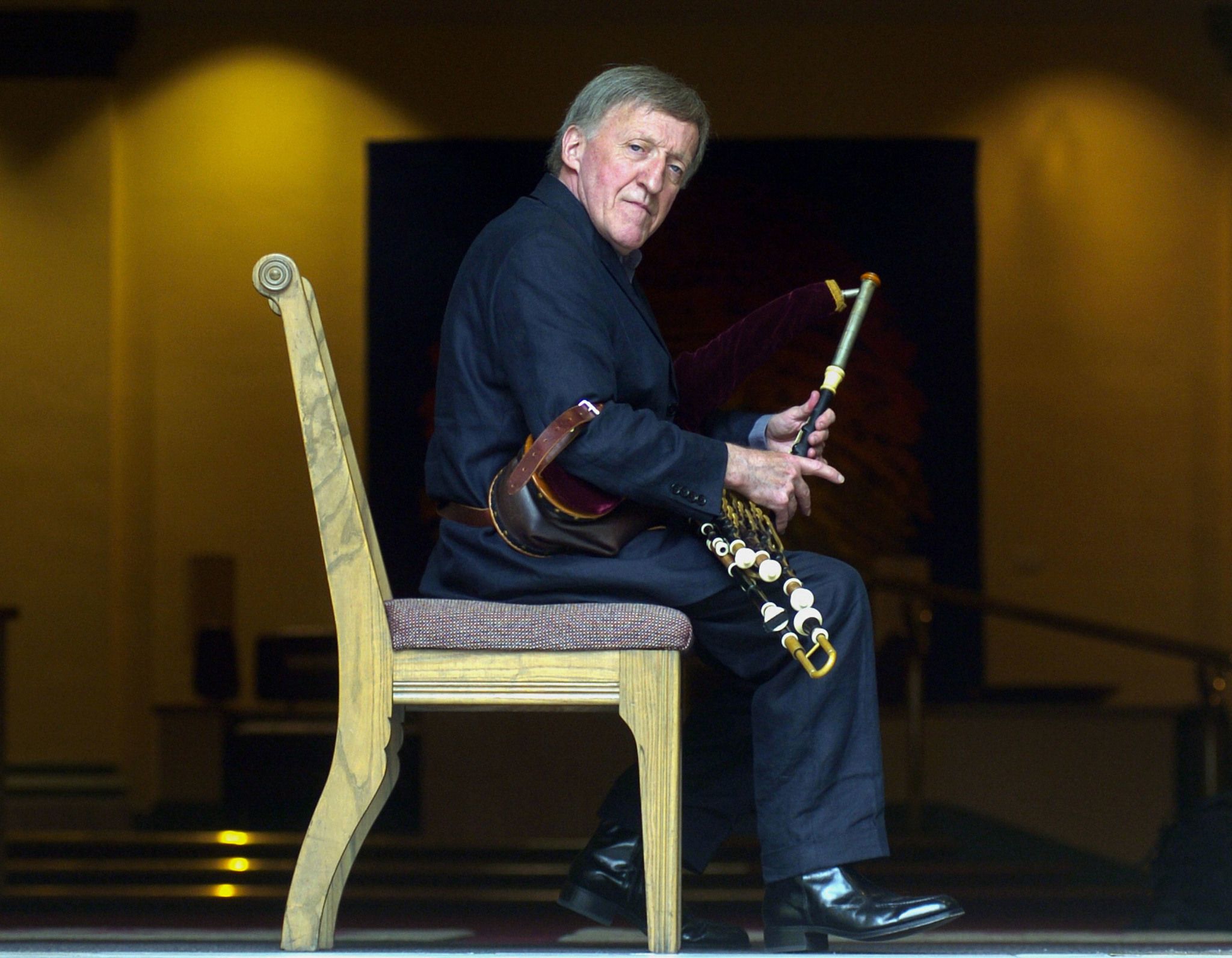 Paddy Moloney pictured in 2004. [Rolling News.ie/Graham Hughes]
The acclaimed multi-instrumentalist was a "leading contributor to the revival of Irish folk and traditional music," the Irish Times said Tuesday. "The Chieftains became one of the best-known Irish traditional groups in the world, winning six Grammys. The Irish government formally acknowledged them as cultural ambassadors in 1989."
Moloney, who grew up in a musical family in Donnycarney, in the north of the city, played tin whistle and uilleann pipes as a child, learning from the piper Leo Rowsome.
After he left school he took a job with Baxendale & Co, a large building supplies company, where he met his future wife. He used the income from his job to help further his career in music, which in the 1960s came to include playing in Ceoltóirí Chualann, the traditional group led by the composer and musician Seán Ó Riada.
In 1962 Moloney formed The Chieftains – the name was inspired by the Irish poet John Montague. After being released on Island Records, whose roster also included Bob Marley, Jimmy Cliff, Bob Dylan and, later, U2 and The Cranberries, their music reached an American audience, so broadening the reach of traditional and folk music.
Moloney and his group were known for their collaborations across genres, with for instance, rock star Mick Jagger and opera singer Luciano Pavarotti, his contribution to movie scores like that of "The Gangs of New York" and his world traveling to destinations such as China. 
The Chieftains' leader was a frequent visitor to America where two of his children built their careers. Daughter Aedín Moloney has a high profile as an actor and writer in the New York arts world. She was present with her mother Rita at the National Arts Club, Gramercy Park, when Paddy Moloney was awarded the Gold Medal of Honor for Lifetime Achievement in Music, in 2011.