2023 Big Irish Campfire
When: August 24-25, 2023
Where: United Irish Cultural Center, 2700 45th Avenue, San Francisco, CA 94116
The 4th annual Big Irish Campfire will take place on Thursday evening 24 and Friday 25 August 2023; at the United Irish Cultural Center, San Francisco. Our main image below shows an architect's impression of the rebuild planned for the center. 
Featuring: Speakers covering major sectors including arts, community-building, fundraising, media, tourism and Irish peace process.
Be part of it: The Irish Echo is hosting the 4th annual Big Irish Campfire showcase, spotlighting Irish American organizations across the US which will give the most comprehensive picture to date of the scale and scope of our community.  The Irish Echo will publish a special online and in print supplement highlighting the work of participants. 

---
WATCH BACK THE 2022 BIG IRISH CAMPFIRE CONFERENCE
UICC 2nd Annual Rock the Gates Summer Fleadh
Saturday, August 26, 2023
noon–8 pm
This multi-stage, family-friendly summer music festival features a variety of music—plus Irish dancers, Irish Pipers, kids activities, and much more! Described as "phenomenal", "fantastic", and "awesome" in its inaugural year, event organizers plan to carry that momentum forward and deliver a spectacular event. Entertainment line-up and ticket information coming soon.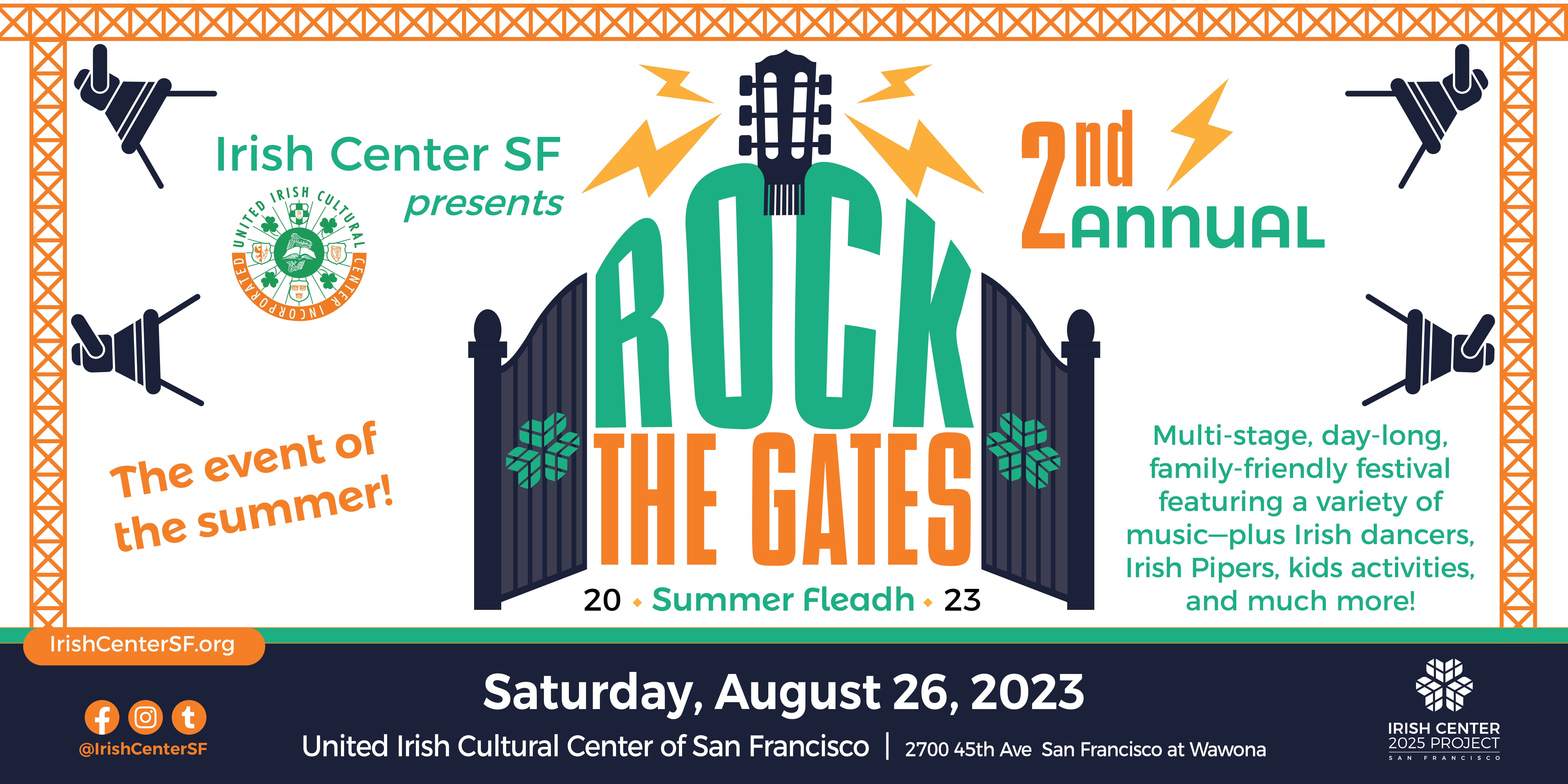 Keepers of the Steps
Special Exhibit Celebrating the History of Irish Dance in the San Francisco Bay Area
August 24-27 in the St. Francis Room at the UICC
Enjoy this special exhibit celebrating 150 years of Irish step dancing in the San Francisco Bay Area. Step back through time and explore the roots, rhythms, and rituals of one of the most enduring traditions of our rich Irish heritage. Our curated collection of stories, artifacts, and ephemera explores the people, places, and gear that have sustained Irish Step Dancing in the San Francisco Bay Area. Our collection is merely a beginning—there is much more history to document while new stories continue to unfold and new memories are made! "Keepers of the Steps" is a cultural program with the United Irish Cultural Center of San Francisco.